Breakthrough Sports at Huntington Beach High School
There are over 1,500 athletes at Huntington Beach High School, and they can't all play popular sports like football or baseball. There are less prevalent sports that are starting to break into the spotlight and are rapidly gaining popularity. Although there is a stigma that most players are attempting to get out of physical education, this is simply not true. These sports only accept the most elite athletes, as many teams are undefeated, have a commendable record, or have recently won league and gone as far as CIF.
Pertaining to girls sports, golf and field hockey at Huntington Beach High School are starting to become more popular. Displaying the biggest rise in the number of players, field hockey had enough people during tryouts to have three teams. Ella Davison, a senior field hockey player compared her experience from soccer to field hockey. Davison states that field hockey "was a different experience, so trying something new was a lot more fun and I grew to have a lot more passion for it." 
She spoke highly of her teammates and expresses that "everyone on the team has become close friends over the years."
Because of the player's friendship seen through their teamwork, the team has gotten to CIF finals three years in a row. Overall, the team's cooperation is what contributes to the excellence of the team itself and is the reason for the large amounts of incoming players .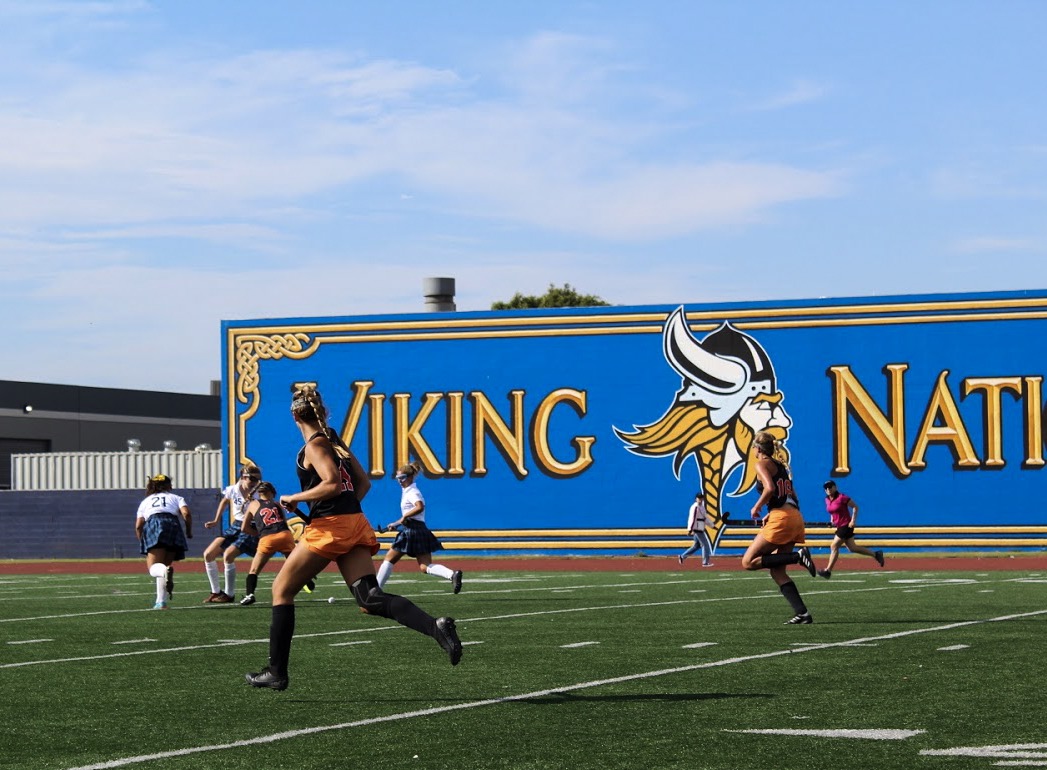 With all the new players being first-class athletes, there has also been an increase in players on girls golf when compared to previous years. The varsity team features three freshmen and one senior player with various colleges attempting to recruit her. Ella Anderson, a sophomore golfer gives her take on what it's like to play golf. Anderson speaks about the mental aspect of the game, stating that "every time you play it's different… if you're in a bad mood you often play bad and if you're in a good mood you play good." 
This is a major aspect of the sport which shows how tough these athletes have to be to prosper in every match. Even with this difficulty, these girls have risen to the challenge as the frosh team has been undefeated for two years and the challenging feat of hitting a hole in one was recently done by one of the players.
On the other end, the under-rated boy's tennis team has won CIF for doubles last year and even had a player on the team that placed 10th in Southern California in singles matches. Although the number of players has not necessarily risen, the team still has a consistent flow of players. Thomas Tran, a sophomore on the tennis team was interviewed and spoke about the dynamic of the sport, sharing that "the entire team calls the coaches mom and dad" showing how the organization has a family-like relationship, which allows for them to have fun and still be successful. 
Even though the number of boys tennis players may not be rising, the popularity of the team is due to the fact that they are continuing to get better and better throughout the years.
Another less popular boys sport is wrestling; until recently, there were not many people who took part in this sport. Although they are still a tight knit community and cheer loudly for each other on the sides of the mat, this individual sport has gained more popularity even though each player is playing for themselves. This action filled sport does not get enough recognition even with there being many players who each play an important role in the team as a whole.
So go out and watch a wrestling match, a field hockey game, golf clap for girls golf, or even scope out the tennis stars of Huntington Beach High School. Support these developing teams and watch them flourish. The dynamic of these teams are amazing and allow for them to do so well. The players work for each other, not for themselves, which can be attributed to why a multitude of people are choosing to join or support these underrated sports. 
Your donation will support the student journalists of Huntington Beach High School. Your contribution will allow us to cover our annual website hosting costs.
Thank you for supporting our program!