How to Live to 100 Years Old
Last month, on October 4th, 2019 my Great Grandma Birdie, Alberta Lorraine Haynes Hamilton, celebrated her one hundredth birthday. In honor of her, her life, and this overarching milestone achievement, here is her story — along with some helpful tips and tricks on how to live a longer, happier life. Transcribed by her daughter, my Nana, Barbara Hamilton Howard. 
1. Keep a Healthy Lifestyle
Throughout her life, Alberta focused on eating lots of healthy foods and keeping up to date with her physical fitness. Barbara Howard recalls that "I never saw her eat junk food, except for the years she worked in a candy store and she gained about 20 pounds. So every time a customer got a sample, she got a sample too. Those are the only times I remember her not eating healthy." The rest of the time, her diet has "consisted… of cottage cheese, no fat, no butter, and no real ice cream." To live to a hundred, you might want to consider a healthy diet and keep up with a daily exercise routine.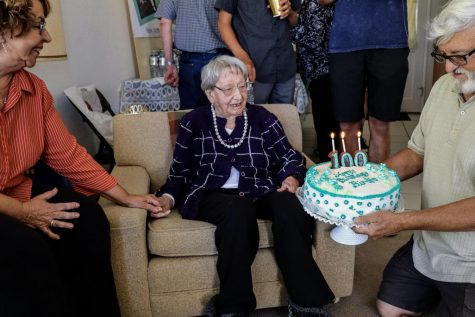 2. Value Family
Growing up, Alberta's parents were both alcoholics, leaving her to care for her younger siblings and be there for her older sister who was extremely ill. She quickly learned the value of family, taking on this responsibility at such a young age. When asked if she regretted anything throughout her life, Barbara explains for Alberta that, "she's sorry she didn't love people more because she had to take care of [siblings] so much. By the time it got to her own family, she didn't have much energy left." Her advice to you is to work towards valuing your family and other individuals who are important to you. Continue to treat people with the same respect that you would want, be kind, and take care of each other.
3. Be Self-Determined
Growing up in a poor family, my great grandma was determined to start a new life for herself, always working harder than she did the day before. Her career was very important to her, considering that she worked her way up from knowing how to do very little. She was a waitress at a car hop, a gas station employee, a part-time candy store worker, and in the end, reached a career as a purchasing agent ordering steel and iron for a locker company. To live a happy and long life, you have to be smart with your time, self-determined, dedicated to your talents, and have the ability to set and maintain ambitious goals in your life.
4. Save Money
My great grandma's opinion on spending money is: don't! Throughout Alberta's life, she worked very hard for a little amount of money, so she saved every single cent she could. She was always watching her money carefully and spending it wisely. All purchases at the markets were on the day olds, cans, and any older foods that were inexpensive. Barbara Howard explained how, now, "she would never allow anyone to buy her a Starbucks coffee if she knew how much it costs."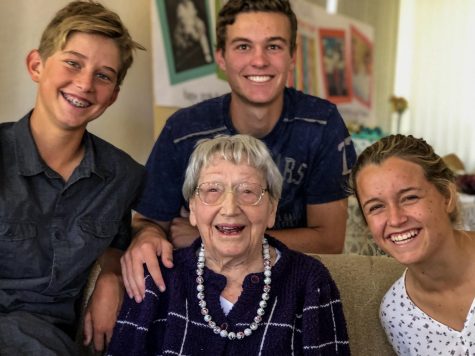 5. Keep Moving Forward
Life brings you things that you would never dream you would face or even survive, but you have to keep your head up high and keep moving forward. For my great grandma, there wasn't much sympathy for hardship because she had so much of it. There wasn't enough time for tears because she had wept them all. But the only thing she always advised people to do is to be strong, be tough, and laugh when you can. That's really all any of us can do. 
6. Get Your Best Education
My family immigrated from Germany to the United States in 1918, and my great grandma was born only a year later. Our whole family grew up farming. No one has been to college, let alone high school. My great grandma, however, was the first person to get a high school diploma. She was very proud. Barbara explained how "she always had her high school graduation picture hung up on the wall, to this day." She valued education for her children. She thought everyone should work hard for that education and thought of herself as a lifelong learner, reading the newspaper up until she lost her eyesight three years ago. Therefore, get your best education, spend your time wisely, and always work hard for your set goals.
"She lived one hundred years, imagine that, imagine that. An amazing lady, a good mama, she tried her best. And that's all we can all do. So try your best! Laugh, love, and be strong." 
-Barbara Howard