How To Play A Sport For Your Dream College
Many students at Huntington Beach High School wake up, go to school, and endure their routine sports practices. Why do they juggle their grueling sports and private lives though? Many dream of getting a scholarship from an elite college and playing the sport of their dreams, but how does one get there? 
Academically and athletically talented students have a second way to get into their dream college besides the common application route: recruitment. According to the National College Athletic Association, about 495,000 student athletes get recruited each year. In Division I schools, 59% of their recruited athletes get some level of athletic aid, and "on average, NCAA student-athletes graduate at a higher rate than the general student body" (NCAA). 
Xolani Hodel, a senior at Huntington Beach High School, recently announced her verbal commitment to Stanford University, a school known for their rigorous acceptance rate which is a mere 4.8%. As a stellar academic and athlete, she is one of the five girls recruited for Stanford's beach volleyball team. In order for her to get into such a prestigious college, she "expressed [her] interest in Stanford to [her] coach, Hayden Jones, and from there [she] was put on the radar of the Stanford beach volleyball coach."
When talking about her constant and grueling practices, Xolani Hodel had a positive outlook; "Beach volleyball provides me an escape from the stress that occasionally arises in my personal life. I sometimes end up getting less time to spend with friends and family during the peak beach season, but [I] never [gave] these sacrifices a second thought." 
However, there is room for error in the college recruitment process. Even Hodel has made a few mistakes, admitting that "committing to a university too early" can cause you to "miss out on other opportunities just as great as or even better than the initial offers." 
Another student at Huntington Beach High School, Emily Tucker, had a similar experience, saying that the process of getting admitted was "simple and smooth." 
A varsity starter, Tucker signed with Concordia University for water polo very recently. "I had a serious discussion in October during my trip with the coach," she said; and "a week later, he offered me a scholarship and on November 13th I signed with the team."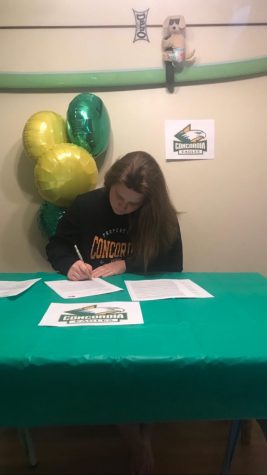 On all sports teams, having a good relationship with the coach is vital since they determine who gets on the team. Tucker said that "[a] relationship with the coach matters because they are taking a risk with you by investing time and money. You do not need to be super close, but having an open discussion with what you want to get out of the school helps."
Like Hodel, Tucker made similar mistakes during her recruitment process since she "put most of my effort into Concordia and did not… have a second choice." For anyone struggling with the same situation, Tucker suggests to "be more open to all schools before narrowing it down to two or three." 
Based on both of their experiences and advice, some of the best ways to guarantee a spot in your dream college is to compete in sports outside of school, communicating with multiple coaches, and expressing an interest in the college first. Though there are many other ways to compete for the school of your dreams, using this advice can help solidify your position on your dream college's roster.