The Final Installment: Behind the Scenes of the Beatles Show
MMET threw it back to 1969 for their fifth annual Beatles fundraiser. MMET, or Music Media and Entertainment Technology, is a branch of Huntington Beach High School's Academy for the Performing Arts (APA). This program has two subsections, MMET Popular Music and MMET Media, that work in conjunction to create professional shows for everyone to enjoy. For the past five years, MMET has put concerts together to commemorate the 50th anniversary of each Beatles album, as well as the biggest hits from that year. This year's show highlighted the albums Abbey Road and Let It Be, which were released in 1969 and 1970, respectively. Also included were some of the most popular songs of 1969 such as, "I Can't Get Next to You" by the Temptations, "My Cherie Amour" by Stevie Wonder, and "I Want You Back" by The Jackson 5. MMET never fails to perform astounding shows that leave the audience amazed. While students are singing their hearts out and playing instruments on stage, the real magic happens behind the scenes during the weeks of preparation leading up to the main show.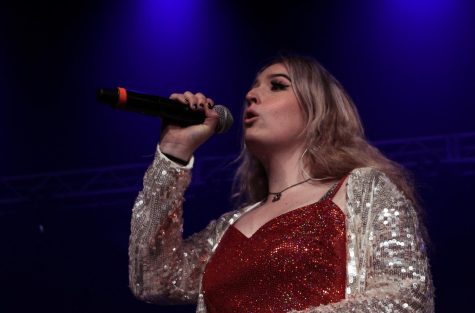 "Show production is a huge process. We start by confirming songs and order, then build the show into blocks of songs," writes Danielle Collins, MMET Popular Music Chair. For this year's show, Collins tried to incorporate as many 1969 Beatles songs as possible. Once songs were chosen, vocalists auditioned for those they wished to perform. Collins worked with Nicole Kubis, MMET Vocal Director, to cast instrumentalists together into bands and distribute songs among students. Each vocalist performed one lead song as well as multiple backups throughout the entire show. The Beatles show took place on two nights, November 7th and 8th, where vocalists performed their lead song on one of these two dates.
The show is broken up into three portions–Pre-show, Beatles set one, and Beatles set two. These three parts are further separated into multiple blocks, each block consisting of two songs to keep everything streamlined and organized for performers. Each band plays on one block, and vocalists switch out every song. Student producers, upperclassmen who have been chosen to help underclassmen learn about the show process, work alongside Collins and Kubis. This year, Christopher Roberts (Junior, HBHS) and Sienna Johnson (Junior, HBHS) fulfilled this role.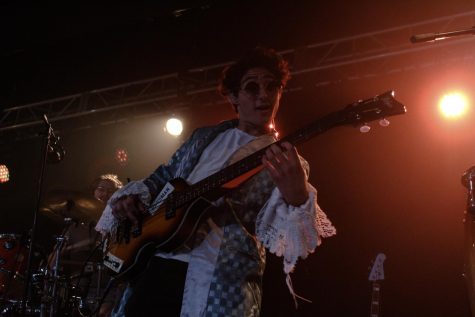 "Rehearsals in the beginning are without instruments. We listen through songs, we chart what we hear, we research, we play with recordings, we listen again. Then when we feel the group can get through the songs without needing a recording as a guide, we begin rehearsing on instruments," writes Collins. Eight weeks before show day, students begin practicing their assigned songs. There is no sheet music provided; all songs are learned by ear. Collins is heavily involved in the rehearsal process, often interjecting songs to give students tips and correct errors. At the same time, MMET Media, the backbone of every MMET installment, begins preparing for the show with the oversight of Mike Simmons, MMET Media Director. "Our media department is building content for the show as well as preparing to shoot the show live, so that we have live camera work on two screens and a music video on two others." 
With two weeks left until the show, drums are taken out of the sound-proof drum box so performers can get used to performing with live percussion, costumes are finalized by the APA Costume Design department, and vocalists use in-ear monitors. At this point, the show is quite close to how it will be performed on show day. During the week of the show, more commonly known as "tech week," students run through the entire show exactly how it will be performed on show day. This includes lighting and sound, courtesy of the APA Technical Theatre department, and video production by MMET Media. The on-stage band is joined by students from the APA Orchestra department, as well as a local horn section, which adds to the musical aspect of the show. Often dubbed as "hell week," tech week is a stressful and intense time for MMET students, with rehearsals as long as four hours.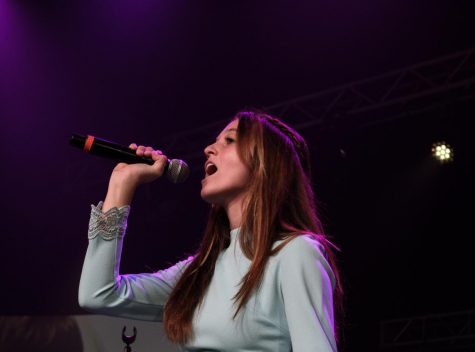 "The whole vibe [on show day] is different. Everybody is just really excited compared to the first day [of rehearsal]. We worked so hard for this show; to finally be there, knowing that an audience is there to watch us, the whole atmosphere is different," said Roberts. On the first night of the show, students gathered at First Christian Church two hours before the doors opened. In that time, performers unloaded equipment into the venue and met with their respective advisors, Collins or Simmons, to run through the show one last time and make any necessary adjustments. As the clock counts down, performers get their costumes ready in the green room, Media students prepare camera equipment around the stage, and other Pop students await anxiously in the multipurpose room. "Behind the scenes, we're hyping each other up because the energy on stage is probably one of the most important things you can have as a band."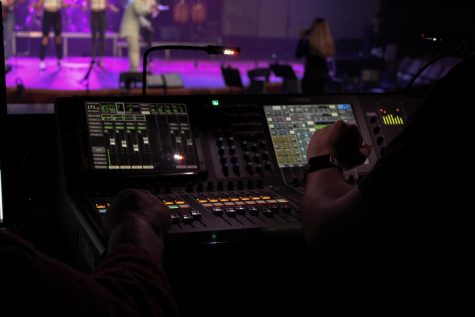 During the show, the action never stops backstage. Students enjoy the show from a live broadcast, eat, do schoolwork, and get ready for upcoming songs. Although, what many audience members do not recognize is the work that Media puts in to tie the show together. "Every student in Media does every job on the video crew. There are different jobs like director, technical director, playback, three or four different camera positions, cable grips, and runners. Everyone rotates through all the jobs" explains Simmons. For Media, the show is broken up differently than it is for Pop. Media blocks consist of three to four songs, during which a team of students works together to film a live broadcast that is displayed to the audience. The camera crew is stationed at several different areas around the venue to film from various angles, while the director and technical director are in the video control room deciding which camera feed will be displayed on the screen. Additionally, Simmons also uses all of the content that is filmed that night and edits it into a video that all MMET students watch together and may choose to purchase. 
The 2019 Beatles show was the final installment of this annual tradition. Over the years, it has explored the roots of pop music and pop culture. Not only that, this show represents a stepping stone for freshmen in MMET, who get to experience live performances for the first time. The future of this annual MMET fundraiser is yet to be determined. As for what is in store next fall, Collins writes, "you'll have to wait and see!"
Your donation will support the student journalists of Huntington Beach High School. Your contribution will allow us to cover our annual website hosting costs.
Thank you for supporting our program!