Why I Hate Brandy Melville
The Brandy Melville girl is cool; she's the girl next door. She's that girl that everyone wishes to be, aesthetically pleasing with outfits that are always in style. Although Brandy Melville is loved by many, here are a few reasons why I despise this toxic company.
Brandy Melville is an Italian clothing brand, with clothes that are "one size fits all" — and that size is a small. Instead of creating more sizes, Brandy Melville promotes the aesthetic of being skinny, and despite the controversy, it works. It makes young girls want to change themselves to fit into this exclusive community, pushing for girls to struggle with their weight when they don't need to. Some may argue that this exclusivity is similar to plus size stores; however, it is not, considering that most stores don't carry sizes larger than an extra large, whereas most retailers carry a size small and extra small. Essentially, Brandy Melville is creating an exclusive divide between girls that can fit into their clothes and girls that cannot. 
This "one size fits all" idea also allows for the company to mass produce clothing at a low cost, which is one of the main reasons the store does so well. For their "product research" they look at what teenage girls are wearing and what the employees like, then mass produce the clothing in one size to complete the process in the most inexpensive way they can. Some employees may even ask customers if they can take a picture of their outfits so they can send it to corporate to possibly be made for the stores. In other words, Brandy Melville is a money-hungry brand that uses fast fashion in order to keep up with the trends sell their clothes at a higher price.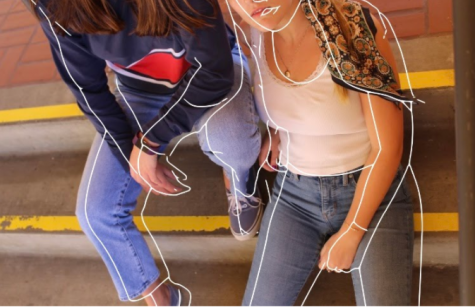 Brandy Melville continues to make money through their inexpensive photo shoots. Their photo shoots are usually taken on iPhones which is supposed to provide a more "laid back" ideal to teens. The employees of Brandy Melville often model for the company as well, allowing for the brand to save on modeling costs.
When white teenage girls who look old enough to work are "skinny enough," and "pretty enough" apply to work there, they are basically guaranteed to be hired because of these "qualifications." When looking at Brandy Melville's Instagram as well as their website, one does not see women of various body types or women of color modeling the clothes. You can scroll through hundreds of photos and see that Brandy Melville promotes very little diversity, as all the employees and photos are skinny and white. And for what? What is it teaching young girls? 
Brandy Melville defines one look as beautiful, pushing for young girls to buy their clothes in hopes of becoming the person the product promises them to be: a one-dimensional type of girl. It has young girls question their body types and wonder if they are even good enough if they don't fit into such an exclusive community. Many want to be accepted into this club, they want to be pretty enough for employees to ask them about their outfits, pretty enough to be hired on the spot, pretty enough to be welcomed by such a twisted community. Which is why they succeed and why this toxic, money hungry, company continues to prosper.