First Time in Thirty Years: Girls Cross Country Qualifies for CIF
For the first time since 1988, the Huntington Beach High School varsity girls' cross country team qualified for the California Interscholastic Federation (CIF) preliminary meet. This feat was achieved by the top seven varsity runners, including Brooke Adams (Freshman), Luna Centeno (Freshman), Quinn Roldan (Sophomore), Claire Lewis (Sophomore), Lindsay Rule (Junior), Morgan Levine (Junior), and Sierra Green (Senior). Due to the size of the state, California is split into different CIF sections. HBHS is a part of the CIF Southern Section, which is arguably the most difficult and intense section in the state because of the number of athletes involved. To qualify for CIF-SS prelims, which leads to CIF Finals, a team must place second or first in its league. In the 2019 season, the girls placed second behind Laguna Beach High School, scoring 58 points. They managed to beat Newport Harbor High School by a mere three points.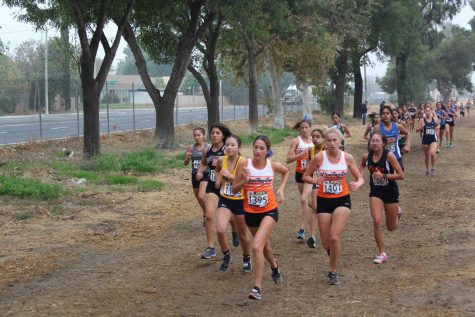 "I'm feeling a mix of emotions. I'm feeling confident in my team and our success from our recent league finals win, but [I'm] also feeling nervous because we know we have a lot to give out there today," explains Sierra Green, one of the girls' captains. On November 15th, the girls ran at the CIF-SS Prelims course in Riverside. The course is known for being fairly difficult, with a dry and dusty environment, but nonetheless, the girls raced their hearts out. For the three mile race, Adams was the front runner, placing 21st with the time of 18:39.7, averaging at 6:13 minutes per mile. HBHS placed 12th overall in their race out of 19 teams. Although they did not qualify for CIF Finals, which can then lead to the California State Meet and Nike Cross Nationals, their incredible accomplishment should not be disregarded. "As a captain…I've been there for a lot of [the team's improvement]. I've seen the team for four years progress from where we used to be to where we are now and it's just so exciting to see the growth of everyone and I'm really proud of all their accomplishments."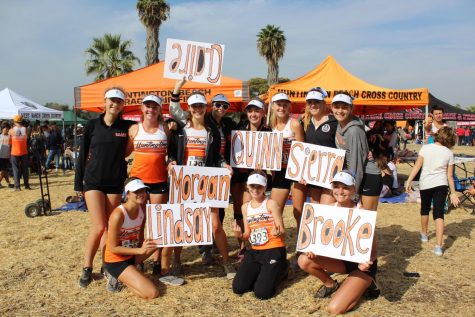 The 2019 cross country season can be described in one word: change. There was a change in staff with the addition of Coach Hillary Hayes, as well as a change in training with more vigorous and consistent workouts. These differences are the root of the team's growth, however, it is not all about athleticism. This season, there was a significant focus on shifting the mindset of the team. Many of the athletes were frustrated with injuries or burnt out before they reached the peak of their season, but they effectively bounced back. These athletes truly have heart, passion, and dedication; they wanted to win, and they did. 
Coaches Kareen Shackleford and Hillary Hayes, as well as volunteer assistants Jim and Carrie Roldan, have worked tirelessly to help get the team to where it is today. The 2019 varsity's top seven consisted of four underclassmen, which shows a growing potential that is yet to be unlocked. With track season just beyond the horizon, the team continues to dream of achieving more ambitious goals in the future.
Your donation will support the student journalists of Huntington Beach High School. Your contribution will allow us to cover our annual website hosting costs.
Thank you for supporting our program!