Christmas Movies To Watch This Winter Break
It's December, and Christmas is just around the corner, meaning all kinds of festive movies–such as classics like Elf or Home Alone, and newer movies such as The Christmas Prince and Black Christmas–are making a comeback. Whether your favorite movies are action, drama, romance, horror, or comedy, here's a list of ten festive Christmas movies you should binge this winter break. Be warned… there are spoilers ahead! 
Elf:

A Christmas classic, this movie stars Will Ferrell as Buddy the Elf, a human raised in the North Pole.

As he learns about his background, he heads to

New York City

 to meet his biological father while also spreading Christmas cheer. Buddy even meets Jovie, a mall elf, who he mistakes for a real elf. They end up falling in love, and she helps Buddy with his mission to increase Christmas spirit and get Buddy back to the North Pole. Jovie ends up leading the city in singing "Santa Claus is Coming to Town" to increase the Christmas spirit. She succeeds, and Santa's sleigh is up and running again, with Buddy in the backseat.
 Black Christmas: Similar to the movie Diehard, Black Christmas is a close alternative to this Christmas horror movie. The main character, Riley, is part of a sorority at Hawthorne University, founded by Charles Hawthorne. Her sorority and Charles Hawthorne's fraternity, have always been on edge with each other. When her friends Lindsey and Helena go missing, she is the first to suspect something is wrong. Turns out, the fraternity is a cover for a misogynistic cult that believes women are inferior to men. Thanks to Riley and the remaining sorority girls, they were able to kill all of the boys possessed with black magic.
Let It Snow: A movie with multiple storylines, Let It Snow follows a witty girl and rising pop star, Julie and Stuart, two estranged friends, Dorrie and Addie, and two best friends who have romantic feelings for each other, Tobin and Angie. During Julie and Stuart's story, Julie has been accepted to Columbia University but might turn down her acceptance to take care of her sick mother. Stuart is a pop star, and runs into Julie on a train and ultimately convinces her to go to Columbia, to which they become a couple. On the other hand, Dorrie and Addie are two friends that became estranged when Addie believed that her boyfriend was cheating on her. While they were estranged, Dorrie was dealing with her own relationship with a girl, Kerry, who was struggling with coming out. Dorrie ends up helping her in coming out and is friends with Addie once more. Lastly, Tobin and the Duke hit a few bumps down the road that leads to their relationship. Tobin suppresses his romantic feelings for Duke because he doesn't know how to tell her. When Duke and her friend, JP, get cozy, Tobin is angry and avoids Duke. In the end, Tobin confesses his feelings, and Duke says that she feels the same. They embrace in a kiss, and the movie ends.
Last Christmas:

A romantic comedy with a twist, the main character, Kate, is an elf at a holiday shop in London and has lost all of her Christmas spirit. When she stumbled upon a giddy man, Tom, she cannot resist her interest. They begin to fall in love, starting with a date at an ice rink where Kate ends up telling Tom how she had a heart transplant. Then one day, Tom disappears. Worried, Kate races throughout London, trying to find Tom where she ultimately reaches his apartment and meets a real estate agent, telling her how the owner of the apartment died a few months ago. Kate then realizes that Tom was the donor of the heart that is currently in her chest, and she hallucinated their relationship for months.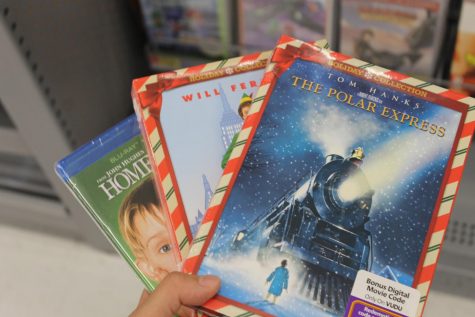 The Knight Before Christmas:

In this movie, Vanessa Hudgens is now Brooke, a girl who stumbles upon a 14th-century knight, Cole, by almost running him over with her car. She lets him stay at her house, and they become attached to each other. Many things occur in between their time together, until Cole has to go back to the 14th-century. Near the end of the movie, they fall in love with each other, but Cole gets ready to leave. When he leaves, Brooke is extremely regretful that she didn't try to convince him to stay; however, while in the 14th-century, Cole also wishes that he stayed for Brooke. In the end, Cole finds his way back to Brooke, and they galloped off together on his horse.
Klaus: A two-dimensional animation movie, Klaus is about a selfish postman, Jesper, whose father owns a postal company. When he is exiled to an isolated island called Smeerensburg for his childish actions, he has to mail 6,000 letters in a year, or he is cut off from his father's wealth forever. When he is exploring the outskirts of the island, he discovers a woodsman named Klaus, whose main mission is to give toys to the people of Smeerensburg, who are bitter, angry, and constantly feuding with each other. He also meets Alva, an optimistic teacher turned bitter fish merchant, itching to get out of the town. Klaus has all of the characteristics of our modern Santa Claus–selfless, loves cookies, rides a sleigh, and has a hearty laugh. Sadly, Klaus dies and becomes "reborn" in the way that he comes back every Christmas to deliver presents, and Jesper reaches his goal of 6,000 letters with the help of the townspeople. Even though he reached his goal, he decides to stay in Smeerensburg to be with Alva and the townspeople.
The Christmas Prince: A journalist who was assigned to cover the royal fiasco going on in the country of Aldovia, Amber Moore itches to get the story and become closer to the royal family by breaking into their palace and poses as a tutor for Princess Emily. As she falls in love with Prince Richard, she also discovers that he was secretly adopted into the family, meaning that he was not eligible for the throne. Amber tries to find a way to make Richard the king, since his evil cousin, Simon, has gone far lengths to claim the throne. In the end, Amber uncovers a loophole that makes Prince Richard the king, and Simon is virtually disowned from the royal family. The movie ends on a happy note with Richard proposing to Amber who says yes and the happy couple are officially engaged.
The Christmas Prince: A Royal Wedding: Amber is back again, and now the movie is about King Richard's new modernization plan for Aldovia. Consequently, he puts aside  wedding plans for Amber and their planning crew. Amber, fed up with the lack of authority she has in any decision, decides to funnel her anger somewhere else and investigates Aldovia's financial problem with her friends. Turns out, the Prime Minister, the man working with Richard to modernize Aldovia, was funneling Aldovia's money to keep for himself into a secret bank account. Richard and Amber finally take control over their own wedding, and the movie ends with Richard and Amber, happily married.
The Christmas Prince: A Royal Baby: Yet another movie, a year has passed since Amber and Richard's wedding, and she is now pregnant but, there is a new problem. When Aldovia and Penglia, a nearby country's leaders came together to renew a 600-year-old war treaty, the treaty goes missing. If the treaty is not renewed by midnight of Christmas Eve, the war will resume, and a curse will fall upon the firstborn child–Amber's child. Amber, her family, and her friends race around the palace, trying to find the thief. Meanwhile, Amber goes into labor, and time is running out to find the treaty. Eventually, Princess Emily and her mother find the treaty, though they found out that their family friend, Mr. Little, was the one who stole the treaty. The treaty is signed, and Amber gives birth to her daughter Elleri.
The Grinch: The classic story by Dr. Seuss, but with new animations. On the outskirts of Whoville lives the Grinch, a green entity that hates Christmas. When the people of Whoville plan to throw a Christmas celebration three times larger than the last year, the Grinch is fuming and devises a plan to ruin their Christmas. His plan to steal all of Whoville's presents works but he soon feels guilty when he tries to steal the presents of Cindy Lou Who, a small girl with a big heart. She causes the Grinch's heart to grow three times its size, and he is forgiven by all of Whoville. In the end, he eats a Christmas dinner with Cindy Lou Who's family and friends, and the Grinch finally understands the feelings of Christmas.