A #Blackout on TikTok Sparks Creativity for Solidarity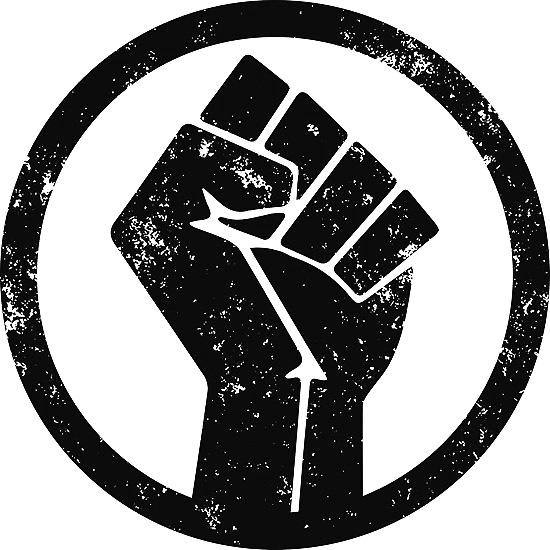 On May 19, 2020, thousands of people of many colors banded together on the rising social media app, TikTok, in solidarity for their rendition of the Black Lives Matter movement. Creators all over the app stood with African Americans and against the oppression and racism that is still present and displayed all over social media. Creator of the movement and founder of Black Lives Matter Utah, Lex Scott (also known as "lethallex"), published a TikTok video on how users can stand with Black creators by changing their profile picture to the iconic Black power fist, liking, sharing, and commenting on content made by only Black creators, following them, and unfollowing those who opposed the movement. In an interview with CNN, Scott "did this because Black creators are being silenced on TikTok and other social media platforms and [is]… fed up. Our videos are taken down and our accounts are banned when we speak against racism." 
By following the steps that Scott listed, this changes TikTok's algorithm by overflowing user's "for you" page with Black creators, essentially forcing people to listen to what they have to say about the injustice TikTok has shown to African Americans and other minorities. Along with Scott, creators such as Iman Tura (also known as "theemuse") and Alex Beckom (also known as "thatotheralex") advocated, participated, and were seen as some of the leading figures of this movement. Tura explains how amazing it was "to see people who were so often censored and bullied for their skin [color] on the for you page" when describing the sense of unity this movement brought.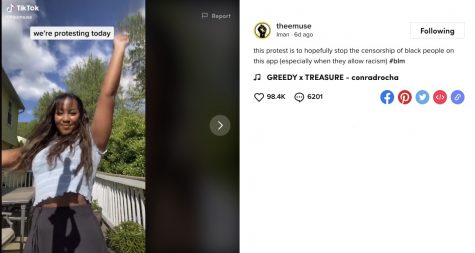 Often times, the videos that TikTok would forcefully take down and censor are the videos made by people of color who are speaking out against the systemic and institutional racism that has been ignored for so many years. This movement "calls out an app… [and] millions of users' blatant racism" Tura says. 
"This movement wasn't to silence other races, it was to change the algorithm since it silences and does not promote people of color's videos… representation for all is something that should be pushed" Beckom adds. 
In the article, "TikTok owns up to censoring some users' videos to stop bullying," The Guardian exposes TikTok's admission to restricting videos that were "susceptible to bullying or harassment based on their physical or mental condition" including "facial disfigurement, autism, Down syndrome, or disabled people or people with some facial problems." 
However, this attempt in restricting hate by TikTok created bullying on their own part for minorities, especially people of color. Yet, with this movement, Beckom expresses its effects by stating that "you really don't understand how much a lack of representation affects you unless you experience it. Seeing so many Black creators and the support we were all getting almost brought me to tears."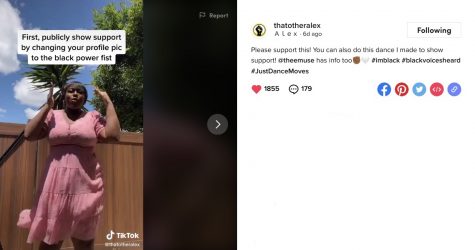 Even with millions of users participating and standing with this movement, the community did not see their multiple hashtags such as #blackout, #blackpower, #iamblack, and so much more, trend on Tiktok's homepage. "TikTok tried multiple times to [suppress] this movement… The fact that we had over 15 million people just subscribing to the hashtag (not including the people using it) is a crazy amount. For once, people saw the equivalent amount of white creators as they did minorities. TikTok not featuring it was a slap in the face to minorities on the app" Tura expresses. 
However, TikTok is not the only platform to suppress their movement. Beckom describes the criticism she received for her videos by other users who opposed them. "The criticism I received was mainly due to ignorance. People would insist that this protest was somehow racist, saying [that] this was a step back. They didn't realize this wasn't about suppressing races besides Blacks… it was about uplifting our content since we are actively put in the dark" 
In a message for TikTok that Tura shared with Slick, she only asks "for the bare minimum… Apply the guidelines the same [way] for everyone. Do not allow for bullying–especially because [of] the color of someone's skin." 
Additionally, Beckom hopes that this movement will "encourage future apps to not suppress people of color's content while consistently uplifting others."
There will be another demonstration on the platform on June 19 (Juneteenth), the day that slavery came to an end in the United States. Beckom describes it as a "day to observe this important accomplishment in U.S. history" and another way to fight against the under-appreciation and oppression towards people of color.