How California Wildfires are Affecting the Public
For the past few months, California has been affected by threatening fires. A number of Californians have been smothered with smoke, many with watering eyes, lungs burned out, and some without a home. "This is not something new to me, every year we experience the same thing over and over again," said Angela Lopez, a Northern California resident.
According to The California Department of Forestry and Fire Protection (CalFire), as of October 30, 2020, "[over] 5,400 firefighters continue to battle 22 wildfires in California." The department said in a daily statewide summary that "more than 8,200 fires have burned well over 4 million acres."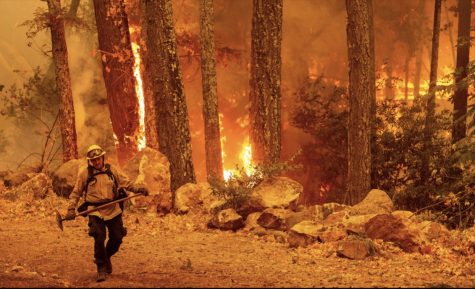 During these uncertain times, many residents living in parts of Northern, Central, and Southern California have been affected the most by these wildfires. CalFire reported that 6,522 homes and 260 commercial buildings have been damaged by fires, with tens of thousands more at risk. "On Monday morning, I had to evacuate my house because the fires were getting so bad, luckily I was prepared and was ready for situations like these," said Lopez. "As I was driving away from the fires, I could see trees burning, people with desperation trying to evacuate, and the more I drove I saw homes burning with firefighters trying to stop the fires. It was a disaster," she added.
Numerous Californians are also being faced with a high risk of health concerns. Mariela Miguel, a California resident who suffers from asthma, said, "Over the last few days, I couldn't get out of my house because of the poor air quality, every time I stepped out of my house, I began coughing and faced a shortness of breath."
As stated by the California Air Resource Board, wildfire smoke exposure can be as mild as eye and respiratory irritation and as severe as worsening heart and lung disease, including asthma and even premature death. The Los Angeles Times reported that an estimated 19.6 billion people experienced unhealthy levels of wildfire smoke. The California Air Resource Board advises that people stay indoors, keep their indoor air clean, and make sure all windows and doors are closed, as the air quality can get worse within the next few days.
Cal Fire suggests that residents assemble an emergency supplies kit that is easily accessible and contains face masks or coverings, a three-day supply of non-perishable food, and three gallons of water per person. An official Emergency Supply kit checklist can be found on the Cal Fire website.
There are many ways people can assist in California's recovery. One way to help is by donating to the Red Cross, which is currently making a difference in the lives of people who have been affected by the California wildfires. Donations go to providing food, shelter, relief supplies, emotional support, and other assistance to those in need. Donations can be made by calling 1- 800-RED-CROSS or texting the word "CAWILDFIRES" to 90999 to donate. To learn more information regarding the California wildfires visit, https://www.fire.ca.gov/.