Utah Travel Guide
Tired of having nowhere to explore? Coming from someone who has adventured Utah countless times, a road trip would be the safest and most fun option. Continue reading for places in Utah that will guarantee you a nice visit.
Arches National Park is a 119 square mile park with over 2,ooo beautiful rock structures. Arches can be admired in just one day, but if you are looking for a longer visit, you can go biking, hiking, horseback riding, rock climbing, backpacking, or you can even stargaze, while camping at Devils Garden. Sarah Hart, a student at Huntington Beach High School and her family, enjoyed visiting Arches. "We really loved going to Arches and would definitely go again. It was so beautiful, and climbing up around them was so cool. Delicate Arch [is my favorite] because it was just so iconic," Hart said,
Bryce Canyon National Park has an unbelievable view. Bryce Canyon is a 35,835-acre park that offers activities such as hikes and horseback riding. The park has several beautiful places to stay, including Hotels, Inns, and Lodges. It can be a one day visit or a week-long stay. 
Bryce Canyon has countless viewpoints to visit inside the park. Some favorites include Rainbow and Yovimpa Points, the Natural Bridge, Farview Point, Paria View, Bryce Point, and Sunrise and Sunset Points. My family drove up while it was raining and lightning, so we did not stay long, but I wish we had because the sight was unbelievable. I hope to visit again soon. Hart and her family visited Bryce and had an amazing experience. "Bryce was really beautiful and scenic. We thought the hoodoos were especially great just to look at and be around. My mom says she would go back in a heartbeat. If we were to go back, I would want to go on more hikes because going to that park is all about the hikes," she said.
In Dammeron Valley, there is a horseback riding trail, Snow Canyon Trail, with a beautiful view. Visitors get to decide how long they want the horseback ride to be. I went on the three-hour trail ride with my sister and fellow student at Huntington Beach High School, Malorie Glascoe, and we highly recommend it. The view is breathtaking. About halfway in the ride, you reach a landing that oversees mountains and hills. According to Malorie, "It would be impossible to choose one favorite thing about that trail ride. The views were captivating, the atmosphere was relaxing, and the freedom that came with it was much needed during all the events of lockdown; it did wonders for my mental health. However, I think I would have to say my favorite part was being able to share one of my passions (horses) with my little sister in such an intimate way. If I could do it again, every single day, for the rest of my life, I would in a heartbeat." We had a lot of time to look at the amazing scenery and bond with each other and the horses.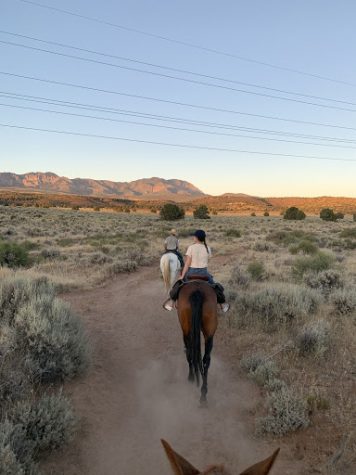 If you are considering going on Snow Canyon Trail, I recommend wearing jeans. The ride is bumpy and riders pass a lot of brush that could scratch you. If you are a horse lover or looking for some adventure and relaxation, book a ride. 
Sand Hollow State Park is an amazing place to go if you want to have a fun time and make countless memories. At Sand Hollow, you can golf, rent ATV's and jetski's, paddleboard, go boating, or jump off tall rock figures. If you want to do everything, Sand Hollow could be a week-long stay. If you are just going for one day, I would highly recommend renting jet skis and jumping off the rock figures. "My favorite part was getting to jump off the highest rock with you [Julia] and Alyson Boren [attends Los Alamitos High School]. It honestly felt easier jumping off with friends because I wasn't scared, so I didn't hesitate. Usually, I hesitate and get afraid of jumping off high rocks, but having friends go with me made me less scared," said Bella Molina, a student at Calvary High School. "I had such a blast with all my friends and miss the moment so much. I would literally go back whenever I can or get another opportunity. I hope that is sometime soon!" Molina added.
Zion National Park is one of my personal favorites because the view is amazing and there are several activities you can participate in. Hart has visited Zion too. She said, "Zion is really cool and unique because it feels like you're in a little valley because the cliffs go up on either side of you." Some activities include hiking, bicycling, backpacking, horseback riding, and camping. To visit a good amount of hiking trails, you want to stay in Zion for more than a week. Zion Lodge is a nice cabin to stay in the park. "If we went back we would want to do some of the hikes that go through the rivers, I think that'd be super cool," Hart said.
If you are looking for a short but easy hike, I recommend the Pa'rus Trail. It is a paved, mostly level path. It is accessible to mostly everyone. Wheelchairs are allowed because of how smooth the trail is. Skyler MacDuff, a student at Huntington Beach High School, went on this hike a few years ago. MacDuff said, "[I] had a lot of fun. I saw deer and got to put my feet in the river. I would do it again."
If you are looking for a fun, but challenging hike, I would recommend going on Angel's Landing hike. It may be difficult, but the view is totally worth it. According to Luke Glascoe, a student attending the University of California San Diego, "My favorite part of Angel's Landing was standing and looking out over the canyon. It was relatively early in the morning, so the sun was just rising and the view was absolutely breathtaking. It was a tough hike on the way up, but it was definitely worth it." If you are up for a good challenge that has a beautiful outcome, you should hike Angel's Landing.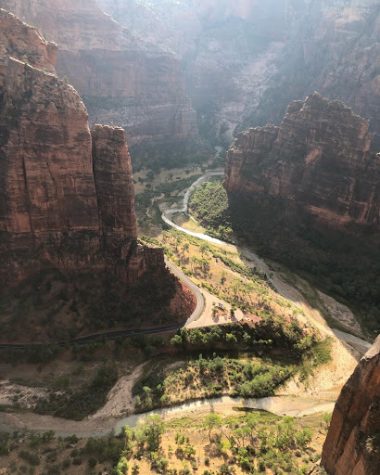 The Narrows is a good hike that involves water. The journey is quite long, but it can be easy if you take the straight path. The straight path is an easy 16-mile hike. 16 miles sounds long, but since the hike is almost all in the water, it is not too bad. MacDuff has not hiked this trail, but if she were to visit Zion again, she said, "I really want to do The Narrows hike. It looks amazing."
Once you get a couple of miles down the river, there is an opening that leads you to a more difficult section of the hike. You can continue going straight, or you can take the challenge. The difficult part of this section is when you have to climb up rocks with water flowing down, leading you to the next part of the journey. According to Owen Glascoe, a student at Huntington Beach High School, "I liked the challenge of reaching an obstacle and overcoming the challenge. I also liked exploring new parts of the canyon that not many could." This section has a lot of gorgeous mini waterfalls and I think it is definitely worth the trouble. Glascoe said, "This hike was great because the scenery kept getting better as the hike went on. Every obstacle we passed made the struggle worth it." This section is not an easy part of The Narrows, but if you are up for the challenge, it is worth it.
Utah is a great vacation spot with several activities, so you will never find yourself bored. Utah is a gorgeous place and is definitely worth a visit or two. "We'd honestly go back to any of the parks over and over because they are so pretty," Hart said. 
Your donation will support the student journalists of Huntington Beach High School. Your contribution will allow us to cover our annual website hosting costs.
Thank you for supporting our program!