Folk-Rock Musician Phoebe Bridgers Smashes Guitar on SNL
On February 6th's episode of Saturday Night Live, folk-rock musician Phoebe Bridgers was invited to perform two songs off of her latest album, Punisher, released in June of 2020. 
She began the set with her song "Kyoto." She was washed in artificial stars, and the whole 7 piece band sported skeleton onesies, mimicking her latest album cover. The onesie has become a staple of her gothic aesthetic.
 "I Know the End," the second second song she preformed, began with an ambient, dark red lighting and a layer of fog covering the floor. The lighting, again, mimicked the album cover and was a perfect backdrop for the post-apocalyptic, nihilistic anthem about death, friendship, and depression. 
The song quickly began to up its pace, concluding with an explosive performance filled with flashing lights, jumping, and Bridgers' signature scream. The song ended in unabridged chaos, in which she smashed her guitar, a Danelectro Dano '56 baritone, into her front monitor, effectively ending her set with literal sparks. It was an unexpected, raw, powerful, and thoroughly punk rock concert.
As is typical with these types of shows, it was met with strong opinions, both showing lots of support as well as criticism.
Some background on the artist: Phoebe Bridgers released her first solo album, Stranger in the Alps, in 2017, and was met with critical praise. Her second and latest album, Punisher, was released just last year and began her growth in popularity; especially among younger queer people who resonate with her themes of depression, death, trauma, and strained relationships. She also does a lot of collaborative work, playing and recording alongside fellow indie artists such as Julien Baker, Lucy Dacus, and Conor Oberst. 
Bridgers is known for the extremely vivid and macabre imagery in her lyrics. On Punisher, Bridgers compares lovers to vampires, becomes a ghost, and sings about murdering her skinhead neighbor and planting a rose garden over his body. Outside of her music, she is known for her punk attitude and dry sense of humor. Both in her art and in her public life, she is very open and honest about topics that many consider taboo: her sexuality, mental health struggles, and leftist political views. All this is to say that Phoebe Bridgers is not one to shy away from possible controversy.
So when arguments broke out on twitter over her performance, she stood her ground.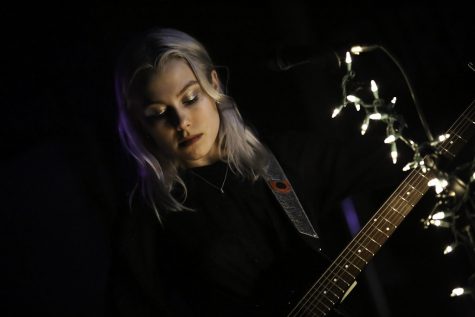 The discourse began when twitter user BrooklynDad_Defitant! tweeted their thoughts about her performance. 
"Why did this woman, Phoebe Bridgers, destroy her guitar on SNL?," they asked. "I mean, I didn't care much for the song either, but that seemed extra." 
Bridgers received many similar criticisms throughout the night as well. Fans rushed to her aid, arguing that the negative response from men on the internet was coming from a place of misogyny, and that most of them don't bat an eye when male artists also smash their instruments. Bridgers herself commented on the situation, joking that she had been canceled by incels.
Veteran folk musician David Crosby joined the discourse, saying that he felt guitars are for playing, not smashing, and that it was pathetic move on her part. Bridgers, in her characteristic snarky detachment, called Crosby a, "little b*tch." 
For the most part, however, her performance was met with positive reviews. Namely from rock musician and multi-instrumentalist Dave Grohl, who recalled his past with smashing instruments while playing with Nirvana. 
"My drums had holes in them from Kurt chopping my drums" he said in an interview with Howard Stern. "But let me tell you, it feels good when you do it."
Country singer Jason Isbell also voiced support, pointing out that the guitar Bridger's smashed was a particularly cheap model, and not one that would be missed by anybody.
Bridgers later explained on twitter that she told Danelectro she was going to smash their guitar, to which they wished her luck and warned her that their guitars are difficult to break. The SNL studio even built her a special monitor that would spark when hit with an instrument. 
"I've always wanted to do it, and when I mentioned it to the show, they were really excited and they built me this whole monitor that would look like it was exploding even if I wasn't hitting it that hard", she said.
Punisher has since reentered the billboard top 200.