How did the US deal with COVID-19 compared to Australia?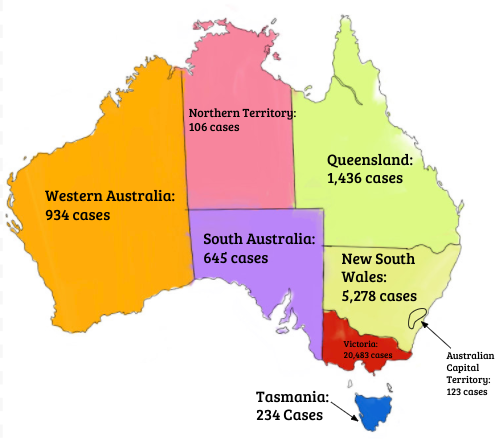 COVID-19  is being dealt with differently across the world. Some countries have handled COVID-19 better than others. The United States has not dealt with the virus as well as countries such as Australia. The United States lacked in enforcing laws and restrictions and could have improved on stopping the spread of the virus. Unlike the US, Australia dealt with COVID-19 quite differently. 
In Australia, international and state borders were closed as soon as COVID-19 was declared an emergency. The Australian government put people who were coming into the country into hotels in order to stop the spread of the virus. On January 31st in Western Australia, a security guard at the hotels that held people with the virus contracted COVID-19 and the state was put into lockdown for five days. People were barred from going to shops except for emergency situations; people had to wear masks when they went out. In total, Australia has had 28,958 cases, a very small number compared to the United States which has had 28.4 million cases. In California, there have been 3.55 million cases and Orange County alone has had 271,000 cases. 
During the pandemic, the United States has not been as strict; people had the option of wearing masks in some states, state borders remained open, and many people did not follow the CDC Guidelines with no repercussions. 
Some things that Australia did which America could have considered doing when the pandemic was declared: close the state borders, fine people who are not following the guidelines, dedicate a place to put those who are infected to stop the spread. At the start of the outbreak, putting people who have contracted the virus into places such as a hotel would have been a good idea, but unlike Australia, America has a much bigger population and a lot of things Australia has done would be a lot harder for America to do due to the mass difference in population.    
"We have an app on our phones that tells us if we have been near to someone who has tested positive with COVID-19," said Deryn Durrant, a Western Australian citizen. The  COVIDSafe app, alerted people to self-quarantine in their houses if they had been near someone who got the virus. This would have been a great idea to have in the US so more people would be aware that they have contracted the virus and could then self-quarantine. This would have stopped a lot of the spreading and the US would probably be in a better place. 
Derek Durrant, another citizen of Western Australia, said, "Australia, especially Western Australia, has virtually gone back to normal, we don't have to wear masks and events have opened up, although there are restrictions." This is a lot different from the United States, considering that there are still necessary mask mandates and many events that include large indoor gatherings are prohibited in the United States. 
Although the United States has not dealt with COVID-19 as well as Australia, it has been improving. The US has started giving vaccinations to people with a high chance of exposure such as teachers and nurses, elders aged 65 and older, and people at high medical risk. Things are also slowly going back to normal. Schools have begun to reopen, including in Los Angeles County, which is also reopening with restrictions. Australia has also begun vaccinating people who live there, but the process is a lot slower than the United States as their country isn't in critical need of vaccines compared to other countries.