APA's Pandemic Response
The pandemic has forced virtually every industry to find creative ways to keep working while keeping each other safe. Restaurants have created outdoor venues, parks have formed social-distance sections, movie theaters went back in time to drive-ins, the Flaming Lips even started doing bubble concerts. These solutions have even found their way into our own Academy for the Performing Arts (APA).
In particular, the Academy's Dance Department has faced striking changes throughout the pandemic. In an art form that relies mostly on the physical, Zoom cameras made the transition difficult. A member of the dance department and a choreographer, Sarah Hart says, "there were a lot of technological malfunctions, and sometimes it was hard to see or hear the music and choreography." Even though most dancers have started hybrid in-person classes, the challenges have continued to carry through to the second semester. Another member of the Dance Department, Taylor Ho says, "we have had to wear masks for all our classes, and at one point we were dancing solely outside." Despite these challenges, there have been many opportunities for growth. In her large modern class, Ho reflects on the decision to separate students into smaller groups in order to maintain social distancing. "If not for COVID, we wouldn't have had the opportunity to be able to break that up…. [and] I wouldn't have been able to get more personal training," Ho said. In terms of the departments' annual Fusion performance, which was filmed this year, Hart said, "It's a big learning experience for choreographers in the department."
Other departments, such as Costume Design and Technical Theater, have had much less to work on. With many shows transferring to a virtual platform, set pieces and costumes have taken a back seat. As a Technical Theater major and a Costume minor, Sophia Pollacchi says, "we have not had much to work on in tech… we have just done a project and cleaned some things, getting the theatre ready for in-person shows, and we have gotten a few things ready for taping shows." As for Leo Piccinino, a freshman in Costume Design, he says, "I haven't known APA outside of quarantine" but having "one class is online and the other class is in person… can affect how we sew projects." With the recent announcement of Something Rotten, the Musical Theater Department's upcoming mainstage show, the costume and tech students will have much more to keep them busy, as this show is expected to be in person.
A creative way to bring their show to life, the Acting Department made the decision to move their production of Failure: A Love Story online in the form of a radio play. Kiki Lothan, an acting major who played the Cuckoo Clock in the production, said, "the storytelling of the script was already so detailed and the sound effects…. [made] the experience so immersive," even from home. Produced in a podcast format, students recorded their lines and the play's music from home. Another student and cast member, Avery Asher, says it "is harder to bounce off classmates," but also goes on to say "teachers can get more one-on-one time with kids in a virtual setting because they can go into breakout rooms privately." As the year moves forward, the Academy for the Performing Arts has begun rehearsals for Twelve Angry Jurors and is in the midst of auditions for their annual One Act Play Festival, consisting of works written by APA's Dramatic Productions Department (DP). DP has successfully moved their other annual production, the Ten Minute Play Festival, to a virtual format. A Musical Theater major and DP minor, Paige Kim, said they "rehearsed and performed virtually." Like in previous years, this show consists of original short plays written and directed by the DP students. Acting in the show is open to anyone in APA or at HBHS. Kim said, "it was a different experience for everybody involved. personally, I thought it was fun and interesting to see how everybody did their plays and how they fit them into a virtual format." She is now working on her piece for the One Acts, premiering on May 27th!
For students in the Musical Media and Entertainment (MMET) Department, the pandemic has created a great space for learning. Because they did not have access to the equipment on campus for at least the first semester, most students had to record music by themselves. Quinn Roland, a member of the "Music" section of MMET, says "Covid has given me the opportunity to learn about recording software and how to properly record music." She adds, it is "great knowledge to have going into the future if we are hoping to pursue music." So far, the department has produced two of their annual shows: After the Beatles: the Solo Years and Playlist. In regards to performing online, Roland said, "All of us thrive off the energy we create while performing with one another on stage. It's been really hard to adjust to this new way of creating shows, we all really miss performing for an audience and getting to watch each other perform." But even with the struggles, an abundance of good came from the experience. Roland was able to write as well as produce a song titled "Used to Be" that was featured in MMET's Playlist. "I was inspired by the pandemic, talking about how much I miss life before Covid. I don't think I would have even attempted to write music without the circumstances this pandemic presented," Roland said.
Opening the same night last year's Musical Theater mainstage show, Beauty and the Beast was shut down, Robin Hood and the White Arrow made APA history. Not only was it the first live performance with an audience after the pandemic began, but was held in an outdoor venue at the Rose Center Theater.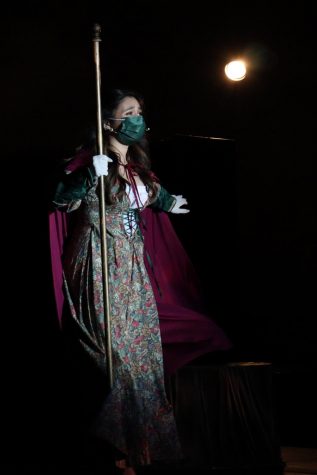 Written and directed by Tim Nelson, the Musical Theater Chair, the show follows the legend of Robin Hood through song and dance. Backdropped by greenery, the outdoor stage created a perfect setting for the tale's Sherwood forest. All actors, crewmates, and audience members were required to wear masks for the entirety of the performance. The directing team also chose to double-cast multiple roles in order to keep the number of people in the venue as well as on stage to a minimum. The performance was a great kick start to the hopefully many more live APA performances to come.