Preventing Puppy Exploitation
As animals progressively are being brought into this world — a world that is not suitable to meet their needs — the influx of puppies is becoming too large. Every 60 seconds, an animal suffers abuse. Amongst that, only ten percent, or one out of ten dogs, will find a forever home. A puppy mill knowingly breeds in unhealthy conditions to quickly produce animals in exponential numbers. Puppy mills are unsafe animal breeding shelters that exploit animals for sheer economic profit. California and Maryland lead the charge with lawful action against animal retail, and since then, twenty-six other states have been working to do the same. The legality of puppy mills is an ongoing issue, mainly because of overcrowding and mistreatment. More than ten million animals die of abuse in the United States alone every year. Most commonly, puppy mills are found in the United States, and the harsh conditions cause puppies to form musculoskeletal disorders, epilepsy, blood disorders, deafness, and so many more painful issues, more significant than financial gain.
In accordance, the prominent reason why puppy mills still exist today is that people are continuing to support their businesses. Knowing how to spot an unreliable breeder is very important. The interest of animals should be prioritized, not their profit. Many unknowingly purchase abused animals, only because the conditions were unaware to the buyer. As such, this emphasizes the need to know the signs of an unethical breeder so animal exploitation can be stopped.
Gabby Harris, a student at Huntington Beach High School, has purchased two dogs from an animal shelter and has seen the effect of neglect. "Lady is a loving seven-year-old Labrador Retriever-Border Collie mix, and [I] got her when she was about a year old," she said. Lady's prior owners neglected her needs, and rather than physically exploiting her, in this scenario, the situation took a toll on her mentally. "Lady was abused along with six other dogs from the same household. She's terrified of males, gets hurt on little things, and has abandonment issues and separation anxiety… Whenever we leave our house she sits in one spot and cries until we get back. She wants to be near us constantly because her prior owners under-prioritizing her needs."
Puppy exploitation is so common but unnoticed. Sixty-five percent of abused animals are dogs, and there are an estimated 10,000 fully functioning puppy mills operating in the United States. 
Knowing how to obtain an animal from a real breeder becomes a pressing matter.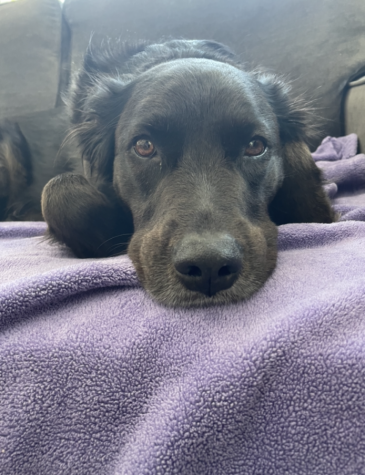 First, shelters are great places to pick up an animal, as oftentimes these animals need the most love. Buying an animal from a place that is not providing animals from a rescue, non-profit organization, or shelter most likely means the animal is being used only for economic gain. Also, it is so important to check the animals themselves. Check if the animal smells, has fleas, an ear infection, etc., as this means the puppies are not being cared for. Supporting shelters and animal rescues rather than pet stores do so much more good, as these animals are getting the proper support they need. Oftentimes, animal shelters get crowded, resulting in needing families to foster animals to open up space to animals more in need of their attention. Over 3.3 million dogs and 3.2 million cats enter shelters each year in America. If you would like an animal, check a nearby shelter as there are so many options, and so many animals are in need of a forever home.
If you are going to buy one from a breeder, a real breeder will ask you for an interview, proof of sustainable living circumstances, and sometimes even a house tour to ensure the animal could live happily. If a breeder is trying to give away the animal for a high price, quickly without paperwork or meeting the family, do not buy the animal as you have found a puppy mill. Those who do unknowingly buy from puppy mills are usually unable to care for the animal because of its medical costs, and the animal ends up back in a shelter. In addition, approximately 71% of individuals are reported for domestic violence, abuse their animals, reiterating the importance of interviewing someone you are giving an animal.
Choosing and picking an animal-specific to you should be easy, but knowing where to buy one can be hard. Considering that many animals are neglected and euthanized, please consider purchasing an animal from a sustainable source. Usually, nobody intentionally hurts an animal, but to end the animal cruelty process means funding ethically respectful and sustainable organizations.
For further information, here are some great resources and organizations with animals in need:
http://secondchancepetadoptions.org/ 
https://www.ochumanesociety.com/