Guide to Anime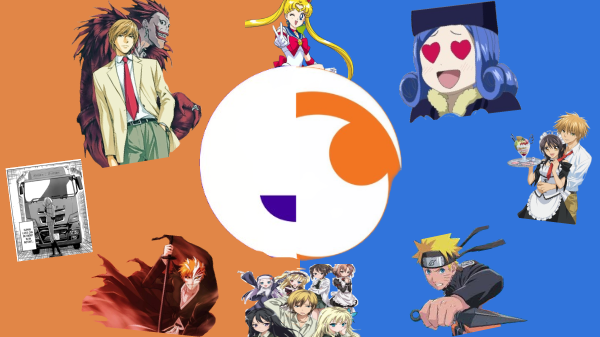 Binge-watching: the sport of quarantine. Whether you are binge-watching on Netflix, Hulu, or another video streaming service, you have probably seen anime at some point. With the onset of the COVID-19 pandemic, this genre of entertainment has gained popularity with many people, such as myself, enjoying the world of anime.
When quarantine started back in March 2020, anime was not widely viewed in a positive light and was not entirely accepted. However, soon into quarantine, subscriptions to Crunchyroll, a popular anime streaming service, jumped from 2 million users in November 2018 to 3 million users in July 2020. It has only grown since then. Along with Crunchyroll, there are other places to watch anime, such as Funimation, Viz Media, Netflix, and Hulu, among others. Funimation primarily deals with English dubs, or voiceovers of the original audio in Japanese rather than its counterpart, subbed, which is English subtitles with Japanese audio. Most of the people I know that watch anime prefer subbed over dubbed, which I slightly agree with. Some animes have more emotion when dubbed because the audience can hear the dialogue in their native language, rather than reading subtitles.
Anime also has many genres, like any other TV show or movie. These include, but are not limited to: action, fantasy, romance, horror. There are also subgenres that specifically pertain to anime, such as isekai, shonen, shojo, or slice of life.
Isekais are animes where the main character is transported to another world, usually after death via a speeding truck, named Truck-kun by the community. Isekais are the best kinds of anime. It opens up so many opportunities for a series. You can have magic or medieval knights. You could even become a spider, which was shown in the anime So I'm a Spider, So What? With the wide variety of Isekais out there, there is bound to be one for everyone.
Shonen animes are where the action takes place. Generally, shonen animes do very well so most will get multiple seasons. The most popular shonen animes are known as the Big 5. These shows are Naruto, One Piece, Dragon Ball, Fairy Tail, and Bleach. Currently, only One Piece is still in production, but Naruto's story is continued in the anime Boruto, which is about Naruto's son. Bleach has also been recently confirmed for another season in Winter 2021. There are also many other popular animes aside from the Big 5. A few of these are new generation animes such as My Hero Academia and Black Clover. Others include Blue Exorcist, Kill la Kill, Owari no Seraph ('Seraph of the End'), Fullmetal Alchemist: Brotherhood, and Sword Art Online. Of these, Bleach and Fairy Tail are the best anime in this genre. While these may be long animes, they are entirely worth it. Owari no Seraph and Blue Exorcist are also very good animes, although they are pretty short.
Shojos are animes with a female main character whose goals seem impossible in the beginning. Many shojos have the goal of love or friendship by the end of the anime. A few popular ones are Maid Sama, Fruits Baskets, Ouran Host Club, and Love, Chunibyo, and Other Delusions.
Slice of life is a very popular kind of anime, depicting stories about daily life, sometimes with supernatural things such as in Miss Kobayashi's Dragon Maid. Slice of life is, "like the daily life of a character and like the events that happen in their lives," as described by Gigi Hodne, a Freshman at Huntington Beach High School. She has watched shows like The Disastrous Life of Saiki K, K-On, and Anohana: The Flower We Saw That Day. 
Animes are not solely confined to these categories. There are many comedy animes such as Nanbaka which I am currently watching. Another well-created comedy anime is Assassination Classroom.
Overall, Anime has an expansive amount of categories, which also go into sub-categories. An example of this is Attack On Titan, which is a shonen dark fantasy. No matter what things you like, there is bound to be an anime for you.
My Favorites from Each Genre;
Isekai- The Devil is A Part Timer (1 season, Season 2 on the way)
Shonen/Action- Fairy Tail (9 seasons) and Bleach (16 seasons, soon to be 17)
Shojo- Maid Sama (1 season)
Slice of Life- The Disastrous Life of Saiki K (3 seasons) (1 spin-off)
Comedy- Nanbaka (2 Seasons) and Assassination classroom (2 seasons)
Horror- Angels of Death (1 Season)
Romance- The Quintessential Quintuplets (2 Seasons, with a movie arriving next year)
Fantasy- PERSONA5 the Animation (1 season)
Psychological- Death Note (1 Season)
Drama- Tokyo Ghoul (3 Seasons, 1 and 2 are recommended)
Sci-Fi- Dr. Stone (2 Seasons)