2555 Pages of Quality
Many of my friends and family know I love to read. So, it is no surprise that during this pandemic, in order to pass the time, I read many books. Now, about a year later, I would like to share my thoughts on them and recommend the best reads for summer. 
Fair warning: these books will be categorized by page length, and the following contains a fair amount of spoilers. At the end of each venting session, I will be rating these books out of five. Enjoy! 
The Great Gatsby (218)
Starting the race, we have The Great Gatsby by F. Scott Fitzgerald with a total of 218 pages. This book takes place in the early 1920's New York, where jazz, grand dances, and parties are familiar friends to all. The story follows Nick Carraway, a young man eager to live the American Dream, and Jay Gatsby, his rich and elegant neighbor with one goal in mind and a mysterious past. As the audience is intrigued by these lavish characters, they also follow the mystery that is Gatsby and learn how money influences American society. 
Now, in my personal opinion, Fitzgerald's writing is just as poetic and elegant as his characters. He truly found a way to create a dim setting, such as the Valley of Ashes, and used the power of description and imagery to make the reader feel as if they were truly there. Now usually, I don't like a large amount of description because I feel that dialogue and character development get lost within the process, however, for this book, that was not the case. There was enough description, dialogue, and definitely plot in the story that keeps the reader wishing for more. 
I quickly want to talk about the characters. Each had suitable personalities that fit their economic status. For example, Nick was fairly wealthy (the middle class) and was humble, but yet kept wishing for more. Daisy, the rich and beautiful, with a voice filled with a desire for wealth, was dramatic and quite needy. 
My dislikes for this book include two things: Daisy's and Gatsby's past. I did not like Daisy! I'm not sure if this was Fitzgerald's intention, however, the way she tricks Gatsby into believing that she is completely and utterly devoted to him (although we later discover that all she truly loves is money) is the reason why I heavily dislike her. Again, this proves Fitzgerald's amazing character description, however, I feel as if everything that went wrong in this book was Daisy's fault. Finally, I wish we got more detail about Gatsby's past. Tom Buchanan and many others made the readers believe that Gatsby had committed the worst crimes possible to receive the fortune he has today. However, the reader later learns that Gatsby had only opened a large number of illegal liquor stores during the time of prohibition in America. As a reader, I feel as if there should be more. I guess that's the intended mystery Fitzgerald wished to keep a secret. 
The classic continues to surprise thousands of students each year, as it is covered within the high school English curriculum. Many teachers try to discuss the common theme of the American Dream, along with supportive evidence regarding social Darwinism. The Great Gatsby expands on the idea that this so-called "American Dream" is unattainable due to the unchangeable social status that our society has implemented. 
My final rating for this book would have to be a 4.5/5, simply because the ending felt incomplete, however, this book proves that it deserves to be a classic. 
Call Me By Your Name (248)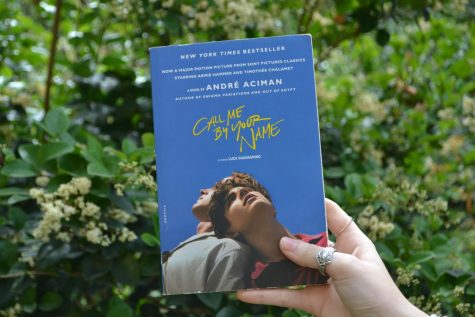 Call Me By Your Name, by Andre Aciman, is a novel I have seen on many "recommended book" lists. The story takes place in the early 1980s and follows Elio, a young 19-year-old as his family goes on their summer vacation in northern Italy. Every year, Elio's family allows one college student to live with them for the summer (while they continue their studies). The story begins when Elio meets Oliver, a confident and wild young man who stays with Elio's family over the summer. While following Elio's young and romantic thoughts, Call Me By Your Name enhances the audience with its strong imagery and modern, yet interesting, love story. 
The beauty of Italy is wonderfully painted throughout this novel, however, my biggest issue was the love story itself. The love interest between Elio and Oliver seemed almost toxic and dangerous, especially for Elio's mental health. From Oliver's introduction to the end of the story, it seems as if Oliver knows that Elio has a desperate desire for him and continues to use that against him. Not to mention the fact (this part frustrated me the most) that Oliver always knew that this summer romance would end. Because of that, I felt so bad for Elio; he completely fell in love and tried to make this relationship work, but it was as if Oliver always knew that this was never going to be a real love story. 
Because of that, I would give this novel a 2.5/5. Now, I have a friend who loved this story and believed that a first love such as this allowed Elio to learn more about himself. And, while that may be true, I felt as if the story had no real purpose due to the fact that in the end of the novel (spoiler alert) when they meet each other after ten years, it seems as though Elio isn't over Oliver. 
*Warning: This novel contains sexual content.
The Girl He Used to Know (291)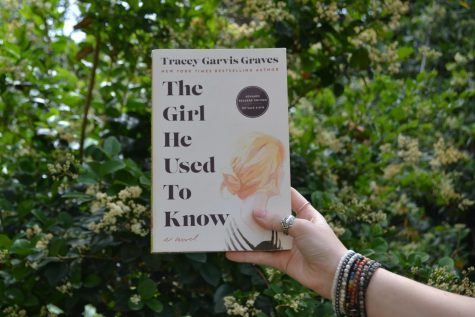 The Girl He Used to Know by Tracey Garvis Graves is officially my favorite romance/coming-of-age novel that I've read. The reader is introduced to two different characters: Annika, an insecure animal lover, and Jonathan, a kind, gentle man. The story is placed in different time periods where Jonathan exists about ten years in the future and Annika's perspective is placed in the past (when the two love birds first meet on their college campus). This novel is so sweet and has taught me what first love can look like. The two characters continuously support each other throughout their hardships, and even after meeting each other ten years later, they still continue to do so. 
Truthfully, I didn't think much of this book when I saw it. My mother picked for me and I thought maybe it wasn't going to suffice to serve my interests, but oh was I so wrong! I never thought it was going to be important, but every hint and detail in this book from the dates they spend together to their occupations contributes to the conclusion of the book. The ending is so good. Even though I said there would be spoilers throughout this article, I'm not going to spoil this; you're just going to have to read it on your own. 
I believe Graves's best work in this book is her continuous amount of character development. She focuses greatly on the internal change of both characters but specifically wants the reader to understand Annika's mental challenges. 
Again, this book is heartwarming, kind, very surprising, and an easy read. I would rate a 5/5. 
*Warning: This novel contains sexual content.
They Both Die At The End (368)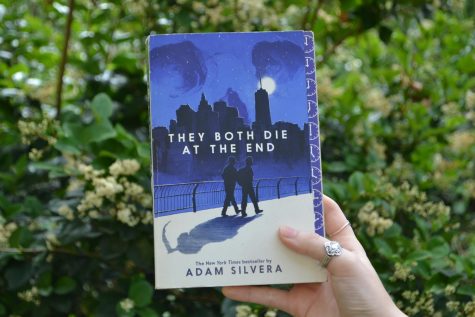 In the modern 21st century, the reader enters a world where a single phone call from DeathCast can dictate whether or not it is your last day on Earth. In, They Both Die In the End, by Adam Silvera, the reader meets two boys, Rufus and Mateo, both between the ages of 18-19. The two receive a call from DeathCast on the morning of the day they are supposed to die, learning they will die within the next 24 hours. Desperate to make the most of their final hours on Earth special, these two strangers meet up, create a friendship, say goodbye to memories, and accept new ones throughout their journey in New York City. In this coming of age (or acceptance of death) story, the reader is allowed to focus on what is truly important in life, and think about how we as a society can try to add purpose into the lives of others. 
This book is so good! I'll be honest, the first half of the book was quite slow due to the author trying to build background to the characters' stories and explain to the reader how they as individuals would react to different situations. I really don't want to spoil this book, it's that good, but I will say it contains a love story that is so sweet and comforting. This novel made me realize that one's actions or words can truly affect others. Every interaction we have with others impacts not only our own lives but others as well. 
The style of writing is pure and the character development is well done! I would rate this book a 4/5. 
Howl's Moving Castle (429)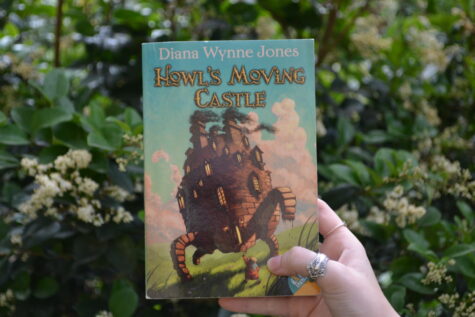 If you've noticed the title and thought of the Studio Ghibli production, Howl's Moving Castle, then you're in luck because this is the same story, to an extent. The novel was originally published in 1986, 19 years before the movie was released, by Diana Wynne Jones. The classic children's novel follows the journey of a young girl Sophie as she tries to find her purpose in a magical world. In this world, as the oldest daughter in her family, she will benefit from nothing and her family's fortune will go to her two younger sisters. Of course, Sophie is too kind to feel jealous, but she does question herself and her own purpose as her sisters are sent off for bigger and brighter futures; until a mysterious meeting from the Witch of the Waste. After being placed under a spell to make Sophie appear older (like, 100 years older!) she searches for Howl, rumored to be a deadly wizard, in hopes of breaking her spell. Sophie's adventure with Howl and his friends allows her to find confidence and inner strength as well as first love. 
I can only think of one word to describe this book, and that's "cute!" The theme of self-confidence and love flows throughout this story making the reader fall in love with the magical world as a whole. However, if you have seen the movie, this book is completely different. The book and movie have only two things in common: the main characters and the love story between Howl and Sophie. Jones does a great job at creating a magical world with beautiful settings (like one of my favorite parts is when she describes this vast prairie with no person in sight, just, wow!) and laughable moments. However, I felt like there were too many stories Jones wished to tell. Either the book should have been longer, or Jones should have focused on multiple subplots. Because of that, I also, like with Gatsby, felt as if there was something missing in the ending; it almost felt rushed. 
Besides that, I loved the characters and intense setting detail. I would give this book a rating of 3.6/5, and remind you not to forget to watch the Studio Ghibli adaptation too! 
The Mirror Visitor Series (900+)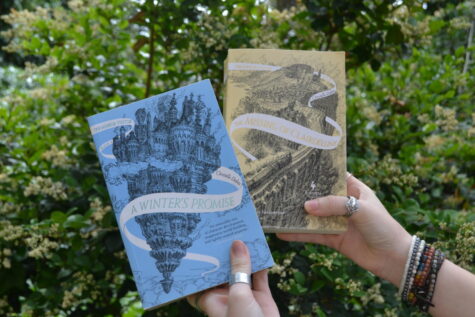 The world is divided into monuments known as arcs, and each arc is blessed with a Family Spirit, who is allowed to grant their citizens magical abilities. The Mirror Visitor Series is a collection of French novels written by Christelle Dabos. The audience follows the story of Ophelia, a clumsy yet very intelligent young woman, proud of her occupation and magical abilities. One day, her normal life is interrupted when her arc's Council has announced that she has been placed for an arranged marriage to a man named Thorn; a silent, proud, and somewhat rude man. As Ophelia travels across the world, she enters a new territory unlike her home filled with gossip, illusions, and many secrets. How will she survive? 
Everything I wrote in the summary should be taken literally. Ophelia is surrounded by people of violent nature, cruel personalities, with the saying, "what's in it for me?," constantly flying around. As a foreigner, she must play their game and try to survive in time for her wedding, after which she will hopefully be safe. This story is truly an exciting one and it intrigued me to discover how gossip can influence a small society. My favorite part of these books was the world-building because it was absolutely beautiful (not to mention the gorgeous cover art of the books). Now, I haven't finished the entire series, (I still have to read the third and fourth ones), but, if you like a story filled with a strong female lead, beautiful imagery, and a bit of gossip, then this is the book for you. The sci-fi fantasy that is the Mirror Visitor will enchant you for sure. 
My rating would be a 4/5.
Now, some may have different opinions about these books than I do, and that's okay. But I hope, during the pandemic, that you all continue to read because books are great; and you will never have more time to read than now! 'Till the next book review.
All photos were taken by Morgan Delgadillo.