A New Music Phenomenon: Larkin Poe 
Musicians come and go from the public eye, and one can not deny that Larkin Poe is climbing their way up the totem pole. The band, which originated in Calhoun, Georgia, but is now based in Nashville, is made up of sisters Megan and Rebecca Lovell. They have been described as utilizing many different genres when creating their sound. Some of the genres they have been listed as include: alternative/indie rock, bluegrass, American roots rock, blues rock, and folk-rock. 
The sisters named the band Larkin Poe after their four-times-great-grandfather, who just so happened to be the cousin of Edgar Allen Poe. Megan and Rebecca had grown up being fans of the late poet's work and were ecstatic when they discovered as teenagers that he was a relative of theirs. As a result, the sisters decided to name their band Larkin Poe in order to stay true to their family and as a  homage to their old southern gothic roots.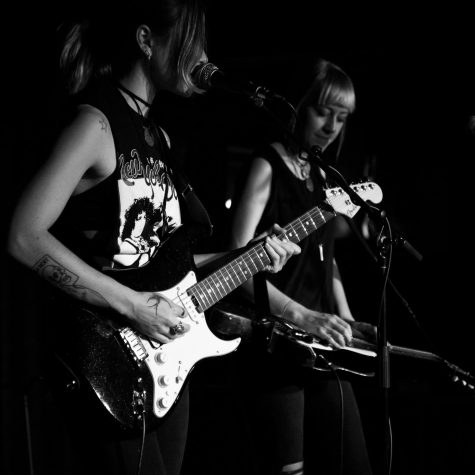 Rebecca and Megan Lovell are now known for their work with Larkin Poe, but that was not where their music careers began. Rebecca and Megan were originally part of a band, the Lovell Sisters, with their older sister Jessica. The band was founded in 2005 but split up after producing two albums over the course of their five-year career. The two younger siblings then went on to start Larkin Poe and released their first album back in 2013. 
Since their debut in 2013, Larkin Poe has released eight albums, three of which were released between  2020 and 2021. This is an impressive feat in the music industry, considering that many artists take years to perfect and produce a single album and that the average time it takes artists to release an album is every 18-24 months, which some refer to as the "traditional album cycle," so these women seem to be on top of their game and frequently giving their audiences new music to enjoy. 
Many people believe the success of Larkin Poe comes from the sisters' backgrounds in music and the fact that they are both classically trained. The Lovell sisters took piano and violin lessons from a young age. They also grew up singing in string quartets, youth symphony orchestras, and church choirs. Because of this, Megan and Rebecca seem to have the upper hand when it comes to producing and writing music.
Since developing a larger audience, Larkin Poe has performed in many cities and is continuing to play many more shows in the United States and Europe throughout the rest of 2021 and 2022. Their tour in the U.S. ends in April and, from there, they will begin touring many countries in Europe, such as the United Kingdom, France, Belgium, and Spain. 
Their tour is spread worldwide and gives fans of many genres something to look forward to in the music world. The sisters have captivated audiences of many genres because of how they tend to surprise the people who come to watch them perform. The surprise comes to many people after realizing that Larkin Poe is made up of two female siblings because many people have begun to expect men to perform genres such as American roots rock and blues. The expectation that men dominate these genres has been made over time as women have been pushed down into less empowering roles, yet these women have taken it upon themselves to create music that does things not many musicians can do when it comes to their blending of several diverse genres. 
Megan and Rebecca are two very well-respected musicians in an array of genres. Their music mixes many styles and is guaranteed to have something enjoyable for many types of listeners. These sisters are powerful women who conquer genres that have been previously dominated by men and are definitely worth giving a listen to.