Bringing An End to the Alzheimer's Disease
On October 16th, 2021, the Alzheimers Association held the Walk to End Alzheimer's in Huntington Beach, California. The organization works to promote more than 600 communities nationwide in hopes of further funding research towards the disease. The foundation is commonly known to host walks where participants have the opportunity to donate to the cause. The organization was first established in the 1980s and continues to grow in volunteers and participants every year.
For those who may not know, Alzheimer's disease is a progressive neurological disorder that causes the brain and brain cells to die. Many may believe this disease to be similar to Dementia, however, Alzheimer's is a disease that is caused by memory loss and continues to affect about 5.8 million people in the United States.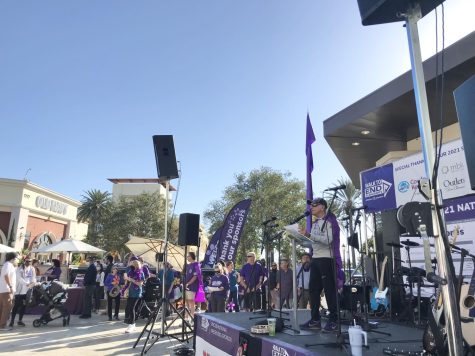 The walk was meant to originally take place in the Bolsa Chica State Beach boardwalk, which was a total of two miles from the starting point to the finish line. However, due to the oil spill on October 2, this was altered to take place in the Bella Terra shopping center. 
As I woke around seven in the morning and later arrived at my destination, I was stunned. Near the Burlington store, volunteers around the ages of 16-18 were lined up with noise-makers, balloons, and excitement, ready to invite the new coming participants. Sam Capbello, a friend of mine who was attending the event said, "I heard there are over 800 people attending today."
Before the walk began, participants were greeted by a field of different windmills that were all designed in the shape of flowers. The flowers were decorated in different colors such as orange, yellow, purple, and blue, each had its own specific meaning. Orange meant that participants were there to support the end to stop Alzheimer's. Yellow means that the participant cares for someone who has Alzheimer's. Purple represents that the participant knows someone or someone in their family has passed away due to Alzheimer's. Blue represents that one is living with Alzheimer's. These flowers are meant to symbolize a fight that each participant has to undergo due to Alzheimer's disease.  Shannon Martinez, a walk volunteer said,  "These flowers, just like us, have a lot of fight in them." 
At the end of the walk, participants were greeted with a cheering crowd that was ecstatic for participation and donations. They traveled through the 2-mile goal and were greeted with Star Wars characters, women on stilts, and of course, more balloons. In the center of Bella Terra, a group of dancers performed a routine to the popular song, "Happy" by Pharrel Williams. Then participants were greeted with a bottle of water and asked to relax and enjoy the show.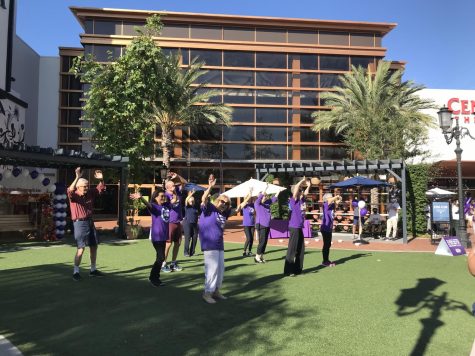 The smiles created allowed people to connect with each other and sympathize with their personal experiences related to Alzheimer's. It was sweet and I was extremely touched that Alzheimer's disease  could bring a community together with the similar goal of putting an end to it.
Amanda Goddard, a Walk Assistant for the Alzheimer's Association, said, "I have a very personal connection to [the cause]. My grandmother has been living with Alzheimer's [and] my parents are her full-time caretakers."
Goddard continued, saying, "The Alzheimer's Association is the leading organization for Alzheimer's research, care, and support. Without them, I don't think we would have our first FDA drug for Alzheimer's." 
The Food and Drug Administration (FDA) drug Goddard is speaking of was approved on June 7th, 2021, and it's known as Aduhelm. Aduhelhm is the first new treatment approved for Alzheimer's since 2003. The FDA explained that the treatment specifically focuses on the fundamental pathophysiology of the disease.
However, the Alzheimer's Association does not plan to stop even though a drug has been created. They hope to continue to fight until there is an end of Alzheimer's and they are able to welcome a new flower to the garden; the white flower symbolizing cured patients of Alzheimer's.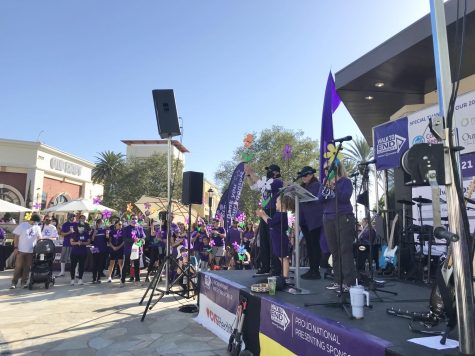 If you or a loved one has been affected by Alzheimer's, I greatly encourage that you attend one of the walks offered by the Alzheimers Association. In order to receive more information about the Alzheimer's Association, feel free to visit their website or to watch the video below highlighting the walk.