History and Representation of Hawaiian Cuisine in Huntington Beach
There are many local restaurants in Huntington Beach that are working hard to preserve authentic Hawaiian cuisine, including Da Hawaiian Kitchen, Aloha Grill, and L & L Hawaiian BBQ.
 Da Hawaiian Kitchen is a family-owned business that is working to bring the aloha spirit through its rendition of local Hawaiian food. Some traditional dishes that they serve include spam musubi, Kalua pig, Lau Lau, Lomi salmon, poke bowls, and plate lunches.
The Aloha Grill is also a local restaurant but with a different spin on Hawaiian food; while still including traditional foods such as spam musubi and poke bowls. They also serve kalua pork but on top of nachos, and other Asian cuisines.
The L & L BBQ is big on plate lunches, chicken katsu, spam musubi, kalua pork, and the loco moco dish; a plate of sunny-side-up eggs atop beef patties and rice covered in gravy. Toby Hodne, junior at HBHS, recently visited L & L BBQ and ordered the spam musubi and the barbeque chicken bowl. Hodne says, "It was a balanced meal of chicken, rice, and vegetables, and [the spam musubi] brought back childhood memories."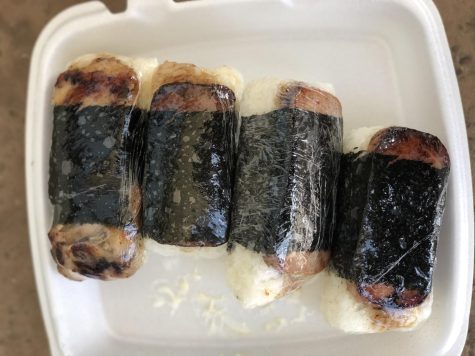 All three of these local Huntington Beach restaurants serve their own rendition of plate lunches. The plate lunch, commonly known as "Hawaii's state food," has a rich history that traces back to 19th-century laborers, who packed food each day with an entrée and rice along with a few sides in a bento box style. L & L BBQ explains that meals were frequently shared and created a blend of home cuisines from Japan, China, the Philippines, Portugal, Korea, and New England. There are many varieties of the plate lunch as it can be filled with different proteins such as fresh seafood, chicken, or other fried meats. The plates also often come with two scoops of rice and a scoop of macaroni potato salad on the side.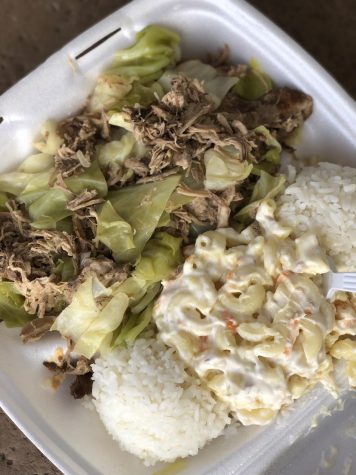 As for the history behind these Hawaiian dishes, it comes from a blend of many cultures and influences. Originally, A group of Western sailors, led by Captain James Cook, arrived on the islands in 1778 in hopes of exploring the Western Coast of North America. Much like other areas of the world during this time, many of the indigenous Hawaiian natives lost their land to the white settlers. From here, the number of immigrants who came to work on plantations and fields increased, allowing the spread of cultural influence on the islands and the food. Throughout the years, the impact that different cultures have had on Hawaiian food as a whole is vast and diverse. Here are some of the cultural cuisines that have impacted this food:
Polynesian:
Pigs, chickens, bananas, breadfruit, sugarcane, coconuts, ti leaves, ginger, and taro were originally transported to the island with Polynesian way finders and are now considered as traditional ingredients and delicacies in many of today's Hawaiian recipes. In ancient times, taro was used for cooking meat. The meat was wrapped in leaves or lū'au while it was being grilled on hot rocks or stones. Taro itself is an important crop today as it is the only starch in Hawaii that is not imported. The leaves are also used, in a stew created with coconut milk, meat or fish, and served with poi which is taro that is diluted with water. Foods that are now considered main dishes, such as poke or pig, were once condiments added to enrich the flavor of poi. Along with this, Poi can be found in many different forms, depending on the amount of water added as well as the desired consistency. However, typically it is a pudding-like substance that can be eaten with your fingers. 
Chinese:
Chinese immigrant laborers arrived in the early 1850s and became a majority of the Hawaiian population. With that came a preference for long-grain rice and saimin. Saimin is a noodle soup that has been adapted by different immigrant groups who continued to add toppings unique to their culture. Modern Chinese saimin can be made with Portuguese sausage, Korean kimchi, spam, and Japanese fish cake.
Japanese:
Following 1885, the next wave of food preference came from Japan. Along with it arrived a complete end to the Hawaiian rice industry. The distaste of long-grain rice among Japanese settlers led to the importation of short-grain rice from California. Long-grain rice had the downside of not clumping easily enough for it to be pressed into musubi, which Japanese field laborers brought frequently for a snack. However, after WWII, Spam musubi became a popular lunch item because of its heavy use during the war. In addition, the Japanese debuted kakigori, or shaved ice, a centuries-old dish that is now a huge tourist attraction on the islands. 
Portuguese:
Around 1830, Portuguese sailors operating both fur and whale trades came through Hawaii and then became increasingly regular visitors after food and water shortages devastated the Portuguese islands. When Portuguese ships docked in Hawaii, the sailors began to trade salmon for beef, sugar, and coffee. Salmon salad (Lomi-Lomi) became a mainstay of Hawaii's poor and later substituted traditional poke at Hawaiian luaus.
Korean:
Pizza with pineapple chunks is not genuinely Hawaiian, but kimchi pizza is. However, in 1903, the pineapple was helpful in getting the first Korean immigrants to Hawaii because there were limited laborers for both sugar and pineapple fields. Canadians actually invented "Hawaiian" pizza as it is not an authentic dish. Hawaiian cooks eventually incorporated pineapple to dishes like Spam fried rice, partly to appeal to tourists and partially because pineapple adds a freshness to starch, pork, and fried Hawaiian comfort food. Kimchi is now widely used, whether it be in saimin soup, musubi, or spread on kalua pig sandwiches. It is also commonly served as a side dish with Korean barbecue.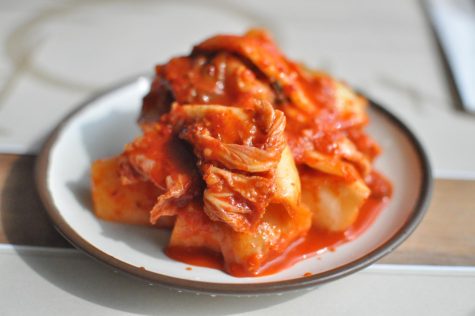 Filipino:
Filipinos made nearly 70% of the labor force by 1935, and they are the largest ethnic group in Hawaii as of 2010. Desserts such as lavender coconut milk and purple sweet potato pudding with bits of taro and tapioca pearls (benignit) and ensaymada, a buttery, brioche-like bread smeared in cheese and sugar, have become very popular on the islands. 
Puerto Rican:
Storms in 1899 destroyed Puerto Rico's flourishing cane fields. Cane workers became in desperate need of labor, so many of the workers made their way over to the islands. Tamale-like pasteles are a local favorite inspired by Puerto Rican cuisine, prepared with crushed green banana masa, spicy pork, cilantro, and steamed inside ti leaves (a Hawaiian twist). 
Ultimately, Hawaii is a cultural blend that has come to be with the influence of immigrant groups who brought with them different flavors and preferences that helped to shape the cuisine as a whole. Representations of all cultures and their authentic food are very important in the community as it helps to connect areas of the world. Come support the authentic restaurants in Huntington Beach, to help keep culturally rich food alive!