Playing for a Cause
Huntington Beach High School hosted a volleyball event in collaboration with Dig Pink, which is a non-profit organization that raises awareness of metastatic breast cancer, on September 28, 2021. The HBHS Girls Varsity Volleyball team played a hard-fought game against Newport Harbour High School.
The Oilers and Sailors had an intense battle, but HBHS came through with the win of 3-1 as the final score. Days prior to the Dig Pink event, on September 23, 2021, the HBHS Varsity Girls Volleyball team went against Corona Del Mar High School, where they also took the win with 3-1 as their final score. But winning the game against the Sailors was a huge victory because it is nearing the end of the HBHS Volleyball Season. These athletes have been working incredibly hard all season and made their way to the CIF finals playing for a significant cause.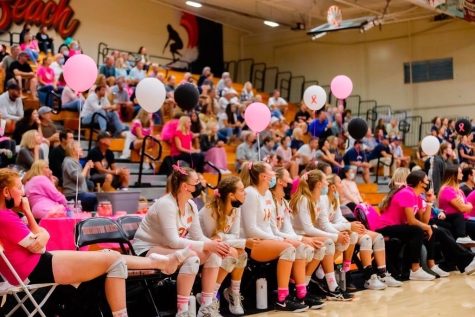 On top of the fantastic volleyball season that they have had this year, the girls competed for an event with Dig Pink. Dig Pink is a non-profit organization that hosts events that are meant to raise awareness for metastatic breast cancer research (also known as stage four breast cancer). This organization was founded by Rick Dunetz, a high school varsity volleyball coach, and his father, Bryant. Rick and Bryant started the Side-Out foundation after Rick's mother was diagnosed with stage 4 breast cancer. Their goal was to make a difference in the lives of people living with breast cancer. This idea took off in the form of hosting fundraisers for advanced metastatic breast cancer at volleyball events. Over the course of 10 years, "Dig Pink" has raised over $15,000,000. This foundation has changed the lives of many and brought hope to people living with metastatic breast cancer.
According to the Side-Out Foundation, an American charity that funds treatments and raises awareness towards metastatic breast cancer, "[Their] step-by-step process and dedicated representatives have helped athletes, parents, and coaches across the US host over 9,000 Dig Pink events. From middle school volleyball teams to NCAA to adult leagues, anyone can host a Dig Pink event."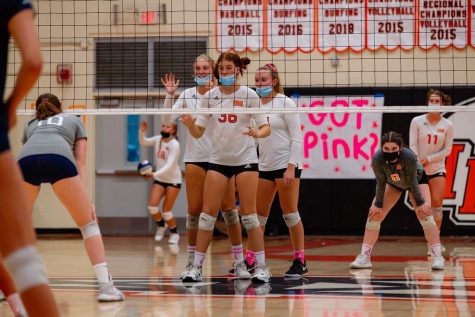 Since this is a non-profit organization, one may ask, How is money raised for the cause? According to The Side-Out Foundation, the site stated, "to raise money for research [we] sell "Dig Pink" merchandise or conduct raffles at the event."
HBHS had a raffle at the event, and those proceeds went to the metastatic breast cancer research. The school had raffle items including a 2-night stay in an oceanfront room at the Pasea Hotel and Spa. Ticket prices ranged from $1 for one ticket to $25 for 35 tickets. These proceeds also went to the research that this foundation has been working on for 10 years.
The Side-Out Foundation site states, "We work to understand the molecular makeup of every metastatic breast cancer tumor we biopsy. From there, we analyze the treatments and trials that can substantially improve the length and quality of life of each patient." This foundation works to extend the precious time that cancer patients have with their loved ones.
Dig Pink is a significant and effective way for middle schools and high schools to raise awareness of breast cancer. Setting up these events is as simple as filling out a form and scheduling a time, and it is for a great cause. It is encouraged that people come to these events to support and promote breast cancer awareness, while our community is also encouraged to host these life-changing events.