Lawrence The Band: Fusion of Pop Rock and Soul
December 10, 2021
Bright, flashing lights covered the faces of those who came to celebrate the opening performance of Lawrence the Band's Hotel TV tour. The band's first performance since the COVID-19 shutdown took place on October 7th in the Novo, an indoor club located in Los Angeles. Gracie Lawrence's vocals blended perfectly with her brother, Clyde Lawrence's. The instruments of the eight-person band filled the room with music that the group describes as "soul-pop." To fully understand Lawrence's unique sound, it is worth looking into the origins of music genres and what sets them apart.
The rock and roll genre famously originated in the 1940s and 50s—with hit songs such as "The Fat Man" by Fats Domino and Ike Turner's "Rocket 88"—and quickly gained worldwide popularity. Since then, rock music has been further broken down into sub-genres such as garage rock, punk rock, grunge, and pop-rock. Making its debut in the mid-1950s, pop-rock was seen as a lighter, upbeat form of rock and was used more commercially, the target audience is the youth. As opposed to classic rock, pop rock focuses more on the recording and the songwriting aspect of music and less on the strong attitude and tone that defines classic rock.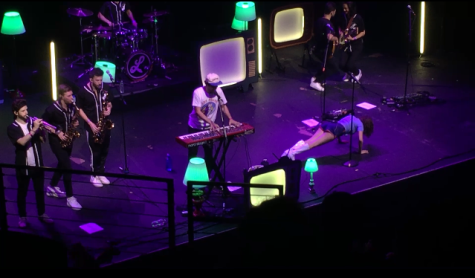 Around the same time, soul emerged throughout the United States in the 1950s and 60s as a combination of African-American Gospel music and rhythm and blues (R&B). Characterized by its use of horns and its gospel influences, the genre created the foundation for disco and funk, two variations of soul. Among the most popular soul artists are Aretha Franklin, Etta James, and The Supremes.
Lawrence utilizes both classic pop instruments, such as drums, keyboard, and bass, and adds saxophones and trumpets to give their music a soul-like element. On Splitter.fm, a website that Clyde Lawrence, Jonny Koh (drummer of Lawrence The Band), and Maxson Jarecki (friend of Clyde Lawrence's) created, listeners are able to hear and hear the individual instruments that are used to compose their songs and those of other musicians.
Lawrence's tour ends on the 18th of December, but the Hotel TV Tour Part 2 starts January 13th with a show in San Francisco on April 19th. If interested, their music can be found on Spotify and Youtube in the links below!
Band Website: https://lawrencetheband.com
Spotify: https://open.spotify.com/artist/5rwUYLyUq8gBsVaOUcUxpE?autoplay=true
Youtube: https://www.youtube.com/channel/UCr5v6l4EIKiImmJU-COJ0Sg
Splitter.fm: https://splitter.fm