HBHS Holiday Christmas Wishlist
December 17, 2021
As the holiday season approaches, teens begin to compile their holiday Christmas wish lists. Have you started making your Christmas wish list? Don't know what you want for Christmas this year? Here are the top four items that students at Huntington Beach High School have on their Christmas Wishlist!
1. The Comfy
The Comfy is a fantastic holiday gift idea that has become a worldwide craze due to its comfiness. The Comfy is one of the first wearable blankets, allowing you to stay warm and cozy whether you're at home or out and about. This new product, which launched in stores in 2017, has become a huge success; it functions as an oversized sweatshirt that is extremely soft and doubles as a blanket when you sit down. The Comfy was founded by two brothers, Brian and Michael Speciale who say, "When you purchase products from The Comfy, you are joining us on our mission to embrace the world in a giant hug. Our company started with a dream, and now we are grateful to be giving back and even helping others fulfill their own dreams. We donate to causes including those in need, frontline workers, and the homeless." 
Hayley Durrant, a student at Huntington Beach High School (HBHS), says, "I added The Comfy to my Christmas wish list because it is something I can wear around my house when I am cold." 
She adds that "People should have a comfy on their list because it is basically a blanket that people can wear which makes them feel comfortable and cozy throughout the day."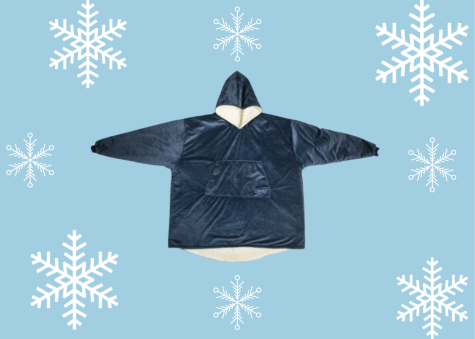 2. Youth To The People
Is your skin in need of some help? Youth To The People is a skincare line designed for people of all skin types. They have products ranging from cleansers, moisturizers, clay masks, and serums that help with oily, dry, combo, sensitive, and breakout-prone skin types. Youth To The People is a brand that takes action for a just future and a habitable planet through its Good To The People Funds by supporting nonprofit leaders in climate, gender equity, racial equity, and human rights. Good To The People Funds three funds. One core issue each. Infinite solutions to the challenges facing our one planet and the human family. 
 Joe Cloyes and Greg Gonzalez, the founders of the brand, says, "We support nonprofits that prioritize empowering women and BIPOC communities in their access to land, food, clean water, and housing. We support nonprofits that empower and support women as central to climate change solutions and nonprofits that are working to mitigate the warming of the planet, advocate for renewable energy, and advocate and educate on net zero-emission strategies." 
Kelsea Andrews, a student at HBHS who uses Youth To The People says, "the Youth to the People stuff is super good for my skin, their face products are perfect for the skin." Andrews adds, "it is a very good brand that's vegan, not animal tested, and great for people to use, it is a must to your Christmas wish list."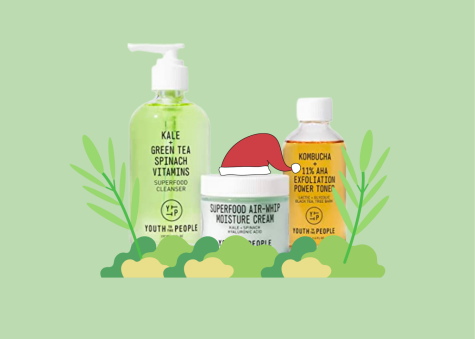 3. Oculus Quest 2
The Oculus Quest 2 is a virtual reality (VR) system, and it is one of the company's most advanced VR systems. This VR headset was developed by Meta technologies to allow users to view a virtual reality world created with software. The Oculus Quest 2 allows its users to use it from anywhere outside their own home."There are no wires which means you're not stuck playing Quest 2 at home. You're free to take all the games, workouts, shows, experiences, and more on the road with you," says the Oculus Company. 
Ranging from the simple use of playing games on it, the Oculus headset is more than just that, "Quest 2 makes it possible to sit front row at a live concert, burn calories atop a glacier, hang out with friends all over the world, work, watch a movie and yes, even play a game," says the company. 
Because of how this device has changed the way of gaming, Tyler Durrant a student at HBHS says, "As someone who's into gaming, I added the Oculus Quest 2 to my list because It makes you feel as is if you are in the game, it takes you to a world of a simulated experience that can be similar to or entirely different from reality." 
4. Keurig K-Mini
The Keurig coffee maker is one of the best holiday Christmas gifts this year, especially their mini version. The Keurig Mini is one of Keurig's most affordable options that's easy to use and great at brewing simple cups of coffee. This coffee maker is a slick and compacted machine that will fit on even the most crowded kitchen counters. It's available in five colors, including pink, gray, black, teal, and one of their newest colors, red. This simple coffee maker operates using a single silver button on the top. The Keurig Mini is extremely easy to use. This is a good thing, especially if you need coffee in the morning to function. There are only two buttons: a power button and a brew button, as well as a curved light that blinks to indicate when the machine is ready to brew. The Keurig company says, "The Keurig K-Mini coffee maker is now built with more planet-conscious materials, by committing to reducing the amount of new, or virgin plastic in our brewers, Keurig is ensuring there is now less plastic entering the system. That makes the K-Mini brewer Keurig's most environmentally minded coffee maker. That's just another reason to love the K-mini brewer, our slimmest brewer yet." 
Due to the simple use of this coffee maker, students like Ashley Ornelas, a student at HBHS says, "I added this item to my Christmas list because I really like coffee and this coffee maker is one of the easiest to use, it is convenient and works well."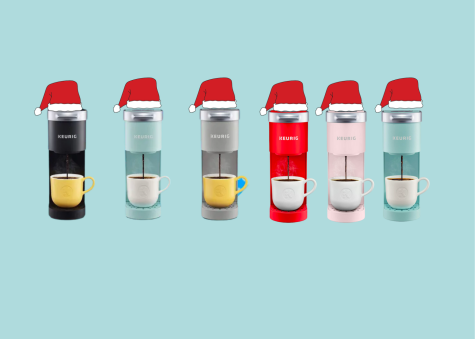 You may want to consider adding these items to your Christmas wishlist this year. They are definitely great products to try and you won't want to miss out! Happy Holidays!