Walking to Fight Suicide
January 14, 2022
Every year, the American Foundation for Suicide Prevention (AFSP) hosts hundreds of community walks in cities across the United States to raise funds toward suicide prevention and spark important, necessary conversations about mental health. Orange County's Out of the Darkness Community Walk took place at Saddleback Church in Lake Forest on October 16th, 2021. The 91 participating teams raised a total of $117,795 for the AFSP. Huntington Beach High School's Suicide Awareness and Prevention Club (SAPC), led by junior Lily Fosmire, also attended and contributed $1,640.
"There was a much bigger turnout than I was expecting. The energy was a lot more positive than I thought it would be; I knew it was going to be a good experience, but I was just glad to see that it was a more happy, uplifting event [rather] than a sad one," says Fosmire.
Sponsored by various local businesses and healthcare companies, AFSP set up information booths at the walk where individuals could connect with professionals, access resources, and speak with others affected by suicide. Starting these conversations is an integral first step toward spreading awareness and creating a space where people can reach out for help if they need it."I would definitely [walk] again. The event reinforced the positive feelings and being able to remember [loved ones] for their good and not necessarily just their death," Fosmire explains.
She lost her father, Ed Fosmire, to suicide and emphasizes the importance of celebrating the lives of those that have died by suicide and remembering the positive impact they had on others.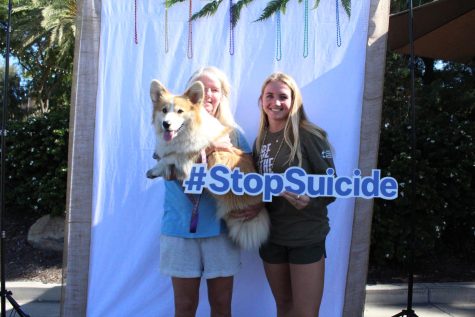 By 2025, AFSP aims to reduce suicide rates in the United States by 20 percent; Suicide is the tenth leading cause of death in the United States. As of 2019, it was the second leading cause of death among 10 to 44-year-olds. Suicide is preventable. With the contributions of donors, the organization is able to fund research grants, educational programs, support and outreach for families, professional resources, and legislative advocacy for mental health. Promoting and providing these important tools to those in need is an integral part of suicide prevention.
AFSP's community walk is one of many events that SAPC plans to participate in. Vice-president of SAPC and senior at HBHS, Quinn Roldan, hopes the club will be able to achieve more of its goals now that students are back on campus this school year.
"We've already done a lot more than we did last year. We were able to have a spirit day this year where everybody wore green [to school] to bring attention to mental health awareness, but we definitely want to do more than that. Being able to work with our own school psychologist and different programs out there will help us a lot," says Roldan.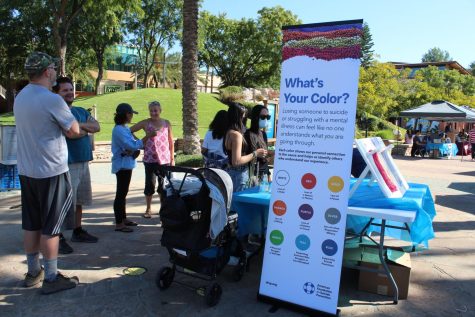 "I think a lot of it is honestly educating yourself…[people] need to understand how to best respond to certain mental health [crises]…If there comes a situation where someone approaches you and tells you that they're struggling, you either know how to best handle it or if you don't know, you can turn them to professionals who do," Roldan remarks.
Roldan believes that mental health education is a crucial part of suicide prevention, because of the fact that many people are not sure what to do when they encounter a mental health crisis in their lives. Simply reaching out to others and opening up a conversation can save lives.
Although suicide does not have a single cause, some warning signs that someone may be struggling include, but are not limited to: talking about death, feeling like a burden, a sudden change in behavior, socially withdrawing, acting recklessly, irregular sleeping, and eating, and increased alcohol and/or drug use.
"The first step is being able to talk about it. A lot of people who struggle with mental health don't want to talk; it's scary, it's personal. The hardest decision that you have to make on your own is just being able to talk about it. As soon as you open up, you can really get the ball rolling from there and find help," Roldan says.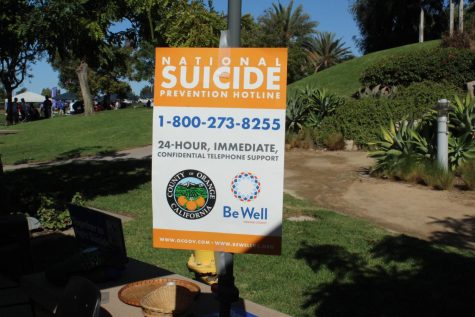 If you are interested in joining or participating in events with HBHS Suicide Awareness and Prevention Club, stop by room B6 on Mondays at lunch! For more information, check out SAPC's Instagram  (@suicideawarenesshbhs).
If you are considering suicide or know someone who is, please seek help right away by contacting a mental health professional, reaching out to a friend, or by referring to any of the free, confidential resources below. If you are in crisis, call 911 immediately or go to the nearest hospital if you can be transported safely.
National Suicide Prevention Lifeline: 1-800-273-TALK (8255) for English, 1-888-628-9454 for Spanish
Crisis Text Line: Text HOME to 741741 for 24/7, anonymous, free crisis counseling
The Trevor Project's TrevorLifeline: 1-866-488-7386 or text START to 678-678
Trans Lifeline: 1-877-565-8860 (para español presiona el 2)