2022 HBHS Girl's Water Polo Season Success
March 30, 2022
This year the Huntington Beach High Schools Girls' Water Polo Team won League Championships for the fourth consecutive year. The league games were against other schools in the district, including Marina High School, Edison High School, and Fountain Valley High School. The varsity team advanced to the Southern Section D1 California Interscholastic Federation (CIF) Championships, but unfortunately, did not make it past the first round against Santa Barbara in a close game of ten to seven.  
When asked about the success of this season, senior team captain, Jericho Callender, said, "This season was fun, especially with it being my last one. We were challenged with playing difficult teams and we played skillfully against them no matter the outcome. We won the league again which is always a fun experience and a big accomplishment."
Senior captain, Hana Homma, also said, "The season went great considering we had a smaller team compared to other schools. We won the league, were able to make it to CIF, and had an amazing time competing."
However, there are some things that the team feels need improvement in order to succeed next year. Senior, Ryan Flory, said, "Our cooperation as a team definitely could have gone better. We were constantly losing players due to illnesses and having practices shut down due to COVID. It was hard [to] connect like we normally do. I believe if we played like a family (like we normally do) our season could have been a lot more successful."
Throughout the season each player experienced their own personal growth in and out of the pool. Cami Luhm, a sophomore on the team, said, "The sport has made me more confident and made me [learn to] work better with other people."
Callender added, "I have been playing water polo for eight years, the sport has helped me grow immensely as an individual throughout the years. It has taught me resilience, determination, teamwork, and confidence."
With practices three hours a day and five days a week, players are challenging themselves to grow both in and out of the pool. "This sport has mentally and physically made me stronger throughout the years," Flory says. "I have been able to [get] thicker skin, learn from my mistakes, and build truckloads of endurance."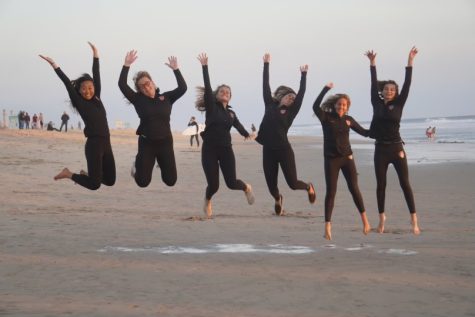 Notably, three players from the HBHS Varsity team have committed to playing water polo in college next year. 
Jericho Callender will be continuing her water polo career by playing D2 water polo at Concordia University in Irvine.  "I committed to play water polo in college, which I am looking forward to," Callender said.
Hana Homma will also be playing D1 water polo at Brown University in Rhode Island. Homa said, "I am looking forward to the entirely different atmosphere of a team that I am used to. I can't wait to meet my new teammates and train on the East Coast, while also reuniting with my old teammates at college-level tournaments in the future."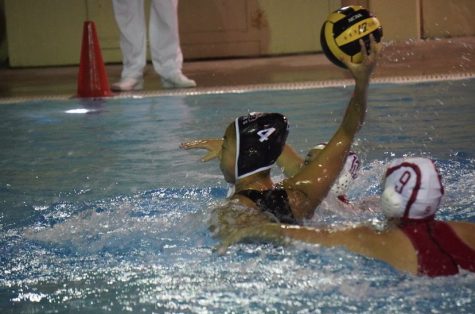 Tatianna Gaspare committed to playing D3 water polo at Chapman University in Orange. When asked about her plans for the future, Gaspare said, "[I am looking forward to] pursuing a career working with animals and I am excited to have the opportunity to play at the college level."
This was a successful 2022 league season and the girls are excited for next year to further their success.