Our Flag Means Death: The Mainstream Representation We Need
Warning: This article contains vague spoilers for Our Flag Means Death. Avast all ye who read on!
Our Flag Means Death was initially released on March 3rd, 2022 on HBO Max to critical and popular acclaim. Created by David Jenkins with help from Taika Waititi, the story takes place in the Golden Age of Piracy in the 1700s, following the aristocrat-turned "gentleman pirate" Stede Bonnet (Rhys Darby). Bonnet is quickly revealed to be deluded by visions of grandeur and proves himself to not be a particularly competent pirate given his noble birth, however, he also proves himself to be sensitive, pure-hearted, and well-meaning. Among Bonnet's misfit crew, the cast of characters includes the mysterious, mute, and skilled Jim (Vito Ortiz), the kind and emotionally intelligent Oluwande (Samson Kayo), and the openly gay and assertive ship's scribe, Lucius (Nathan Food), among others. After a short time "pirating," Bonnet and his crew come (partially by accident) to meet the cold, hardened criminal of the seas: the legendary pirate Blackbeard, played by Taika Waititi (my previous article about Taika Waititi can be found here). 
The show has all of the elements of textbook Waititi: the taking of a concept that is conventionally, for lack of a better term, not so glamorous (in the case of Waititi, the pirate era, Nazi Germany, or the idea of bloodthirsty vampires) and flipping it on its head by finding both comedy and deeply profound sensitivity in the media he creates. We also see the commonality of an almost arrogant protagonist who is self-important, insensitive, or naive and must learn from another, more hardened character and gain self-awareness. Our Flag Means Death asks, "what if a naive, sensitive aristocrat fell in love with the most wanted pirate in the seas?"
Kate Meschuk, a senior at HBHS who has been completely enamored with the show since it came out several weeks ago, speaks on how Our Flag breaks barriers for the romantic comedy and time period genres. 
"I…did not choose the words "romantic comedy" to describe the series [myself], those words come directly from Jenkins. He decided early on that he wanted the basis of the show to be a romance between Stede Bonnet and Blackbeard/Edward Teach. Although episodes [one through three] of the show mostly surround Stede's early adventures aboard The Revenge, Blackbeard and his crew cross paths at the end of episode [three]. There, the show switches from being solely a comedy to a romantic comedy, with Stede and Blackbeard becoming OFMD's central focus."
But what makes Our Flag Means Death so different from other works in its genre? For starters, there has been very little queer representation to this degree in any other contemporary period pieces; Our Flag features canonically queer characters and a canonically non-binary character. On top of that, the queerness is not perverted or portrayed in a manner which paints non-straight or cisgender characters in a negative light — meaning that none of the characters are predatory or pedophilic, and none of the characters' queerness is used for comedic relief. 
In fact, the non-binary character, Jim, is one of the first non-binary characters in a mainstream period piece that Western media has seen to date. Vito Ortiz, who plays Jim, has expressed how happy they are to play a character who is inherently written to be non-binary. 
After the show's initial release, the creators of the show, Taika Waititi and David Jenkins, released the following statement: "This is a show made about minorities TO minorities. About people who didn't fit in, and still don't. About those who feel like outcasts, to those who still live their lives feeling like that."
"The relationships, both sexual and non, are nuanced, and go beyond the idea that they're only doing it out of desperation," writes Silvi Van-Wall of Screen Hub.
The show embodies a great deal of familiar romantic tropes: the "enemies to lovers," the romantic music that plays when the two characters first lay eyes on one another, "opposites attract," etcetera. 
Our Flag Means Death did not necessarily invent queer representation in the period-piece genre, but it certainly stands out for being so unabashedly and unapologetically apparent. Oftentimes in media portraying queer relationships there is a tendency for an audience to gravitate towards the interpretation that there is a possibility of the prevalence of queerness, but it is not canon. 
"The shock didn't come from the fact that [the characters'] romance appeared out of the blue," Meschuk says. The shock came from the fact that a queer relationship "was completely confirmed with no room for any other interpretation than, 'this is a love story.' Gone are the days of [connections between characters that are] 'mysterious' and 'complex,'" she says, sarcastically. "Queer people deserve to see themselves represented on screen and Our Flag Means Death delivers wonderfully." 
In addition to queer representation, the show is also praised for its racial representation as well. Tik Tok user, Youtuber, and Twitch Streamer Sapphireghost has posted several videos explaining their happiness with representation of black individuals in Our Flag.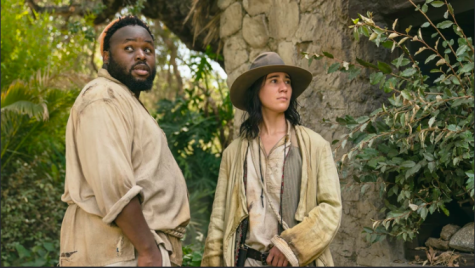 "We're in this golden age of period pieces that want to include diversity," they say. However, in their opinion, other so-called racially diverse period television shows like Bridgerton or Gilded Age, while entertaining, simply do not measure up to the inclusivity seen in Our Flag Means Death. 
"Racism exists in [the] universe [of Our Flag Means Death], but it is only a part of the story…it's not their entire story, Sapphireghost emphasizes in their video. "Just like in reality, there are bits and pieces of a person of color's life where they experience racism and then there's a whole other life around it…there are so many queer characters in this story and we get to see realistically what their lives looked like in [the time period] — it wasn't all just tragedy." 
As of now, Our Flag Means Death has been the top grossing show on HBO, and is currently the most in demand television show in the United States, six weeks after its season finale was released. While there has been no confirmation of a second season (despite the urging of fans), David Jenkins has stated that if HBO does not aim to renew the show, he will find another platform willing to release a second season. 
As of now, all of season one of Our Flag Means Death is available on HBO Max.