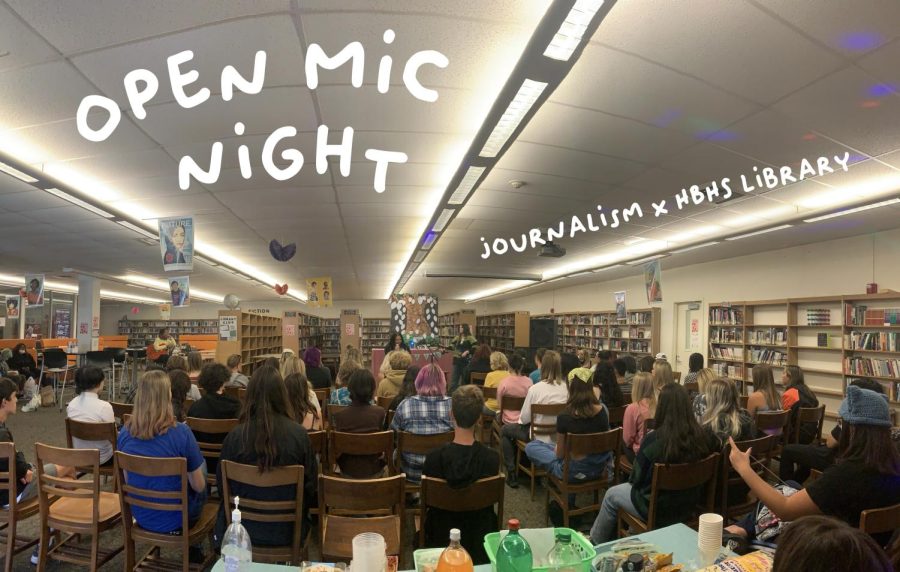 Open Mic Night
May 13, 2022
Open Mic Night is hosted by the journalism class at Huntington Beach High School and the class cooperates with the HBHS library to coordinate a successful night for the performers and those attending. Open Mic Night was arranged for the second time this year on Friday, May 6th, 2022 from 5:00 to 7:00 p.m. The event welcomes performances by musicians, poets, singers, spoken word artists, comedians, dancers, and many more. David Scharbach, the library assistant at HBHS, openly shared, "I like working with the journalism kids to have a space for them to come in and have a place to perform and have a place for kids to come and use their voice, to talk about their issues and what they want. My main thing about the library is making sure that it is a safe space for everybody and it is open and inviting, and part of that is, having people be able to come and talk about themselves and do what they want."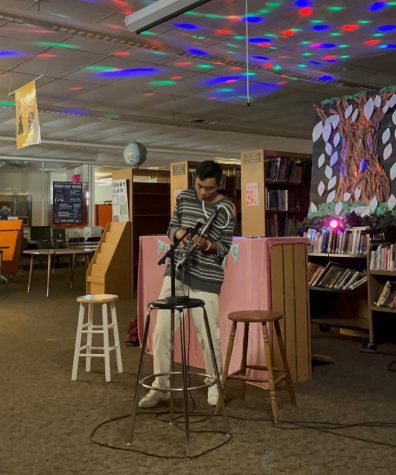 Open Mic Night is hosted once a semester and so, this event allows the students here to come and express themselves through their personal talents. Scharbach further spoke on the importance of Open Mic Nights for the students, "It is a place to vent their frustrations or express themselves in different ways like we always have people recording, playing music or singing or playing an instrument or doing comedy. We have had a bunch of people do different things, so it is just a place for people to express themselves, and I feel like expressing yourself is really important and being yourself."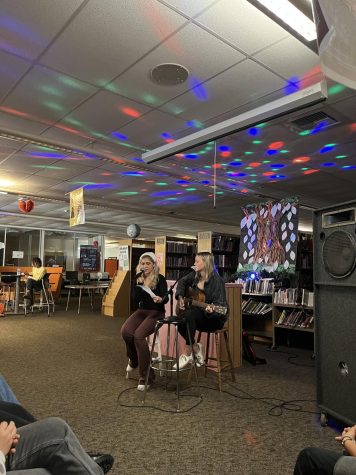 This event offers creative opportunities for students at HBHS and gathers a supportive group who comes and watches. Sophia Selecky and Alexis Pitt, both seniors at HBHS, performed "Different Drum" by Linda Ronstadt at Open Mic Night. Selecky warmly expressed what Open Mic Night meant to her: "It is an opportunity to see some of my peers and know a little more about their passions and interests."
"It is to get to know what my friends are interested in and just have another chance to do what we like together as friends," Selecky's partner, Pitt remarked. 
Selecky additionally shares her reason for participating, "It is my senior year and I had never done Open Mic Night before, so I thought it would be the time to do it." 
Another performer, Anna Arthur, a junior at HBHS, who sang "Piazza, New York Catcher" by Belle and Sebastian at Open Mic Night, commented on her thoughts on the importance of the event, "Open Mic Night is a great place to share creativity and I love that everyone is doing something different, people are singing, people are performing original songs, people are performing poetry, and I just think it is a great place to do whatever you want, show off your skills. Everyone is different and has a lot to bring to the table." 
Arthur further mentioned gleefully, "I decided to participate because I have been playing guitar more, singing too, and it has made me feel more confident about myself. I have always loved to perform for people so I just figured this would be a good outlet for me to express that, and the song that I am singing is very personal to me and I thought that I would like to share it with everybody!"
Open Mic Night is a one-of-a-kind event that holds meaning for everyone. Food and drinks are also sold throughout the entirety of the acts, and all purchases made contribute to the Slick team and publication. The occasion is more than just performances, but it cultivates a space of artistry and support.
Check out this clip of Sophia Selecky and Alexis Pitt performing at Open Mic Night:
http://youtube.com/shorts/x42ppLZ9CEY?feature=share