The L(y)east Appealing Bread
"This is the best thing since sliced bread!" Chances are, you've probably heard that saying at least once in your life. But, it may surprise you that sliced bread isn't even a hundred years old. Bread, although it may seem like a simple cuisine, actually was a key thing that drove the creation of the water mill and the steel roller. It has also played a prominent role in establishing wealth, class, and culture throughout history. 
Society's need for a good piece of bread has not subsided, and to help in this quest to discover the best bread imaginable, Huntington Beach High School's Journalism class of 2022, tasted and rated ten pieces of bread in order to find the very best. To note, the ranking in this article is not in regards to which bread is healthiest. They have been ranked by categories of taste, texture, and dryness on the scale of one to five, five being the best.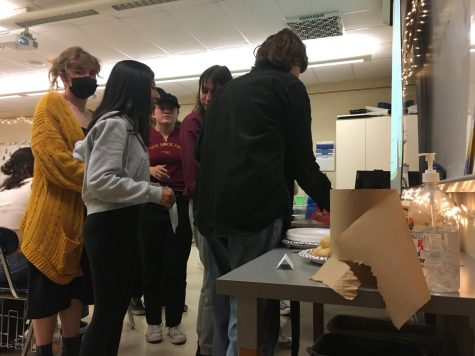 10. Multigrain Bread
Coming in last with an average of 2.21 out of five is the multigrain bread. It seems that the only somewhat redeemable quality about this bread is its texture, the only quality that got a single five from a tester. 
Taste: 2.08
Texture: 2.31
Dryness: 2.23
9. White Bread
In ninth place is the bread that people will be most familiar with, white bread. Sticking to its reputation of being the common peoples' bread, white bread got more threes in any of its categories than the other types, getting an average of 2.51.
Taste: 2.53
Texture: 2.66
Dryness: 2.4
8. Plain Bagel
An average of 3.56 is what lands the popular breakfast food of a plain bagel into eighth place. The bagel's numbers were fairly even throughout all the qualities, not terrible, but not great either.
Taste: 3.81
Texture: 3.56
Dryness: 3.31
7. Plain Rolls
With an average of 3.75 plain rolls takes eighth place in our list. Having done well in taste and texture it was the dryness of the roll that brought it down to it where it is.
Taste: 4
Texture: 3.86
Dryness: 3.4
6. French Bread
Shocking this journalist, french bread is sixth on this ranking due to its average of 3.82. And just like with the rolls, the french bread did good in the terms of taste and texture but was too dry causing its downfall.
Taste: 4.13
Texture: 3.86
Dryness: 3.46
5. Sourdough Bread
Right in the middle with an average of 3.87 is sourdough bread. Like the two below the sourdough, it was the dryness that brought it to where it is, though the difference is much larger than the other two's were.
Taste: 4.27
Texture: 4.2
Dryness: 3.13
4. Pita Bread
While, unfortunately, our number four does not have blonde hair or blue eyes like the fictional character in which it shares the same name, an average of 4 puts pita bread just below the top three. Not quite in the careers yet for our games.
Taste: 4
Texture: 4.25
Dryness: 3.75
3. Brioche Bread
Here in the final three, the fight gets closer. In third place with their average of 4.23, only .02 behind second is the sweet braided brioche bread. 
Taste: 4.57
Texture: 4.43
Dryness: 4.14
2. Banana Bread
Minions give a great cheer as banana bread is given the silver medal for coming in second place. With an average of 4.4, the banana bread stayed consistently well throughout all the categories.
Taste: 4.7
Texture: 4.1
Dryness: 4.4
1. Hawaiian Sweet Rolls
And now the moment you have all been waiting for. The bread to emerge at the top of this list with an average of 4.46, just beating banana bread by .06, is the Hawaiian Sweet Rolls.
Taste: 4.5
Texture: 4.44
Dryness: 4.44