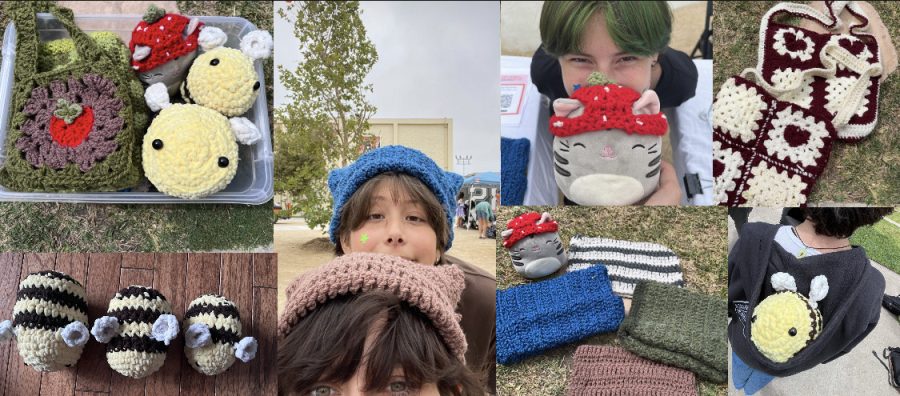 Beginner's Guide to Crocheting
This past year, crochet looks have dominated social media and many fashion looks. With the summer quickly approaching it would be a great way to expand on your style and possibly even pick up a new hobby! It is easy to be intimidated by all the steps and materials you might need, but if you take it little by little, crocheting can be a great way to ethicalize your fashion and pursue a hobby you love!
How to Start:
The most common stitches in beginner projects include the single crochet, double crochet, and half double crochet. These YouTube videos, Simplydaisys How to Crochet for Absolute Beginners: Part 1 and 2  and How to Crochet- Magic Ring (or Magic Circle) have proved to be really helpful as it breaks down the process. Even though learning how to crochet efficiently may seem unmotivating and out of reach, there are many fun projects that you can try that are beginner-level friendly. Projects such as cat hats only utilize a double crochet stitch in a rectangle of about 30 rows, then require stitching the sides. Not only are cat hats very cute, but it is also a great beginner project. These cat hats can help teach repetition and the basic skills needed for crocheting.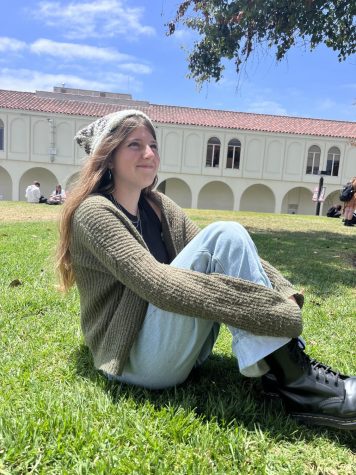 Some of my other favorite projects include combining granny squares or a patch that can be combined into bucket hats or bags. Granny squares are extremely versatile, and there is a multitude of unique and easy-to-follow tutorials on YouTube. When it comes to understanding patterns as a beginner, charts with crochet abbreviations are very helpful. A majority of patterns online already include an abbreviation chart, but some of the most common stitch abbreviations include sc as single crochet, dc as double crochet, and hdc as a half double crochet. As for the students at Huntington Beach High School, Lani Mefford, a junior at HBHS says, "[I] started crocheting over winter break this year… it became a great way to destress." 
 Finding Inspo and Patterns:
 Finding inspiration on what to make can be both the most enjoyable, and the most difficult part of crocheting. A good platform to find inspiration is Pinterest. In addition, for both beginners and experienced crocheters, YouTube is a great budget-friendly way to find patterns. Etsy is another helpful platform, while it can be more costly, it is a great way to either purchase handmade crochet items or find in-depth patterns. 
Materials Worth Purchasing 
Even though this is the least fun part of any activity, the materials are most likely going to be the most expensive out of the whole process. Yarn comes in multiple different sizes, materials, and colors which is why it can be difficult to put an exact price range on yarn. In your average crafting store such as Michaels or Joanns, a standard five-weight yarn can vary between three to five dollars. If you are looking for something such as chunky yarn to make plushies or blankets, yarn can cost between nine to twelve dollars. In terms of materials such as hooks or yarning needles, there is a good selection at crafting stores. However, if you do want a big pack of hooks for a good price, Amazon has a lot of selections.
Yarn Recommendations:
Because yarn can be very different for each brand, it is important to explore what you like for each project. Some of my favorite brands include
Bernat blanket yarn in velvet

Caron Cakes

Lily's sugar and cream yarn

Red heart

Crafts smart

Impeccable yarn 

Loops and threads
Although crocheting is a great way to pass time, some people may find it easier to purchase items rather than make them. If you ever want to purchase crochet items, there are many small businesses to support locally in Huntington Beach. Jaana Mantre, a senior at HBHS, posts the things she has made and is looking to sell on Instagram, @hookedbyjaana. Liz Hau, another senior at HBHS takes requests on her Instagram, @Liz.hau. I personally have a small business on Instagram, @strawb.stitchez, where I sell plushies, bags, and hats.