The BEST Hiking Spot in OC
Summer is right around the corner, so what better way to spend it than to go on a hike! Orange County has great weather and spectacular natural surroundings, there are many hiking trails that one can enjoy and explore. There are numerous mountain hidden gems that one might have missed, ranging from easy to difficult trails, perfect for any hiker looking to get a great workout in. These trials are absolute beauty and will bring people to a completely different world of nature.
The Santiago Oaks Regional Park is located in Irvine and it is a great place if you are looking for a hiking spot, it has great views and has two significant dams. The park has a series of interconnecting trails that are suitable for equestrians, hikers, and bike riders. Dogs are also welcomed but must be on a leash. The park not only has hiking trails but also provides amenities of different kinds. To name a few, there are barbeques, picnic areas, and scenic overlooks. The park is open Monday through Sunday. You must pay a $3 fee for parking Monday-Friday, and a $5 fee on Saturday and Sundays. Listed below are a few trails that the park offers. Santiago Creek provides easy, intermediate, and advanced trails so that everyone can find a good hiking path.  
Santiago Creek and Bobcat Meadow Trail (Easy)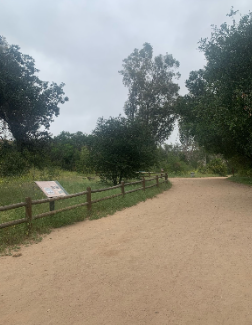 If you are looking for an easy quick hike, consider taking the Santiago Creek and Bobcat Meadow trail. This trail is a 1.2-mile loop that is fairly flat, with little elevation. However, going downhill there are a few steep hills. The trail is specifically designed for an easy run or walk, perfect to take your dog on a cool relaxed stroll. Once you finish the path there is an interconnecting trail that takes you much farther, although the trail does get much more difficult from there. 
Melissa Castaneda, a junior at Huntington Beach High School (HBHS) who enjoys hiking says, "The scenery was so nice, I enjoyed this trail because it was fairly easy. There are a few steep hills coming down but nothing too difficult, I would recommend checking out this trail." 
Santiago's Creek to Robbers Peak Trail (Intermediate)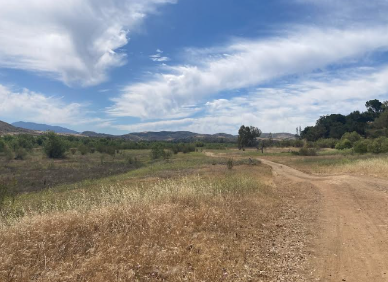 The Santiagos Creek to Robbers Peak Intermediate trail is a 4-mile loop with a series of steep hills that must be climbed in order to get to the Peak. Although there are a few steep hills, the trail does have some fairly flat surfaces. This trail can be difficult for some people as it does take you to a higher elevation. The park does provide resting and picnic areas along this trail as it can become a bit challenging for some hikers. Once you arrive at Robbers Peak you will be able to encounter the amazing top view of the park. Many people who do take on this trail enjoy it because it is not too difficult and not too easy.
Hayley Durrant, a junior at HBHS says, "I like this trail because I like to take on a challenge, some of the steep hills are definitely a challenge and are a great way to get a workout in."
Oak to Peacock Trail (Hard)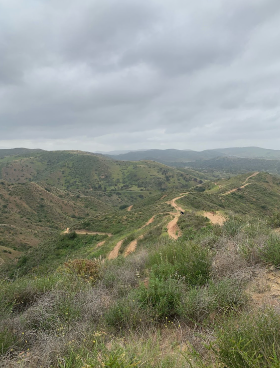 The Oak to Peacock trail is a difficult 8-mile loop hike, this trail has a combination of steep hills, flat surfaces, and high elevation. The trail is a great distance around the park and it interconnects with the Irvine Regional Park. This trail is relatively known by many bike riders who come to this park as it is quite rocky and difficult for hikers.
Tyler Durrant, a junior at HBHS who bike rides says, "I enjoy coming to this trail because it is great for riding my bike and it allows me to challenge myself while also having fun."
Because this trail can be difficult for hikers, the Santiago Oaks Regional Park recommends that hikers take at least 4-5 water bottles per person. If you are up for a challenge and plan on taking this trail, you may want to consider being prepared and taking extra water than what is recommended. 
These are only some of the few trails that the Santiago Oaks Regional Park has to offer, but there are many more trails that you can explore during your visit. This is a great place to spend your summer time and will definitely bring you to a different world of nature. Happy hiking!