How is Tom Brady still playing at 45 years old?
Thomas Brady was born on August 3, 1977, and is known as one of the greatest football players of all time. He's played football for 23 years and has played quarterback for two teams: the New England Patriots and the Tampa Bay Buccaneers. He has achieved so much for those teams. He's won seven Super Bowls, 6 in New England and 1 in Tampa Bay, which is an NFL record, and he doesn't plan to stop now. At age 45, Brady, the oldest active player this season, is looking to get his eighth Super Bowl ring. The real question is how does he do it? How can Brady avoid career-ending injuries and still be one of the top players in the league at age 45? 
Tom Brady is in his twenty-third season in the NFL. Though he is the oldest player, it's not his on-the-field training that helps him succeed. For Brady, it's what he does off the field that separates him from all the rest. Brady's diet is one of the reasons why he is still playing in the NFL.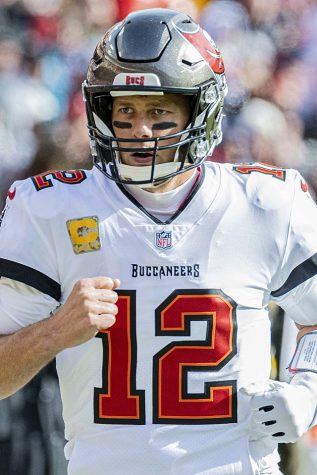 Trent DeLazzer, a teacher at Huntington Beach High, said, "Tom Brady wants to play football because he can, and he still wants to. He can do it because his body allows him to keep on playing rather unlike other players who still want to play, but cannot because of their bodies. He's doing it, and he's destroying his marriage, meaning football is his most important priority."
According to an Insider article, Brady eats 80% vegan, but 20% of the food he eats is organic meat. The sense behind veganism is that it's known to help lower the risk of different types of diseases, reduce inflammation, and improve gut health. In Brady's lifestyle, one of the rules he follows consistently throughout the duration of the year is drinking around 2.3 gallons of water a day. Brady has made several food groups entirely off-limits, including refined carbohydrates, dairy products, caffeine, processed meats, and sugar.  Brady's reasoning behind it was that "they're not anti-inflammatory." 
An anonymous freshman student at Huntington Beach High School said, "Tom Brady is the greatest of all time. Playing football at age 45 is something not everyone does, but he is the greatest of all time. He's only still playing because of the team he has right now. There are so many talented players on the Buccaneers that will help Brady get his eighth super bowl—and he's there to help them get one too." 
According to Pro Football Focus and an official report by the Buccaneers over Brady's lack of major injuries observed that one of the most important reasons why Tom Brady has avoided major career-ending injuries has to do with two things: The offensive line he's had on the Patriots and on the Buccaneers. Since 2006, Brady has been pressured by defensive tackles into more than thirty percent of his dropbacks, according to Pro Football Focus. Meaning that he's being less tackled than the average quarterback and by getting less tackled he's avoiding potential injuries. The second thing is how quickly Tom Brady throws the ball in order to not get tackled and sacked. In the football world, a quick pass takes around "2.50" seconds, which is Tom Brady's average. Regular passes are thrown around 2.50 and 4.00 seconds, and Brady's deep throw passes take more than 4.00 seconds", according to an official report by the Buccaneers. 
One of the most asked questions in the football world is, "Why does Tom Brady still want to play?"
 "I still want to play. I've got a little sickness in me that just wants to throw a freaking spiral, you know what I mean? I've got some more football in me. Not a lot, and I know that. But what I've got left, I'm going to give everything I've got." said Brady, in a Good Morning America exclusive interview. 
Jason Flory, a senior student at Huntington Beach High School said, "Tom Brady just loves football, even when he was drafted in the NFL he was always doubted by a lot of people. Even after seven Super Bowls and at 45 years old,  he still feels like he has to prove to others that he belongs" he said. 
At the beginning of the 2022-2023 season, according to Yahoo Sports odds, the Buccaneers entered the season with +750 odds to win the Super Bowl. Meaning that they are one of the few favorites to win the super bowl this season. 
"These past two months I've realized my place is still on the field and not in the stands. That time will come. But it's not now. I love my teammates, and I love my supportive family. They make it all possible. I'm coming back for my 23rd season in Tampa" said Brady on Twitter.