New Club on Campus: No Paws Left Behind
Hayley Durrant, Art & Photo Director, Team Leader, Staff
October 25, 2022
As the 2022-2023 school year begins, students are finding ways to become more involved. One way to feel included at HBHS is by joining the variety of clubs available on our campus. A new club, No Paws Left Behind, founded by Melissa Castaneda and Belinda Miguel, is created to help support local animal shelters by fundraising, donating, and volunteering. 
The club is working with the OC Humane Society, a shelter located on Newland Street, that strives to make a safe environment for unwanted animals and helps pets find permanent homes with loving families. They are dedicated to helping the abused and neglected by nursing the sick, injured, and starved animals.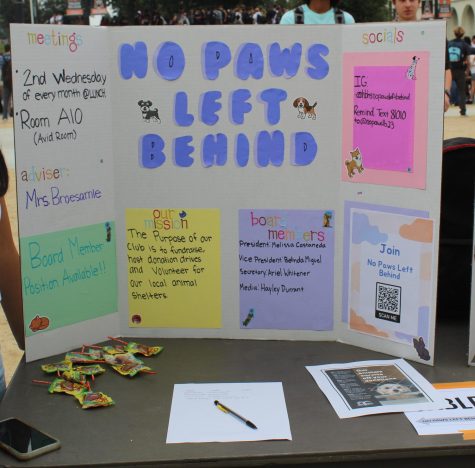 Melissa Castaneda, the president of No Paws Left Behind, says, "Last year as a transfer student, I didn't find any clubs that were appealing to me." She adds, "I noticed there weren't any animal-related clubs on campus, so I decided I wanted to start one dedicated to helping them." 
It is never too late to get involved. Because No Paws Left Behind is a new club, the board is trying to gain new members, especially lower classmen in order to keep the club active after the founder's graduate. The board members are also looking for a sophomore or freshman to join their team as a treasurer; not only will this be good for college applications, it also helps students learn important life skills such as budgeting and managing money. 
Belinda Miguel, the vice president of No Paws Left Behind, says "One should join the No Paws Left Behind club because not only is it a fun way to get involved with the school and meet new people, our club also offers many volunteer opportunities such as helping out at local animal shelters, hosting donation drives and fundraisers, and the best part is members of the club can make new furry friends." 
Tyler Durrant, a senior at HBHS, says, "My dog was adopted from a shelter and I wanted to give other pets an opportunity to find a family, so I joined the club to help dogs just like her."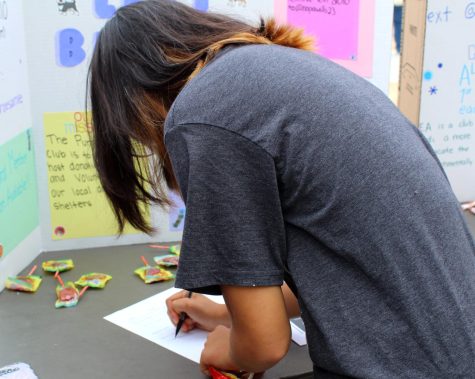 The club meets every 2nd Wednesday of the month at lunch in the Avid classroom (A10) where the board members, President Melissa Castaneda, Vice President Belinda Miguel, Secretary Ariel Meneses, and Media Hayley Durrant, share important information about the upcoming events during the month. The meetings are also a friendly environment where members are able to learn about each other and make new friends. In October, the club is organizing donation drives at Worthy Park and fundraisers with Chipotle, Panda Express, Nektar, MOD Pizza, etc for the month of November. 
No Paws Left Behind is a great club to join because members can make new friends with similar interests, get involved in the community and school, and earn volunteering hours that would benefit them in the future. The club has an Instagram, @hbhsnopawsleftbehind, which informs people of upcoming events and shares photos of the activities they provide. They also have a remind to update members on new information. If you are interested in joining the club fill out our form or contact Melissa Castaneda. 
Resources:
Email: [email protected]
Instagram: @hbhsnopawsleftbehind
Club-Application Form: https://forms.gle/R9f7fe6YmxiXZzVN7
Remind Code: Text @nopawslb23 to 81010