Ronnie James Dio is the Grandfather of Metal, and a Rock 'N' Roll GOD!
March 3, 2023
The age-old question, which may never be answered: "Who's the greatest musician of all time?" Some might say, Queen or Prince, maybe it is Elvis Presley or Michael Jackson. The Beatles? David Bowie? An answer you won't see as often is Ronnie Dio—more commonly known as Dio, from his self-titled band.
The soon-to-be-greatest artist in history was born in Portsmouth, New Hampshire on July 10th, 1942. Originally born Ronald James Padavona, he used the pseudonym Ronnie James Dio for his musical projects.
Though Dio's debut album, "Holy Diver," was released in 1983, that was far from the start of his fame.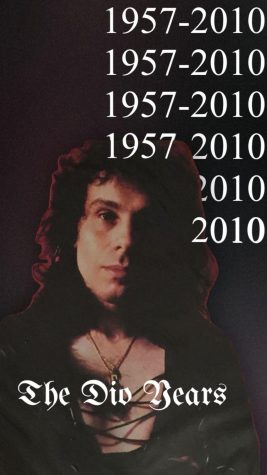 The real beginning of his career started way back in 1957 with a blues-rock New York-based band entitled, The Vegas Kings, which Dio actually mentioned in part of a 2001 interview he did in Helsinki, Finland. The original line-up consisted of Ronnie Dio as their lead singer (as well as bassist), Billy DeWolfe as a vocalist, Nick Pantas on guitar, and Tom Rogers on drums. They changed their name to Ronnie and the Rumblers in 1958 when Jack Musci joined with the saxophone.
Then, not long after, the band changed their name to Ronnie and the Red Caps in fear that the word 'rumblers' promoted violence. Ronnie continued as their main vocalist, however, they only released two singles under that name: "Conquest/Lover," and "An Angel Is Missing/What'd I Say."
The band's name changed to Ronnie Dio and the Prophets, a more defined rock band, in 1961—releasing the album "Dio At Domino's" as well as various singles. 
And they didn't stop there. The group continued on in 1967 as The Electric Elves before changing it a year later to The Elves. Finally, in 1972—when their guitarist Doug Thaler left—they settled on the name Elf. The band essentially underwent seven name changes, as well as interchanging six bandmates for the better part of fifteen years.
It is terribly difficult to locate earlier music from James Dio since it had been scattered throughout several different Spotify accounts, and because the band underwent multiple name changes. It seems that the best place to find old recordings of The Prophets (or other music by previous band titles) is Youtube. Though the long timeline of The Vegas Kings is confusing, and the details are somewhat lost in history, we should not discredit any of Dio's early career. It was a building block to his name and a defining point of the history of Ronnie Dio.
After Elf in 1974, Ronnie Dio was hired as frontman of a band called Rainbow in 1975 by Ritchie Blackmore. Dio sang on three studio albums: "Richie Blackmore's Rainbow," "Rising," and "Long Live Rock 'n' Roll." Dio then left Rainbow in 1979 to front with the fake satan-worshiping metal/hard rock band Black Sabbath in 1980 after Ozzy Osbourne was fired as the lead singer.
Dio also only went on to do three studio albums with Black Sabbath—"Heaven and Hell" in 1980, "Mob Rules" in 1981, and then later "Dehumanizer" in 1992. Coincidentally, Dio fronted another project named Heaven & Hell from 2006 to 2010. Heaven & Hell was a British-American supergroup composed of Tony Iommi and Geezer Butler, who founded Black Sabbath, as well as Vinny Appice, one of Dio's drummers.
During his time producing music as Dio, he — along with Jimmy Bain and Vivian Campbell — organized a super-group ensemble of nearly 40 metal artists called Hear N' Aid to record a charity record. The album consisted of nine tracks, as well as a documentary entitled "Hear 'N Aid: The Sessions." The album's alternate title was "Hear 'n Aid (An All-Star Album For Famine Relief)" because the charity record was dedicated to famine relief in Africa.
Hear 'N Aid was a very unique album because all forty artists are featured on the first track, "Stars," but the other tracks were filled out by various bands—like Motörhead, KISS, Dio, Scorpions, and others.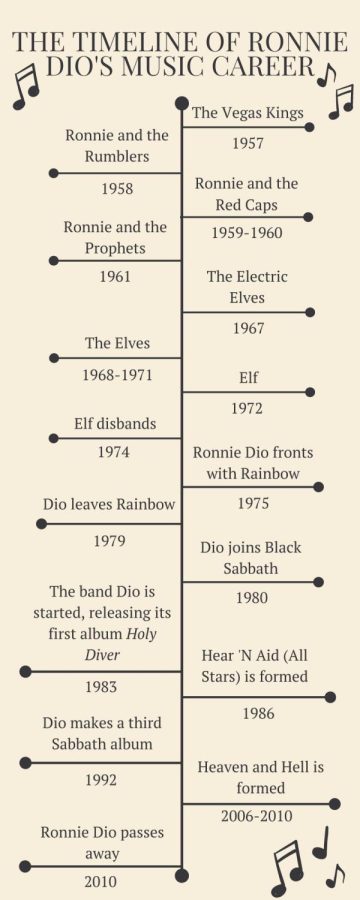 Unfortunately, the heavy metal world had lost a crucial member of its community. In 2009 James Dio was diagnosed with stomach cancer and died nearly six months later on May 16th of 2010 in Houston, Texas. 
It's very obvious that Dio was an extremely talented artist, influencing people like guitarist Dave Grohl from the '90s rock bands Nirvana and Foo Fighters. Ronnie Dio bounced around the rock and metal scene for years, gaining tons and tons of credit and experience that earnestly awarded him the title "Grandfather of Heavy Metal" and "Heavy's Uncool Godfather."
What made Dio and his other projects so great was that it was still heavy metal, but breached the standard of most metal music. The generalized idea of metal examines the over-sexualized songs about women that might be considered sexist or the music played at Satanist Club when trying to summon a demon in a dimly lit bedroom with poster-plastered walls. Essentially, that is glam metal and black metal boiled down to simple, comprehensive terms for the outsiders. Dio, however, dabbled in storytelling thematics with songs like "Invisible" dealing with trauma, and "Rock & Roll" which showcases the good vibes that music brings when rocking out. It was still metal and still rocked, it just wasn't glammy or dark.
Dio made very theatrical music that tells different stories, or discusses different topics—like slaying dragons or being watched by evil eyeballs. Much like Iron Maiden's creative songwriting which is sometimes based on poetry or greek myth. For example, this can be seen in "Rime of the Ancient Mariner," which is about is the longest major poem (with the same title) about a man committing terrible acts on a ship, then dying, and "Flight of Icarus," a greek myth about a prison break from an island that resulted in death. Metal isn't about the singer's verbiage necessarily—but the musical components themselves. Guitar riffs, heavy drums solos, bass…all that cool stuff. Metal is really about two major things: being a rock star and rocking out. James Dio achieved that easily for years with albums like "The Last in Line," "Sacred Heart," "Dream Evil," and "Killing the Dragon"—all of which killed it.
So Dio was a rockstar and had been for the majority of his life. All Dio seemed to know was rock and roll, he really encapsulated the lifestyle of a 'super rockstar,' though wasn't on the glam side of things—like the guys over in Mötley Crüe or New York Dolls.
Ronnie James Dio was quintessential to the metal music world and will be dearly missed as the scene evolves. We may never hear new music or brand-new live recordings again, but as we mourn the loss of our icon Ronnie Dio, we can stream his greatest moments in history.
Check out my playlist on Spotify, Ronnie Dio Projects, as well as the Ronnie James Dio official website where you can donate to the Dio Cancer Fund.