12 Days of Holiday Music
December 8, 2022
Holiday music can give some extreme anxiety—with a side of seasonal depression—or it can be the best thing about the season. But most people can side with the fact that there are way too many songs to choose from.  
The Christmas season is undoubtedly a controversial time. While many feel overjoyed at the thought of holiday music—and have been streaming Mariah Carey since June—some songs have overpowered the minds of others. Both classic songs like Frank Sinatra's "Have Yourself A Merry Little Christmas" and more modern ones such as "Santa, Can't You Hear Me" by Ariana Grande and Kelly Clarkson have been streamed millions of times worldwide. With that, here are the 12 best Christmas songs of all time, ranked:
12: "Christmas (Baby Please Come Home)" by Mariah Carey
What a bop. Mariah Carey's "Christmas (Baby Please Come Home)" is the perfect combination of classic and 80s/90s Christmas music. Originally written in 1963 for singer Darlene Love by Ellie Greenwich, Jeff Barry, and Phil Spector, the piece was featured on "A Christmas Gift for You from Phil Spector," a holiday song compilation album. Over the years, the song has been covered by various artists including Michael Bublé, but this version is the best of the best. The song's chorus is essentially composed of the title words, so that speaks for itself when it comes to the song's meaning. While repetitive, Carey's always outstanding vocals and instrumentals really make this song. The perfect word to describe "Christmas (Baby Please Come Home)" would have to be 'headbanger.'
11: "Santa Tell Me" by Ariana Grande
"Santa Tell Me" how to have a lasting relationship—as the song says. Ariana Grande's "Santa Tell Me" is one of the more recent songs on this list, being released in 2014. Written with songwriters and producers Ilya Salmanzadeh and Savan Kotecha, Grande describes not wanting to fall in love with her partner if he doesn't feel the same. The song's rhythmic beat is definitely a vibe and its catchy lyrics are a great pair. While the song peaked at fifth, "Santa Tell Me" was ranked ninth on Billboard Global 200 for its 18th week during the 2022 holiday season. It's definitely interesting to compare older and newer seasonal songs, and they both shine for their own reason. While modern, Grande's hit is sure to be a future classic. Have trust that you'll have "Santa Tell Me" stuck in your head for weeks.
10: "It's the Most Wonderful Time of the Year" by Andy Williams
Andy Williams' "It's the Most Wonderful Time of the Year" certainly makes hearts glow. 1963 seems to be the year of hit Christmas music because guess what, this song was released on Oct. 14, 1963, after other popular holiday songs such as the aforementioned "Sleigh Ride." Written by Edward Pola and George Wyle, "It's the Most Wonderful Time of the Year" brings along the utmost Christmas cheer with its bold, orchestral sound. The song describes how "the most wonderful time of the year," the holiday season, brings everyone together and produces feelings of complete joy. A legendary classic, "It's the Most Wonderful Time of the Year" is one of the most prominent songs of the season.
9: "Rockin' Around the Christmas Tree" by Brenda Lee
Brenda Lee's 1958 hit, "Rockin' Around the Christmas Tree," is iconic even 64 years later. A short two minutes and six seconds broke records everywhere, selling over 25 million copies as reported by Reader's Digest. The oldie holiday feel brings a sense of timelessness. This can be attributed to the jazzy instrumentals, featuring saxophone and guitar as well as Lee's vocal techniques. Ironically, Lee was only 13 years old at the time of recording. The song's lyrics encapsulate classic season staples as well such as caroling and mistletoe. "Rockin' Around the Christmas Tree" definitely speaks for itself in terms of its ranking and establishment.
8: "Feliz Navidad" by José Feliciano
You know the season starts once Puerto Rican singer and musician José Feliciano's "Feliz Navidad" makes its annual appearance on the radio. Released in 1970, the song is a repetition of the four same lines but is amazing nonetheless. This track's lyrics send a heartfelt message of a Merry Christmas and a prosperous New Year in its Spanish lyrics. The song features guitar, bongo drums, and güiro. Feliciano told NPR, "I felt very lonely, I missed my family… [and] I missed the whole Christmas scene."
While this lonely feeling isn't expressed in "Feliz Navidad," it's what he felt when writing it. Despite his family being thousands of miles away, Feliciano produced this beautiful, cheery melody to express his feelings toward them even from a long distance. "Feliz Navidad" may be simple, but it's meaningful and charming in all aspects.
7: "Sleigh Ride" by The Ronettes
A cover of Leroy Anderson's 1948 song, the Ronettes' 1963 version of "Sleigh Ride" has become recognizable across the world. "Sleigh Ride" is the epitome of festive holiday cheer and could put almost anyone in the spirit. The song's iconic neigh and clip-clop noises led it to peak at 10th place on "Billboard's Hot 100" Chart in Jan. 2022. "Sleigh Ride" quite literally describes the experience of a sleigh ride and this is reflected in both lyrics and music. It's a clever play on the theme and the Ronettes' really crafted this cover spectacularly. The song's release was featured on the previously mentioned 1963 album "A Christmas Gift for You from Phil Spector" by producer Phil Spector. The album featured other covers from the Ronettes including "I Saw Mommy Kissing Santa Claus" and "Frosty the Snowman." An iconic song from three amazing singers, "Sleigh Ride" is a timeless and extremely festive piece perfect for the holiday season.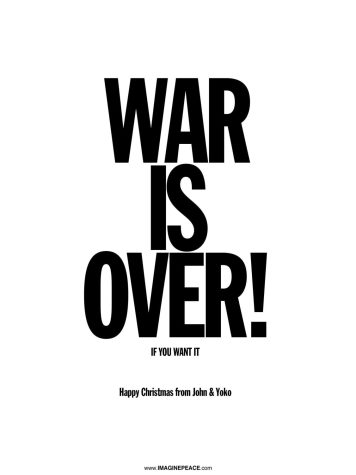 6: "Happy Xmas (War Is Over)" by John Lennon and Yoko Ono 
"War is over"—or is it? Definitely not with this hit of a song. "Happy Xmas (War Is Over)," was written in 1998 by John Lennon and Yoko Ono. The song provides a beautiful message—a potent protest against the Vietnam War. The anti-war message is further driven home with the incorporation of a children's choir, symbolizing children's voices protesting against the war. The release of the song is just one of many in a series of events of protest from Lennon and Ono, and was accompanied explicitly by a poster titled "War Is Over If You Want It, Happy Christmas From John & Yoko." These words are reiterated in the song's lyrics as well.
Similar to Stevie Wonder's "Someday At Christmas," the song carries great meaning and weight, portrayed in a beautiful way. But, aside from its deeper meaning, the song is an honest bop. The guitar instrumentals and slow beat playing in the background make for an amazing piece. The lyrics and composition are simple but sweet; a slow serenade. In recent years, the '98 hit has skyrocketed in popularity once again on social media apps such as "TikTok" and "Instagram." Overall, "Happy Xmas (War Is Over)" is—without a doubt—one of the best Christmas songs of all time.
5: "Snowman" by Sia
Welp this one came out of the blue. Australian singer Sia really came out swinging with amazing Christmas songs on her album like "Everyday Is Christmas." One of her best is "Snowman." Similar to "Happy Xmas (War Is Over)," the 2017 release surged in popularity on "TikTok" which aided the song's outstanding reviews. Many were amazed by the advanced breath control it took to sing the song's chorus which later produced a trend in which many stepped up to the one-breath challenge.
Sia's rich vocals layered over the piano-drum track make "Snowman" smooth like butter. The song's not-quite-saccharine lyrics make the listener feel love-sick but in a good way. "Snowman" is sweet, warm, and beautiful, and definitely deserves the number five spot.
4: "It's Beginning To Look a Lot Like Christmas" by Michael Bublé
Michael Bublé's "It's Beginning To Look a Lot Like Christmas" feels warm and cozy, like that first sip of hot chocolate during the holiday season. Bublé's version, however, is just one of many. Songwriter Meredith Wilson originally composed the song in 1951 and it was later covered by famous artists such as Perry Como, Bing Crosby, and of course, Bublé. Integrated with the almost magical instrumentals, Bublé's voice makes this song feel velvety, smooth, and just beautiful. With that, the simplicity of the lyrics describes a picturesque holiday scene, one that really puts the listener in the mood. A modern rendition of a classic song, "It's Beginning To Look a Lot Like Christmas," really outshines all the rest of its covers, and that's clear upon first listen.
3: "Underneath the Tree" by Kelly Clarkson
Is Kelly Clarkson coming for Mariah Carey's "Queen of Christmas" title? She might with the 2013 release of "Underneath the Tree." With the help of writer and producer Greg Kurstin, the lead single of Clarkson's first Christmas album, titled "Wrapped in Red," has achieved over 441 million streams on Spotify alone. The song's lyrics are reminiscent of Carey's "All I Want For Christmas," with Clarkson claiming all she wants for Christmas is her loved one to be "underneath the tree." The song's use of mellotron, saxophone, Chamberlin, and of course jingle bells, instruments used in many older holiday songs, give "Underneath the Tree" that immediate Christmas connection. So while listeners might not release it, they're being embraced by that classic Christmas sound. Similar to Ariana Grande's "Santa Tell Me," "Underneath the Tree" is assuredly a modern-day classic.
2: "All I Want For Christmas" by Mariah Carey
Surprisingly, "All I Want For Christmas" isn't in the number one spot—ouch. Despite being "the biggest selling holiday digital song ever in the U.S.," according to Keith Caulfield of Billboard, Mariah Carey's "All I Want For Christmas" is not the best Christmas song—but it is pretty gosh-darn good.
Released in 1994 on Carey's first Christmas album, "Merry Christmas," "All I Want for Christmas" was an immediate hit, topping the charts four separate times as the first song to do so ever! With over 14 million copies sold globally, the song is Diamond certified by the Recording Industry Association of America, and the only Christmas song to have ever reached this achievement. "All I Want For Christmas" is the ultimate combination of old and new. As Carey describes in an interview, "we had to have a nice balance between standard Christian hymns and fun songs."
With that, I think we can all admit the song is overplayed. Nonetheless, Carey's beyond-stunning vocals and the backing track are just amazing. "All I Want For Christmas" definitely deserves, at the very least, number two.
1: "Last Christmas" by Wham!
The best Christmas song of all time, Wham!'s "Last Christmas" is the ultimate combination of George Micheal and Andrew Ridgely's talent as the duo's most streamed song on Spotify. Despite the many covers released by pop stars such as Taylor Swift and Ariana Grande, the original 1984 version remains the best. A culmination of catchy rhythm and heartfelt lyrics, "Last Christmas" is the ultimate cliché, yet original, Christmas heartache song. Out of any holiday song, this is definitely one I'd be happy to stream all year long.
Written out of Micheal's childhood bedroom, "Last Christmas" stayed nestled in the number two spot on the UK Singles Chart for five weeks in a row upon its release. This song certainly stood the test of time, and finally reached the number one spot on Jan. 1 2021 with a total of over nine million streams. Remarkably, Wham! decided to donate all royalties received from "Last Christmas" to the Ethiopian famine campaign, which lasted from 1983 to 1985.
An overwhelmingly amazing song, Wham!'s "Last Christmas" is completely remarkable and deserves its place among the top five best Christmas songs of not just 2022, but all time.