"Midnights (3am Edition)" (Zachary and Izzy's Version)
The most quintessential release of 2022.
February 28, 2023
Long-time pop star, Taylor Swift, has finally released another album, and it is nothing short of dazzling. "Midnights" dropped on October 21, 2022, after being announced at the 2022 MTV Video Music Awards in August. The concept album is about Swift's noctural life with 13 tracks at its initial release—and a bonus track, "Hits Different," on the Target CD exclusive. When it hit midnight, Pacific Standard Time, she released "Midnights (3am Edition)," bringing on seven more songs, making the final track list a staggering 21 tracks!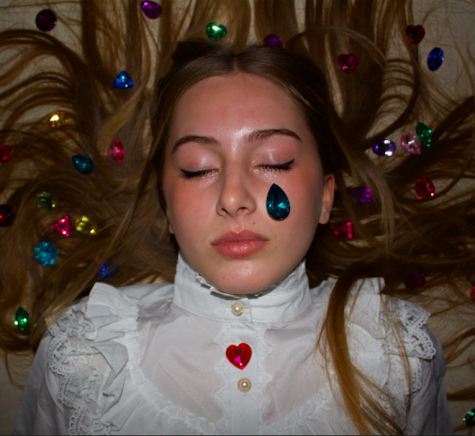 This album initially had very mixed reactions with fans unsure of how to take an explicit album after being given godly, yet melancholy, works like "folklore" and "evermore." Additionally, if "Midnights" had dropped after Swift's 2019 release, "Lover," fans may not have been so put off by the recent release. The concept of "Midnights" somber tracks mixed with pop music would have played off well following albums like "1989," "reputation," and "Lover" because pop is something Swift has done for years. Listeners were spoiled with sad, beautiful tracks like "my tears ricochet," "mirrorball," and "ivy" from her two previous albums "folklore" and "evermore"—as a shift from a majority of her previous music.
However, "Midnights" isn't a complete stranger to her style. It fit in nicely onto her discography, nestled comfortably after iconic pop hits and quiet, cozy pieces. Consequently, here's a breakdown of Swift's 21 newest songs:
One: "Lavender Haze" 3:22
The first track of the album is a groove-fest full of whomp-swelling bass sounds and high-note lyrics about Taylor Swift's love life—particularly her relationship status with actor Joe Alwyn, from "Stars at Noon" (2022). Doing what she does best, "Lavender Haze" arguably has one of the best bridges of the album. "Talk your talk and go viral/I just need this love spiral/Get it off your chest/Get it off my desk (get it off my desk)." Her change in tone and melody is riveting. If neon lights had a sound, this would be it.
Two: "Maroon" 3:38
Swift's favorite thing: wordplay. Her love for singing about colors carries over to "Midnights" with "Maroon," naming different shades of red—or red things: Ruby, rust, rose, carnation, scarlet, burgundy. Wine, flushed cheeks, and marks on her collarbone. How many shades did she sew into the lyrics of this track? It's almost like a little game of "I-Spy," or "Where's Waldo."

Three: "Anti-Hero" 3:20
Needless to say, this has to be the best song off the front half of the album, which gives us playful lyrics that compete with her sad undertone. Upon first listen, most people were thoroughly shocked hearing the line "Sometimes I feel like everybody is a sexy baby/And I'm a monster on the hill." What does it mean? Probably a note on how she sees herself in comparison to the people around her, but 'sexy baby' was surely an interesting comparison. Breaking it down, it's not as jarring and confusing as it may have appeared. Sexy babies are most likely all the younger artists in the industry with her, and she feels like some…creature. A monster on a hill.
"Anti-Hero" also serves as the other best bridge, with some storytelling from songwriter Swift herself. "I have this dream my daughter-in-law kills me for the money/She thinks I left them in the will/The family gathers 'round and reads it and someone screams out/She's laughing up at us from hell." Swift's voice is beyond exceptional as always, and the power she puts behind that last line really pushes her emotions, making sad pop win again.
Four: "Snow On The Beach (ft. Lana Del Ray)" 4:16
It's a simple song, but "Snow On The Beach" has beautiful instrumentals paired with delicate backing vocals from singer Lana Del Rey. Although people had expected Del Rey to get an entire verse, or for the song to be some type of duet, her wispy undertones are beautiful and really add to the wintery atmosphere. When listening to the track with vocals alone, you can easily depict Del Ray's voice and it becomes clear the duo's voices mingled softly and with the utmost beauty. Around three minutes into the song there is a whimsical sound that gives the song a wonderful and wintery vibe that fits well with the rest of the tracks. Snow on a beach is full of really good simple imagery that is straight to the point, even if this is a metaphor for something unbeknownst to us.
Five: "You're On Your Own, Kid" 3:14
The tone change is very different from the last track, but the teetering pattern of the guitar is very playful and calming. The lyrics feel like something of "folklore," but the beginning instrumental sounds like it could be on an older album like "1989." "You're On Your Own, Kid" encapsulates the musicality of the album and how "Midnights" feels like one big hodgepodge of her past works—the song's topic feels ripped right out of Swift's 2010 album "Speak Now."
Six: "Midnight Rain" 2:54
"Midnight Rain" is like an unreleased song off Lorde's 2017 album "Melodrama," beautiful and emotional. Swift made some really interesting creative turns with the tune of "Midnight Rain." The beginning makes sounds like she could be an underwater robot, or inside of an old-timey scuba helmet. The lyrics don't stray too far left, however, following her normal writing pattern with nothing too revolutionary. The audio distortion provides all the sparkle and shine this song needed to excel.
Seven: "Question…?" 3:30
Initially, the meaning of "Question…?" was completely unclear, but the heartbreaking line, "Did you ever have someone kiss you in a crowded room/And every single one of your friends was makin' fun of you/But fifteen seconds later, thеy were clappin' too?" really sends the song into the stratosphere of amazing 'Swift Songs.'
Another great bridge gives us the lyric, "Does it feel like everything's just like/Second best after that meteor strike?/And what's that that I heard? That you're still with her?/That's nice, I'm sure that's what's suitable/And right, but tonight." The melody is fun, with the lyrics making you think it's another sad ode to possibly failed relationships—romantic and platonic all alike.
Eight: "Vigilante Shit" 2:44
"Vigilante Shit" seems like it was ripped straight from "reputation." That iconic low pulse bass and deeper vocals fit nicely in between older songs like "End Game" and "I Did Something Bad," making it the little, cheesy demo track we never got. It's really impressive listening to Taylor's voice, she can make her voice so deep and mellow compared to her normal breathy higher notes. Vocals aside, the trip beat is still fun to awkwardly dance to.
Nine: "Bejeweled" 3:14
If the last track was from "reputation," this one is right off "Lover." "Bejeweled" is the entire embodiment of glitter and sparkle. This is probably what Swift was going for, hence the song's title. Our 'Miss Americana' gives us a feel-good, self-love bop that feels like a glitter bomb to the face—though, the first line using the words "baby love" was really sweet.
On the other end, the lyrics "And when I meet the band/They ask, "Do you have a man?"/ I could still say, "I don't remember," contrast beautifully. What a burn, a roast, a singe if you will. It's a little ironic since the album also talks about her long-term boyfriend, but the song is like the "Midnights" version of "Gorgeous," which alluded to cheating.
10: "Labyrinth" 4:07
Trailing back to a soft melody, this "evermore" combo "copycat" is lovely. Her line "You know how scared I am of elevators" is sung so well, you'll want to loop it forever—tattoo it on your brain and keep it in your head like a little treasure.
"Midnights" showcases a lot of Swift's emotions throughout, from her insecurities to her anger—and even sad references to her struggles with body image and how she must be perceived. "Labyrinth," though drenched in synth and fun little garage-band-pro beats, is a sad song with little droplets of her pain woven into the music. However, lots of the lyrics reference love—"Oh no, I'm falling in love again"—so maybe it's not all self-loathing, but precaution, halting her steadfast feelings.
11: "Karma" 3:24
"Karma is the breeze in my hair on the weekend," is the ultimate upbeat, techno bop. The song opens with a rough, glitchy melody and smooths out nicely into a heavy rhythm. This beat is pretty much constant with the exception of the 2:10 time stamp. The moment is another one of her godly bridges, in which she builds layered vocals ranging in pitch before the climax. The song smoothly transitions into what feels like a breath of fresh air above the clouds and this leads Swift to the song's final chorus.
Arguably, "Karma" is one of the better songs on the album, but as always, comes with some juicy baggage. Many of Swift's fans believed "Karma" to be a song off of a speculated unreleased studio album, also titled "Karma," after the release of "1989." 
The song itself certainly describes the karma phenomenon as it effectively calls out a nasty trash-talker. Unlike said person, Swift has nothing weighing her down. Karma is therefore on her side as described in lyrics like, "Karma is a cat purring in my lap 'cause it loves me," which eloquently rubs other's manipulative mistakes in their faces. The "reap what you sow" motifs throughout the song certainly confirm the song's message that bad things you've done will hurt you, and good things you've done will come back to you.
12: "Sweet Nothing" 3:08
"Sweet Nothing" served nothing, which may sound harsh, but it is definitely not the best song off the album. Not due to the fact it's terrible, but more so when it's compared to the plenty of other headbangers in "Midnights." Nonetheless, "Sweet Nothing" describes a soft, cozy scene with her current boyfriend, Joe Alwyn, in which Swift reveals a beautiful more vulnerable side of herself. Paired with gentle rhythms, breathy vocals, and a simple melody, "Sweet Nothing" creates an almost ethereal atmosphere. The song combines sweet, tender lyrics right off of her 2019 album, "Lover," and instrumentals reminiscent of some 2020-2021 releases like "evermore" and "folklore." Being one of "Midnights" slower songs, "Sweet Nothing" serves as a good buffer between the powerhouses that are "Karma" and "Mastermind."
13: "Mastermind" 3:11
And so we reach number 13, Swift's famous "lucky number." "Mastermind" certainly adds to Swift's long list of legendary Track 13s such as "Last Kiss," "False God," and "epiphany." The background instrumentals are like a memory of falling rain on a tin roof and create an intriguing sound experience, especially if you have some good quality headphones or earbuds on hand. This melody streams throughout the course of the whole song and highlights the "Machiavellian-like" lyrics. 
Once again, "Mastermind" is a speculated ode to her lover, Joe Alwyn, and describes Swift's love-at-first-sight feelings. She intricately depicts how she attempted to make him fall in love with her through catchy phrases and a rhythmic beat. The final chorus reveals how Alwyn saw through Taylor's "cryptic schemes" from the beginning. Like "Anti-Hero," "Mastermind," is a contribution to how she's struggled with self-depiction and image issues throughout the course of her career. The song is yet another beautiful, layered addition to Swift's discography. It's safe to say Swift isn't as evil and nefarious as she thinks is.
CD Bonus Track: "Hits Different" 3:54
"Hits Different" is a strong contender for boring pop music, but Swift adds that extra 'UMF!' that makes any song perfectly catchy and easy to listen to without your ears bleeding from those repetitive four chords on the Top 40. This bonus track is just like any other song, but it is cheerful, and feels like a homage to her past album "Lover." This song is also like a smiley, happier-sounding version of "Delicate" from her 2017 album, "reputation." While "Hits Different" may not be available on free streaming services like "Spotify" and "YouTube," it's definitely worth a listen. The track is included in the Target exclusive CD, so be sure to go out and buy Swift's CD to support a gobsmackingly amazing artist! Midnights is the gift that just keeps giving, with acoustic versions, the 3am Edition, and an exclusive bonus track!?
The 3am Edition Tracks
Later, at midnight, Pacific Standard Time—or 3 a.m. Eastern Standard Time—Swift released "Midnights (3am Edition)," contributing an additional seven hit songs to the already 14-song album. The "3am" tracks add another layer of lyrical complexity and scream-singable songs.  
14: "The Great War" 4:00
And so it begins, the astonishing "3am" tracks. "The Great War" is another song with immersive complexity and metaphorical meaning. Like a phoenix rising from the ashes, "The Great War" describes how even through rough patches, love survives. The song's instrumentals are stratified yet beautifully simple and help tell the story, taking on the electronic and piano elements sprinkled throughout the album. "The Great War" is lyrically stunning and the story unfolded within the song evolves greatly as well—and the more you listen, the more you hear. One specific quirk is her mention of flowers and plants including, "knuckles bruised like violets," "crimson clover," "memory garden," and "poppy." Swift is known to be a lyrical mastermind but "The Great War" is simply on another level.
15: "Bigger Than The Whole Sky" 3:38
Cue tears—that is if you haven't been sobbing through the entire album already. "Bigger Than The Whole Sky" is a gut-wrenching song about loss, specifically losing something much too soon. Many fans have speculated that a miscarriage may have been the inspiration for the song.
Blended with a tender, soft melody, "Bigger Than The Whole Sky" has incredible, yet melancholy, lyrics. Some notable ones include "Every single thing I touch becomes sick with sadness" and "Cause it's all over, it's not meant to be so I'll say words I don't believe." These reveal extreme feelings of guilt and denial, emotions very applicable to anyone and fit right in with some of her other releases making it clear that Swift is no stranger to loss. Beautiful, and with a twang of pain, track 15 certainly didn't disappoint.
16: "Paris" 3:16
A huge shift from the last track, "Paris" shone like a brilliant star. The pop melody is extremely reminiscent of the "Lover" album with a hint of "1989" and "reputation." "Paris" brings upbeat, snappy— quite literally—and drum-prominent instrumentals; listening to the song just makes you want to get up and jive along. Swift's lyrics themselves deliver a similar message to track 12, "Sweet Nothing," where she describes living with her lover in a happy, carefree bubble. She proclaims she wants to keep their relationship to themself with the lyric "romance is not dead, if you keep it just yours," a message she's made clear throughout "Midnights."
17: "High Infidelity" 3:51
"High Infidelity," tells the story of one of  Swift's more painful midnights, one that she expresses beautifully with an "evermore"-like melody. The said tune brings a graceful air to the aching meaning of the song. This track highlights some of the singer's breathier tones and techniques found most commonly in her 2020 album releases. "High Infidelity" continues to illustrate Swift's history of being cheated on in other songs like "ivy" and "illicit affairs." The song shows how infidelity ruins a relationship for both partners as it grows between the pair like a ravaging disease.
Swift is quite transparent about this throughout the song with lyrics like "do you really wanna know where I was April 29th," "do I really have to tell you how he brought me back to life," and "you know there's many different ways that you can kill the one you love, the slowest way is never loving them enough." Not quite the complex, Shakespearean, literary masterpieces like "All Too Well (10 Minute Version)" and "champagne problems," but nonetheless, lyrically beautiful in its clarity—but did you expect anything less?
18: "Glitch" 2:28
Despite being the album's shortest track, "Glitch" packs a punch… kind of. Similar to "Sweet Nothing" in terms of meaning, this song also tells the story of Swift and Alwyn's unexpected friends-to-lovers relationship. However, like "Sweet Nothing," "Glitch" isn't her best work and seems to be a little repetitive. It's also important to note that Swift absolutely gets away with this because it's so catchy. "Glitch" seems to have become somewhat of an underrated fan favorite with its breathy, "Lover" vibes and relatable lyrics talking about finding love where you don't expect to.
19: "Would've, Could've, Should've" 4:20
One of the best "3am" tracks, "Would've, Could've, Should've" combines a catchy melody and stunning lyrics to produce an amazing song. A recurrence in "Midnights," this song highlights a thrummy electric guitar and thundering drum track which almost makes "Would've, Could've, Should've" more of a rock piece. Swift also lithely incorporates a multitude of Biblical references—mentioning, "and the God's honest truth," "but, Lord, you made me feel important," "you're a crisis of my faith," "I would've stayed on my knees," "danced with the devil," and "stained glass windows"—within the epic that these lyrics create. These bring listeners back to her earlier years—during her relationship with 32-year-old John Mayer—which certainly infiltrates the entirety of this track. Some of Swift's most alluring lyrics include, "And if I was some paint, did it splatter / On a promising grown man," "give me back my girlhood, it was mine first," and honestly, the entire chorus speaks for itself. The lyrics and melodies of this track can be felt in one's soul; there simply aren't enough words to dutifully describe the beauty of "Would've, Could've, Should've."
20: "Dear Reader" 3:45
Arguably the worst song on the album, "Dear Reader" was mediocre, at best. The song's themes and instrumentals incorporate those of the entire album which allows "Dear Reader" to serve as a good conclusion to the album. While the majority of the song is mediocre, it truly shines at its bridge—one of Swift's many talents. The bridge really picks the song up with a break in the instrumental repetition; such a break can be found in lyrics like "I prefer hiding in plain sight / My fourth drink in my hand" as she plays around with tone and vocals. 
Conclusion
"Midnights (3am Edition)" is truly a divine work as one of Swift's best albums yet. In just 21 songs, she transported listeners to 21 different midnights with inspiration from recent albums like "Lover," "reputation," and "evermore." This album further singled out Swift as a staggering, esteemed songwriter, composer, singer, and producer. "Midnights (3am Edition)" could easily be described as a complete, ephemeral fever-dream.