A Tale as Old as Time: Hamlet in the Modern Age
January 19, 2023
Ah theatre, an art as old as olive oil. No, really. The traditional, on-a-stage theatre was popularized by ancient Greek playwrights, such as Sophocles and Euripides. Since then, there have been hundreds of successful playwrights and thousands of plays produced. Every day people flock to theatres, eager to watch plays, new and old. But how do directors keep theatre from such a long time ago current? 
Kate Meschuk, now a freshman at UC San Diego, faced this exact challenge when she began to edit the script for Huntington Beach High School (HBHS) Academy of Performing Arts (APA)'s production of Shakespeare's "Hamlet" last year.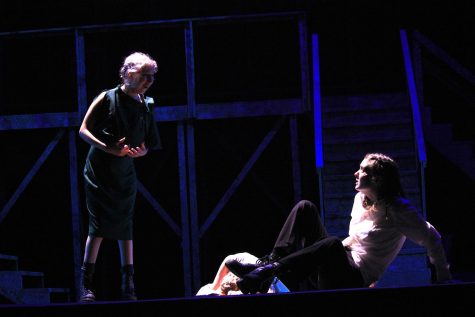 "My main challenge was making sure the script wasn't too long, but also that it wasn't too short," she says. "I had to weigh my options every time I cut a scene because I wanted the show to not be four hours, but I also needed it to make sense." 
"Hamlet" is notoriously long, and in this modern age audience's attention spans are only growing shorter. In retaliation, dramaturgs—those who study the composition of plays and edit them—have had to cut longer pieces down. For Meschuck, this meant cutting out less important side characters, such as Fortinbras. She also changed the order of the scenes to make the show more palatable. 
Beyond length, Meschuck faced a hefty language barrier. How are audiences expected to understand Shakespeare? Shakespearean English is so old, it almost can't be considered the same language we speak today. Surprisingly, the acting alone is often enough to convey emotions to the audience. Viewers don't have to understand the exact meaning of the words themselves, as long as they can understand the character's plights, problems, and loneliness. This was emphasized to her by the production's director, Jenny McClintock.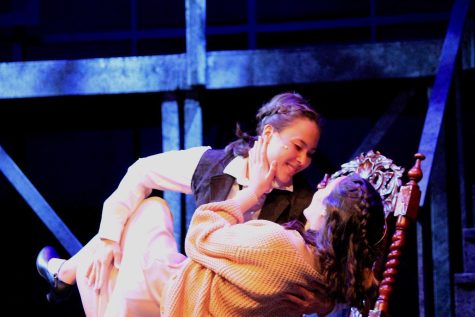 Ella Acciacca, now a freshman at Cornish College of the Arts—who played the titular character of the play—says, "even my dad who is effectively deaf to ye olde English understood the production and what it stood for because everyone worked as a team to make the text and blocking feel as natural as possible."
When preparing for the role, Acciacca discovered that "the takeaway for modern audiences was that believing so strongly in something with no respect, for other opinions divides us when we should be communicating and coming together."  
Acciaca also says, "The mash-up of centuries gave me a natural set of armor when approaching performances." The modern time period helped both the actors and the audience appreciate Shakespeare's language. Without adapting it, there would have been a part of the play missing, but thanks to Meschuck, Acciacca, and McClintock's efforts, the play became something so much more.
"Hamlet" was not the only opportunity for people to watch older works on stage at HBHS, as McClintock is directing Sophocles' "Antigone" later this year. If you would like to see more APA entertainment, check out hbapa.org.