KISS Them Goodbye
April 17, 2023
As of March first, the world-renowned heavy rock/glam metal band has released the dates for the last leg of their "End of the Road" world tour. The North American tour is set to kickstart October 29th at the Moody Center in Austin, Texas.
Although KIϞϞ has not released a new album since "Monster" in 2012, they have been performing live since their debut way back in 1974. Aside from their theatrical stage makeup and full leather outfits, KIϞϞ is known for their amazing live performances. Their live performances are so iconic that Gene Simmons, the band's 'Demon' and bass player, alongside Barry Levine, produced a movie in 1999 about a group of teenage friends who spend the entire movie trying to get back their KIϞϞ concert tickets to see their favorite band live. The movie is titled Detroit Rock City after their hit song with the same title from their 1976 release "Destroyer."
The band will be performing with original, founding members Paul Stanely "Starchild," and Simmons, along with Eric Singer as "The Catman" and Tommy Thayer as "The Spaceman." Paul Stanely has also publicly stated that he would like for past members Ace Frehley and Peter Criss, the original "Spaceman" and "Catman," to join their farewell tour, according to BlabberMouth. It is unlikely we will see Frehley or Criss on the KIϞϞ stage again, and if this chance is missed, we will never get an original lineup reunion concert again. Ace Frehley gave his statement to the idea of joining the goodbye tour, which further convinced fans they weren't to see him on stage with the band. 
Frehley said, "If I took back my make-up and costume and my character—which I designed…[Tommy Thayer] basically just mimics everything I wrote, and tries to imitate my persona. He's been doing it for 15 years," as told to VintageRock. 
"
"I'm the original guy. And nobody can really copy the way I play guitar.
— Ace Frehley
It's a reasonable motive as to why he won't be tagging along for a single show, though it is bittersweet. KIϞϞ has also had two other characters in the past when replacing bandmates. The first original character outside of the main original four was "The Fox." Eric Carr was hired as the drummer meant to replace Peter Criss in 1980 and wore a fox look, rather than a cat. "The Fox" look consisted of white face paint, intricate black and red eyeliner, and black lipstick. After Carr's passing, in 1991, "Catman" part two was brought in—Eric Singer. The only other additional character was guitarist Vinnie Vincent. Vincent replaced Ace Frehley in 1982 with a character known as "The Wizard," or "The Ankh Warrior" which his nickname was made by fans. The look sported white face paint, a golden ankh an Egyptian hieroglyphic across his forehead and down his nose, and black lipstick and eyeliner.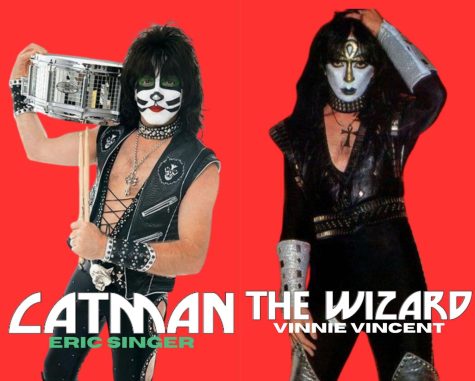 'Starchild' (a red-lipped vocalist with a giant star icon over his eye) and 'The Demon' (bat winged-shaped liner on his whole face) were the only members able to keep their original makeup looks, only having changed them once during the early years. Stanley and Simmons are the quintessential part of KIϞϞ. They hold the band together, that's the only reason the band is even around today to have this final tour. Aside from the lack of some band members, the band's current setlist contains tracks from "Lick It Up," which featured the aforementioned Vinne Vincent. The set list also contains the amazing drum-heavy song from their debut, "Black Diamond," a solo song by Peter Criss (with intro vocals by Paul Stanely). The band's current tour setlist contains twenty-two songs, one of which is a cover of "Rock and Roll" by Led Zeppelin.
The KIϞϞ "End of the Road" Set List:
"Rock and Roll" (

Led Zeppelin IV

) 

"Detroit Rock City"

(Destroyer)

"Shout It Out Loud"

(Destroyer)

"Lick It Up"

(Lick It Up)

"All Hell's Breakin' Loose"

(Lick It Up)

"100,000 Years"

(Kiss)

"God Of Thunder"

(Destroyer)

"Cold Gin"

(Kiss)

"I Love It Loud"

(Creatures Of The Night)

"Black Diamond" (Kiss)

"Beth"

(Destroyer)

"Do You Love Me"

(Destroyer)
View this post on Instagram
The band left a sweet message on their March 1st Instagram post announcing the North American tour dates, "KISS was born in New York City. On 23rd Street. Half a century ago. It will be a privilege and honor to finish touring at Madison Square Garden, 10 blocks and 50 years from where we first started."
The band's last tour ever ends at the birth and start of it all, so it's a nice, sentimental ending to one of the most notable and influential glam bands in the history of rock music.