Have you ever wandered into a movie theatre, hoping to watch something new and innovative, never seen before? Well, now you can't. Lately, theatres have seen a definite increase in remakes and sequels, and as it turns out, this isn't a new occurrence. 
"Remakes are a part of Hollywood," says Scott McLaughlin, the art of film teacher at Huntington Beach High School. "They've been remaking movies since the beginning, it's just now that they're way more frequent."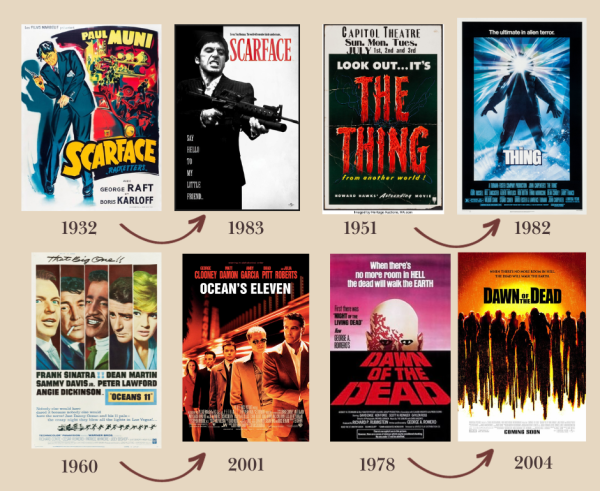 Even cult classics such as "Scarface," (a 1932 gangster film), "The Thing," (a 1951 horror movie), and even the beloved "Ocean's" franchise (a 1960 Rat Pack flick) are testaments to Old Hollywood. But why do companies keep remaking films, why do audiences go see them, and perhaps most importantly, how on earth did Frank Sinatra become George Clooney?
The answer to two of those questions: is money.
"You already have an established property that people love, you already have a built-in audience," says McLaughlin, "and they keep making money." 
When audiences are familiar with the story they're about to go see, they're more likely to invest in it. Parents who grew up watching their favorite Disney films are willing to take their children to see a modern remake in hopes of creating similar memories. 
"I think [live-action remakes] are popular because these original movies are so beloved," says Noella Egelsee, a senior at Huntington Beach High School who plans on going into the film industry. 
Nostalgia has become a business strategy in Hollywood. If an old story remastered will make a bit of money, why not keep it around? 
And keep it around they do! Disney especially has become an expert at churning out remakes ever since the 2010 version of "Alice and Wonderland," directed by Tim Burton, proved a huge success—making over 1 billion dollars in the box office. This blockbuster only encouraged the executives, and since then, audiences have seen twenty-one Disney remakes hit the big screen. (And little screen, as the introduction of Disney's streaming service: Disney+ has only allowed for more widespread content among fans and tired parents alike.)
However, where there's a rise, there must—inevitably—be a fall. 
"It's a blessing and a curse," says Mr. McLaughlin. "These big movies are keeping Hollywood afloat, but it's also squeezing out the creativity." 
It then becomes a bigger challenge for independent filmmakers to get their work out there when the film market is so over-saturated with very-much-before-seen stories. It begs the question of whether or not remakes are worth it, and the answer isn't so simple. 
"I don't think the people making them are getting anything out of them. It's keeping people employed," says Mr. McLaughlin.
 It's a double-edged sword, but there has already been a bit of a decline in the popularity of these movies, particularly Disney live-action remakes.  "The Little Mermaid," starring Halle Bailey, barely broke even earlier this year. And it isn't the first. The 2020 movie "Mulan," actually lost money, and "Dumbo" (2019) wasn't much better. 
Beyond the finance, many remakes have been met with much critique from fans and non-fans alike. 
"Sometimes they're really really good," says Mr. McLaughlin. "Mostly they're not…I think horror movie remakes can be good."
He's not wrong. On the whole, horror movie remakes have proved hugely popular among audiences. "Dawn of the Dead," (1978), and the subsequent remake in 2004 have inspired sequels and spin-offs galore, including the spoof "Shaun of the Dead," (2004), directed by Edgar Wright. 
History repeats itself, and in the case of Hollywood, filmmakers have continued to be inspired by the past in all sorts of ways, from retellings to reimaginings, to remakes. All an audience can do now is sit back, relax, and enjoy the show.