Halloween is the perfect time for all sorts of scary stories, but it can be hard to properly get into the "spirit" of the holiday. So here are five films that aren't scary, but just spooky enough to put you in the perfect mood this Halloween. 
"Shallow Grave" directed by Danny Boyle
This psychological thriller from 1994 follows three roommates (Ewan McGregor, Christopher Eccleston, and Kerry Miller) as they find themselves accidentally tangled up in a web of drama surrounding the death of their mysterious fourth roommate. 
"Shallow Grave" is a wonderful watch if you're a fan of some visual gore, but aren't in the market for a Tarantino-level blood fest. The whole movie is quintessentially 90s, and it manages to always leave the audience guessing, down to the very last seconds. 
Filled to the brim with dark humor and a deep exploration of the desperation of the human condition, "Shallow Grave" is the perfect film for anyone in the mood for funky 90's outfits, blood, and the mental toll of friendship. 
"Shallow Grave" is available to rent or buy from Apple TV, Vudu, or Amazon Prime Video.
"Parasite" directed by Bong Joon-ho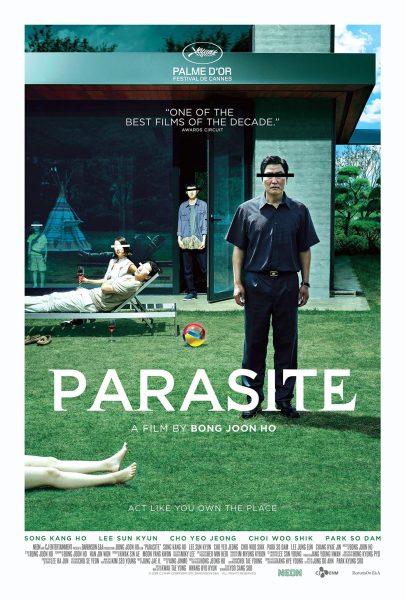 This Oscar-winning movie from 2019 deserves all its accolades and then some. Whilst in the beginning, it may seem like a regular drama-comedy, as a poor Korean family (Song Kang-Ho as the father, and Park So-Dam as the sister to name a few) manage to infiltrate the higher class, but it is anything but, turning into a blood-curdling tragedy that is Shakespearean in design.
Originally in Korea, "Parasite" explores class segregation and the people it affects, both the good, the bad, and the very ugly. In a film full of morally ambiguous characters, the hero is never clear, but the audience gets swept up in the story. 
A darkly brilliant farce, this movie is a perfectly disgusting answer to the question "What happens when rich people are idiots?"
"Parasite" is available to watch on Max, and to rent or buy from Amazon Prime Video or Vudu.
"Shaun of the Dead" directed by Edgar Wright
This gory comedy from 2004 takes place over a few days as the protagonist Shaun and his friend Ed navigate a zombie apocalypse. 
Although the movie is full of blood and not for the faint-hearted, all of the undead creatures in this film are played solely for laughs. Set in London, this movie has a sense of goofy realism and a response to an outbreak that is surprisingly reasonable. 
It has an equal mix of subtle jokes as well as laugh-out-loud gags, so whether you're paying attention to it, or just put it on in the background, you're sure to get something out of it. 
"Shaun of the Dead" is available to watch on Peacock and Hulu, or to rent or buy from Amazon Prime Video or Apple TV.
"Bait" directed by Mark Jenkin
Filmed entirely on 16-millimeter black and white film with clockwork cameras, "Bait" (2019) is unlike anything else. Set in a small Cornish village, the sense of dread created by the seaside atmosphere is palpable.
Despite being very experimental in style and execution, this movie still manages to forge a connection with the audience. The characters are interesting by themselves, but the real intrigue lies in their relationships with each other and the world around them. 
By using an unknown cast, this movie feels real by capitalizing on scenarios that are almost realistic, but just unnerving enough to catch the audience out. The only movie on this list not outwardly comical, "Bait" is perfect if you want a quick—and somewhat confusing—thrill.  
"Bait" is available to watch on Hulu.
"What We Do in the Shadows" directed by Taika Waititi 
A hilarious romp through New Zealand, "What We Do in the Shadows" (2014) is a mockumentary about three-ish vampires sharing a house and the challenges that brings.
Based on a short film of the same name from 2005, this film is full of laugh-out-loud gags and delightful characters that manage to overcome the fact that they're horrifying monsters of the nights, to go out and have some fun in town.
Half improv, half scripted, "What We Do in the Shadows" is a masterclass on humor and horror. Although this movie isn't particularly scary, and the gore is so overdone you can't help but laugh, it certainly fills the spooky brief with its werewolves, gothic aesthetic, and perhaps the scariest thing: regular people. 
If that's not enough, a television series has since been produced with the same title, and equally funny jokes, but a different cast. "What We Do in the Shadows" is available to rent or buy on Apple TV, Vudu, or Amazon Prime Video.
So there you have it! Five freaky flicks to enjoy this Halloween.