The 2023-2024 school year is officially in full swing. On October 5, Huntington held its annual Club Rush; students gathered around the Quad to promote and sign up for clubs. A consistently exciting event, Club Rush did not disappoint this year as students offered gift bags, In-N-Out, and volunteer experience to their peers in exchange for club membership. 
Each club has something different to give students at Huntington and the community as a whole—ranging from refining cooking skills to taking part in nationally recognized programs. 
Here's a further look into what was offered to HBHS students during Club Rush.
Key Club: President Hera Poon (Junior)
"[People] should join [Key Club] to make awesome friends and boost their resumés because Key Club is an international organization dedicated to helping children with pediatric trauma disease," said Hera Poon. 
Key Club provides unique volunteer opportunities and works to bring about positive change. 
"[I wanted to] give back to the community that gave me so much," said Poon. 
Cards for Care: President Addy Nguyen (Junior)
"Our club is basically playing card games and board games with other people…Also writing cards to children's hospitals and senior centers. Our goal was to bring together the community and build connections with those on campus" said Nguyen.
Playing cards and board games is a recreational activity for many, but Cards for Care takes people's enjoyment of games and fosters that energy toward helping others. Nguyen said, "People should join because it's such a fun way to meet new people and make new friends and connections. It's also a way to give back to the community."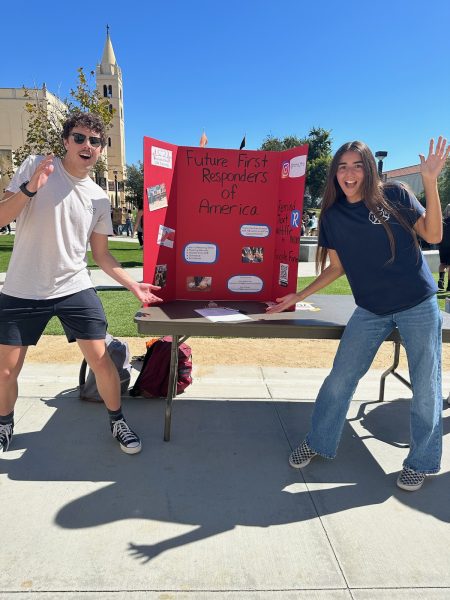 Women in Film: President Reina Han (Junior)
With a poster decorated with film stills and various pieces of media, the Women in Film Club hopes to start a conversation on understanding the complexities of gender and how it's portrayed on screen. 
"We are going to be analyzing different media made by, as well as featuring, women. As well as trying to look [at] media through a feminist lens" said Han.
On her inspiration to start the club, Han said, "I'm really into films, books, and art and all sorts of types of media…I feel like a lot of people inside of the music industry and the film industry often [exclude] women. It's something I want to highlight because if you ask people to name five women directors they literally can't but if you ask the same question about men [people] can, always."  
STEM Club: President Eve Le (Senior) 
Curious about digging deeper into STEM? STEM Club provides an opportunity to gain teaching and volunteer experience. 
"[We] focus on teaching and spreading knowledge about STEM to make people more interested. But it also helps students who are already interested because they can be involved in more STEM-based activities by going to science fairs and teaching, interacting with little kids" said President Le. 
Recipe Club: President Angelina Russo (Junior) and Vice President Addy McVeal (Junior) 
"We wanted to start Recipe Club because we felt that there was a lot of benefit that can come from learning about the cuisines of other cultures. A lot of time we focus on the traditions of cultures but we lack the representation of their traditional ingredients" said Russo. 
Both leaders described the club as a way to expand members' culinary knowledge—a new culture to study is voted on by the club throughout the school year. 
McVeal said, "Last year we talked about Greek [food], we talked about South African [food], we did Vietnamese [cuisine]…we learn about the specific ingredients that are used and the different ways to cook [food]."
Club Rush helps set the tone for the year; with clubs, students can engage with one another while exploring mutual passions. 
Thanks to everyone who took time during Club Rush to give interviews—good luck to all the students who have gotten involved on-campus with clubs!