Clara Woods: Artist, Dreamer, Survivor
Frida Kahlo once asked, "Feet, what do I need you for when I have wings to fly?" 
16-year-old stroke survivor and Frida Kahlo fan, Clara Woods, demonstrates how her mind soars in the form of paintings. Without the ability to read, write, or talk, Clara expresses her emotions and says what she is unable to verbally convey through her unique art.
When she was born, Clara's doctors considered her a "hopeless case." Doctors claimed that life would be difficult, due to the prenatal stroke she suffered. Although her parents Carlo Woods and Betina Genovesi knew that life would be difficult for her, they never let their daughter's disability affect her success.
Although she cannot talk, Clara can understand three languages: Portuguese, Italian, and English. Her brain has no trouble receiving information, but it does experience difficulty when processing her output.
In one of their YouTube videos, Woods explains, "When Davi [Clara's little brother] was born, Clara needed to go to school. We thought, 'Let's hope that you can read and write,' but that didn't happen so then, we got her into painting."
Clara's art business started with her mother's determination to provide her with a solid future. Betina started Clara's social media accounts when she was only ten years old, and her job in marketing has helped her grow their business over the years. 
"Betina is very perseverant and that [is what] made [Clara's business] happen. It really got into a swing, and she managed to sell over 700 paintings to [people from] all over the world," says Woods. 
Inspired by Frida Kahlo's exhibition in New York, Clara had similar aspirations. She told her mother about the goal, and the whole family set out to help Clara show her art in New York City.
Woods says, "It's teamwork… so often in life, we do things more for one person instead of doing things with them. It requires us to slow down, but then you go further… and develop synergy."
Clara held her first exhibition near home in Italy in March of 2018 with the help of a family friend who owns a cafe near Florence, called Tutto Bene. This cafe is well known for its displays of art, and after reviewing some of Clara's pieces, partial owner Claudio Pecchioli allowed her paintings to be featured. 
In another video on Clara's YouTube, Pecchioli says, "I [was] struck by the colors [of Clara's paintings]. They were conveying a feeling of pure joy, a joy that helped me get through some of my gray days."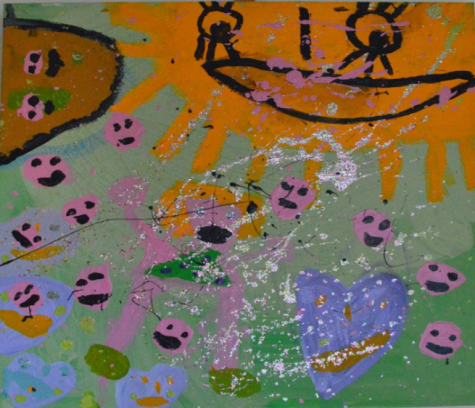 From this exhibition came over thirty more, and Clara became internationally recognized as an artist.
Clara and her family lived in Florence, where she and her little brother Davi were born. Before receiving Clara's extraordinary ability visa, they all lived in a small apartment, just above Via Calzaiuoli road. Huntington Beach became their new home after their move from Italy to the U.S.
Woods says, "In December 2020, we came [to the United States] and we got a visa… we thought we'd reboot and put our efforts in [to expand Clara's business to America].'" 
The family's transition to the U.S. has been very beneficial for Clara's career. It has allowed her many opportunities for collaborations, art shows, and more. In fact, this past August, she hosted her first official art show opening in California at the Laguna Beach Cultural Arts Center, which featured one of her personal favorites, "Rainbow River". 
Clara has been adding many more paintings to her gallery, which can be seen on her website. Some include her "Love" collection, and "Frozen Tongue" which capture her feelings regarding the difficulty she has communicating.
Her little brother Davi adds, "Clara has been painting way more than she used to, so we're really happy about that."
With their vibrant colors and glitter, Clara's paintings are sure to put a smile on anyone's face. On her Instagram, Clara shared a sentimental video of a woman receiving one of her favorite pieces called "My Frida" in which the customer had a very sweet, emotional reaction. The post was captioned, "This video made me cry this morning. It was one of those moments when we realized that all the efforts we are making to make Clara's brand grow and happen are worthy!"
Clara's brand encourages you to "Dream big, work hard," and partners with other individuals of special abilities to work towards achieving inclusion and the embrace of diversity. By sharing Clara Woods' project with others, investing in her art, or visiting one of her events, you can support her brand and its mission to help put the spotlight on upcoming artists of special abilities.