One of the longest-standing debates in music history: 'Are The Beatles Rock 'n' Roll?'
Out of their two-hundred-something songs, you could easily pick out the band's softest ballads or pop hits to argue that they aren't rock at all, but—if you look at where and how they started—you'd see they rocked harder than any band during the '60s—like The Beach Boys or Fleetwood Mac. 
To really argue the question, some background information may be handy. So: early rock music is derived from rhythm and blues, also known as R&B. Then, some off-shoot sub-genres formed from popular music made by Black people, like rockabilly. White stations labeled mostly White artists as rockabilly because it was more 'digestible' than R&B or rock, even though it was created by Black people. Racism and segregation were still heavy at the forefront of the country, although the genres were relatively the same. Elvis Presley, one of the most famous artists to come out of the 50s and '60s, is considered a very early rock 'n' roll singer who covered popular songs from Black artists, bringing music from the 'Black Side' to the 'White Side' of radio stations—such as "Hound Dog" by Big Mama Thornton. While Mama Thornton's song might have been seen as just another R&B track, Elvis Presley's cover was a rockabilly hit that helped skyrocket his career.
The Beatles themselves were fans of these early mid-century artists who were making soul and blues music that often didn't get categorized as rock so that it could be kept separate from the White artists and stations.
In fact, The Beatles were so fascinated by these artists that they released their first studio album, "Please Please Me," in March of 1963 with covers by artists like Arthur Alexander, The Cookies, The Shirelles, Lenny Welch, and The Isley Brothers—all Black musicians. Whilst not all of the songs they covered were originally sung like rock songs, The Beatles took matters into their own hands to spread the sound and set a tone for their career. Then, in November of the same year, they released their second album, "With The Beatles." This album featured a cover of the famous rock musician, Chuck Berry's, "Roll Over Beethoven." It might seem obvious that the 'Fab Four' was a part of the second wave 'rock 'n' roll' pioneering, but some still question their 'rock competence.'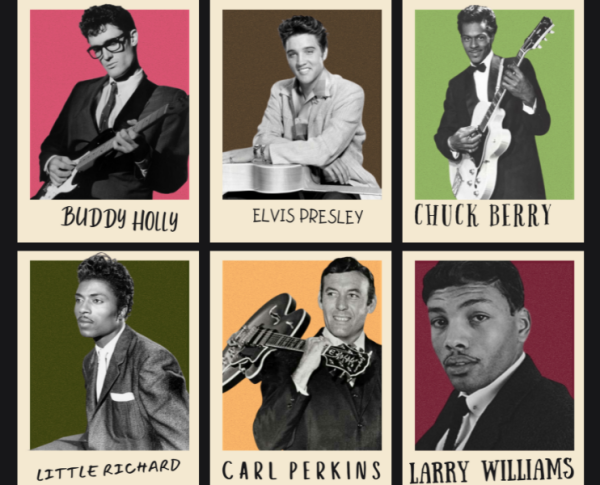 Huntington Beach High Visual Performing Arts teacher, Michael Simmons, said, "John Lennon [rhythm guitarist] throughout his life referred to The Beatles as 'just a rock & roll band that made it very very big,' and what he's referring to is that their music was fashioned on the framework of early rock icons of the 1950's like Chuck Berry, Elvis, Buddy Holly, and Little Richard. The Beatles realistically are a mixture of early rock and straight-up pop."
In the 2021 article, "Do The Beatles Deserve to be Classified as Rock?," student journalist Rylee Bakx asks the daunting question, 'Are They Actually Rock?'. However, this article fails to correctly identify the answer. In the piece, Bakx compares The Beatles to Queen, which is where many problems in her argument arise. The styles of Queen and The Beatles are not only starkly different but come from two completely different times; The Beatles started making music in 1962, inspired by Elvis Presley and Little Richard—two artists who are undeniable rock musicians—while Queen debuted their first album in 1973, over a decade later with inspiration from David Bowie and similarities to Led Zeppelin.
Not only did music change within those eleven years, but so did rock as a whole. Genres are fluid categorizations, and it is nearly impossible to properly compare two artists making music in completely different cultural, social, and even political climates. The album "Yellow Submarine" (The Beatles) is completely different from the song "Bicycle Race" (Queen), yes, but that doesn't discredit one or the other. To say that The Beatles aren't rock because of that track is blatantly unobservant; "Yellow Submarine" is from 1966, and "Bicycle Race" is from 1978. 
The Beatles' last album to be released 1970, "Let It Be," had songs written much earlier than the record's actual release, so when you hear that early-rock sound that they were so familiar with on previous records, it's not unnatural. Then the album "Abbey Road"—which had been released in 1969, but written after "Let It Be"—had one of the band's most famous songs, "Come Together." That song in particular was written in the style and direct likeness of "You Can't Catch Me" by Chuck Berry (which Lennon had sung on his cover album, "Rock 'N' Roll"). Paul McCartney's (lead singer and bassist) solo music as well as the work in his band Wings created rock music on par with Queen, like Wings' famous song "Live And Let Die" (which was released in 1973). 
So the evidence indicates that The Beatles, not only as a group but as solo artists, were definitely in the rock scene.
Well, Bakx says "[Rock] is known for its strong drums and backbeat, which is something I believe The Beatles are lacking."
This seems to discredit Ringo Starr as a drummer altogether, as well as failing to recognize elements of classic rock 'n' roll that have since been changed by other artists. 
The song "Ticket To Ride" has a strong beat and prominent drums, while "Helter Skelter" is probably their heaviest song to date (even being covered by glam-metal band Mötley Crüe.) Other very bass-percussion-heavy songs include "Hey Bulldog," "Yer Blues," "Dizzy Miss Lizzy," "Sgt. Pepper's Lonely Hearts Club Band," "Back In The U.S.S.R," "Oh! Darling," "She Came In Through The Bathroom Window," "The Ballad Of John And Yoko," and "Paperback Writer."
Beyond this, however, 'rock' isn't a stagnant definition for music. Sub-genres arise when people need to get specific with their organization of music. David Bowie, king of glam rock, and Led Zeppelin, pioneers in heavy rock, are not even on the same plane of existence when it comes to style—and yet, they're both still considered rock artists. 
"The Beatles are also missing a key vocal element when it comes to rock. The Beatles' vocals are very harmonic and sweet, which is contradictory to the usual raspy and primal sound that majority of rock musicians have," states Bakx in her detestment to The Beatles.
This statement might be true if the only Beatles songs you ever heard were "Here Comes The Sun" and "Lucy In The Sky With Diamonds," but their discography is much, much longer. The chorus to "Any Time At All," the opening vocals to "Mr Moonlight," the ending to "Got To Get You Back Into My Life," the entirety of "Why Don't We Do It In The Road?," and the second half of "Hey Jude." These are just examples of songs that hadn't been previously listed. It's a bold statement to say The Beatles lack something so simple as a heavy rock 'n' roll voice when McCartney is considered to have one of the best rock voices in music history.
"[The Beatles] strayed into other areas, but at their core they were rock. They started as a rough and tumble bar band and ended doing basically the exact same thing, but at a very high level," Simmons said.
However, The Beatles did make a lot of music, so the confusion as to whether they are solely a rock band is valid. It's hard for people to assign them to any one genre because they have such a wide and adventurous discography. That's why so many people enjoy their music, there is a song for almost anyone. Their roots might be rock, and they're a rock band at their core, but they didn't only make rock music, especially not the heavy kind.
"[They] fundamentally changed their sound every few weeks. If you consider that they were only active as a recording group for less than seven years and all the stylistic changes they made in that short time, it's really astounding," Simmons says.
The reason many people don't consider The Beatles rock is because including them in the same genre as Led Zeppelin, AC/DC, and Joan Jett & The Blackhearts makes little sense on the surface, or these same people don't know enough about the history of rock and where it comes from to properly label bands. How are The Rolling Stones rock and not The Beatles? The two were even competitors in the '60s.
Bakx herself happens to mention many rock bands that even claim The Beatles as some of their biggest inspiration; many musicians praise the 'Fab Four' for their work and contributions to the world of rock. Brian May, Queen's guitarist, has publicly spoken about his love for the infamous band and how Queen has used them as inspiration, despite their music being from a different time with a different sound. 
Simmons says, "Literally every band that [came] after [The Beatles] has their music in their DNA, and no real musician would deny that…everyone owes something to that band. You cannot escape what they did in regards to songwriting, recording techniques, or even marketing and branding."
The Beatles are a rock band, despite many being so insistent that they aren't. Historically, adopting styles from Carl Perkins and covering songs by Larry Williams and Barrett Strong tells you what they were, and they were rock 'n' roll musicians. They're a rock band in the truest sense, making that genre what it is today. They've got the energy, the bass, the drum fills, and the vocals needed—but also an understanding of where their music and style originates from. So don't just call it what you want, call it what it is: Rock 'n' Roll, baby!