"TikTok:" The Puppeteer of Society
January 19, 2023
"TikTok;" we all know it and love it. The app has exploded in popularity on a global scale. "TikTok" has seen about 1 billion—yes, a billion—daily users in early 2022 alone.
However, the app has faced paramount controversies regarding the possibility of harming its users unbeknownst to them.
History and Context
In case you haven't been keeping up with the app, you'll need a rundown of its history. This might be unfamiliar to the '08 babies and younger, but "TikTok" was originally another app called "Musical.ly." A Chinese technology company, ByteDance, first launched "TikTok" as "Douyin" for Chinese users in September 2016. At that point, "Musical.ly" was at its peak in the states, worth over an estimated $800 million as reported by CNBC. The app was a hit in the United States but struggled to gain traction in China while "Douyin," on the other hand, was extremely popular in China and struggled to successfully reach foreign markets. Around the same time "Douyin" was released, "Musical.ly" was bought out by a sub-organization of ByteDance for a mind-boggling $1 billion, says Vox.
Business continued as usual—at first. "Musical.ly" eventually faced the same sudden death as previously adored social media such as "Vine" and "MySpace." In August 2018, ByteDance announced that "Musical.ly" would merge into a different app they'd already launched, "TikTok." The app expanded past its Chinese markets and boomed on a global scale. A study—TikTok in 2022: Revisiting Data and Privacy—published in 2022 says, "TikTok can be simply seen as short and entertaining videos: strategic shots of dopamine akin to other addictive content."
This can be directly attributed to the app's popularity today, with January 2022 marking over 3 billion downloads. While not directly targeted at younger generations, Frontiers also notes that in China about 82% of users are under 35, indicating a fairly younger audience.
So…Why the Sudden Popularity?
With the sudden eruption of "TikTok" users, many were left with the question of why? Why had "TikTok" become such a sudden global phenomenon, surpassing the popularity of other forms of social media such as "Instagram" and "Facebook"? Well, there are many reasons, but they can be boiled down to two big ones: personalized content and infinite scrolling.
There are several theories that could relate to just how the app has entrapped so many around the globe including the "Uses and Gratifications," "Social Impact," and "Self-Determination" theories to name a few. The "Uses and Gratifications" theory specifically, can easily be exemplified by "TikTok" usage. Originally published in 1974 by American-Israeli sociologist Elihu Katz, political scientist Jay G. Blumler, and journalism professor Michael Gurevitch, the "Uses and Gratifications Research" connects average media users and their reasonings in consuming media.
Blumler, Katz, and Gurevitch explain, "The audience is conceived of as active… and [an] important part of mass media use is assumed to be goal-directed."
So each person has a purpose or goal for media use. These goals often fall within four categories: "Diversion, personal relationships, personal identity, and surveillance."
Essentially, media usage often stems from escaping life and its burdens, substituting for relationships in the real world, identity in culture, values, and interests/traits, as well as general knowledge and worldliness. So because "TikTok" content is personalized to an individual's needs, they'll be constantly gratified for it. This, in turn, results in the continued use of it.
A recently conducted survey taken mainly by freshmen at Huntington Beach High School (HBHS), via Google Forms, showed data that supported the theory's connection. When asked what they used "TikTok" for, about 74% of those that responded used "TikTok" for one or more of the previous goals.
Through specialized artificial intelligence, the app's coding very quickly picks up on the user's specific likes and dislikes as reflected on their "For You" page, also known as FYP. The FYP is a pool of personalized, scrollable content. Unlike other social media apps like "Instagram," this content is endless. With that, "TikTok" changed the game of social media forever.
This is heavily reinforced by the app's infinite scrolling and repetitive fulfillment, leading to addictive behaviors. As said by HBHS AP Psychology teacher Kevin Nicholson, the app "is such a quick reinforcer of your behavior… you're continually rewarded for your scrolling."
This is especially hard on teenagers, and for many, it's out of their control. Nicholson continues, "A lot on the frontal lobe, the logic, the larger decision making, isn't fully formed yet until your early twenties depending on the [person]. For many [teens]…it's harder to have that discipline to be able to turn ['TikTok'] off."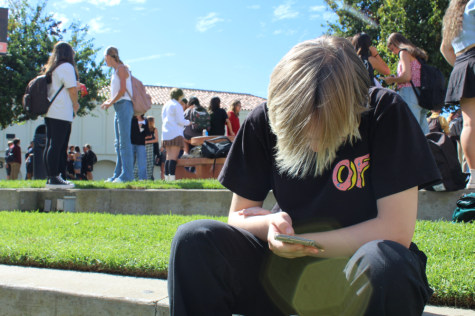 HBHS Freshman, Phoebe Hanlon, agrees and says, it's "up to the person who is on 'TikTok' to manage their time… so it's partially due to how personalized the app is, but it's also due to the control of the user."
The constantly reinforced behavior and reward of scrolling make it difficult for users to take a break. But at the end of the day, it is still up to the user, their self-control, and self-awareness.
Friend or Foe?
The intricacies of related theories like the "Uses and Gratifications Theory" can help expand upon the good and bad effects "TikTok" can have on society, people, and teens. As technology has progressed over the decades, we have taken exponential leaps and bounds. Social media has been able to connect individuals, increase organization, promote activism, etc. Despite this, some platform designs have led to anxiety, stress increase, addictive behavior, and a decreased attention span as the previously mentioned Frontiers says.
In a recent update, "TikTok" videos can now be a maximum of ten minutes long. Originally, it was a max of one minute, before changing to three minutes. Clearly, this is an immensely smaller amount of time than say your average film, TV series episode, or "YouTube" video.

On the topic of videos themselves, each individual algorithm is personalized to its users' tastes. Therefore, most of the time they'll only see videos that they'd find enjoyable. This creates a domino effect and a cycle of "ooh! I like this video! Okay next, scroll. Ooh! I like this one too!" and so on.
The brain is constantly rewarded for its "TikTok" use. This will continue to draw back the user over and over, motivating them to pick up their phone more frequently. Often, you'll see teens spend five minutes on a task, but soon pick up their phone and begin scrolling for hours at a time. "TikTok" is a clear contributor to a person's regressed attention span.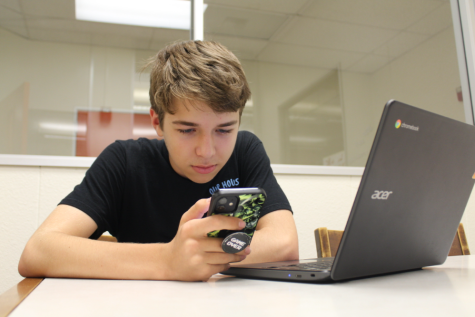 The "Self-Determination Theory" is a possible connection between addictive "TikTok" use. The University of Rochester Medical Center, says each person has "three key psychological needs." These needs include, "Autonomy: The feeling one has a choice and willingly endorsing one's behavior. Competence: The experience of mastery and being effective in one's activity. Relatedness: The need to feel connected and belongingness with others."
Within the app, a user has the choice to do a multitude of things, like, share, follow, search videos, make videos, etc. Many are able to explore a wide niche of topics and activities within "TikTok" such as tiny wood-carved birds or special effects makeup; Special effects makeup, or SFX, can be, for example, tied back to all of the aforementioned Uses and Gratifications goals, such as identity as there's a large, welcoming SFX community on the app. Within that comes different communities and profiles people can connect with and relate to. Some people find "TikTok" satisfies every one of their key psychological needs, which motivates them to be on it 24/7.
While found communities can be tremendously heart-warming and helpful, they can also heavily influence audiences and set traps up for grooming given the app's large youth database. As explained by psychologist and writer Olivia Guy-Evans in an article for SimplyPsychologist, "TikTok" specifically strongly influences its audience. Social psychologist Bibb Latané in 1981, says, "We are greatly influenced by the actions of others. We can be persuaded, inhibited, threatened, and supported by others."
Final Thoughts
While "TikTok"—and social media in general—has had a positive effect on the world, it is vital to realize its power and the hold it can have on yourself and others. "TikTok" is not an evil, nefarious app nobody should use. However, it becomes dangerous when users don't set limits for themselves and assess the effect it's having on their lives.